An understated home office
With a light and spacious feel
Our customer's brief
A spacious and understated home office
Our customer was looking for an additional home office design that would reflect the light and spacious feel of her room. Our expert designers worked with her to find a design she would love. The contemporary lines of the Prima range provide timeless charm in our warm English Oak finish.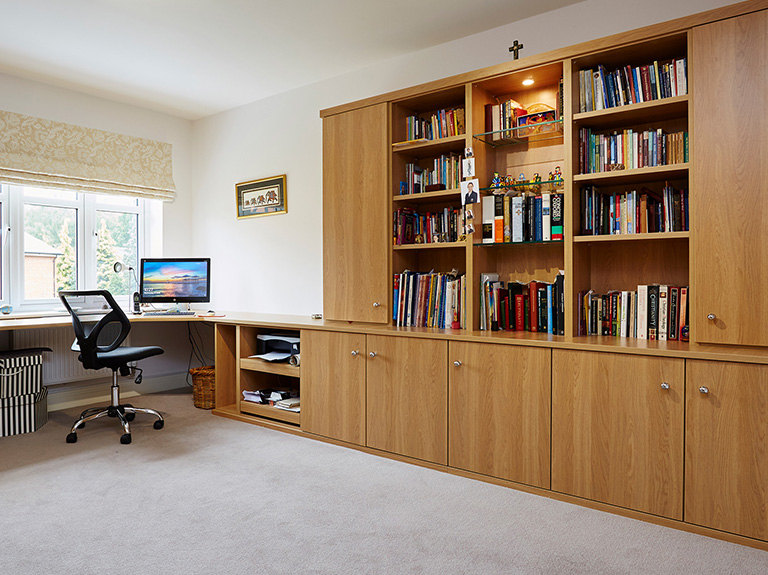 Meticulously crafted
An elegant desk design
A made to measure desk was fitted to the corner of the room. This provided the customer with full depth leg room for comfort and took advantage of the window's source of natural light. The one-piece desk worktop ensured a consistent wood grain direction for an elegant finish.
Convenient additions
Pull-out printer shelf
Our designers are committed to making every detail of your home office as practical as possible. This slide out printer shelf provides easy access to devices and documents when required. When not in use, it can be effortlessly stowed away, leaving your worktop area clear and clutter free.


Decorative details
Chrome handles
At Strachan, we offer our customers an extensive range of door knobs and handles, allowing them to add a personal touch to their fine fitted furniture. For this elegant home study, the cabinets and drawers were fitted with round chrome knobs, complementing the contemporary feel of the Prima range.
The Strachan Brochure
Order a free copy of the new Strachan brochure for design ideas and inspiration. Find elegant bespoke designs for bedrooms, lounges, walk-in wardrobes, home offices, libraries and more. Browse at your leisure and discover the ideal way to transform your home.
Request a new brochure