A Traditional Home Office
Delivering comfort and functionality
A comfortable home office for everyday use
OUR CUSTOMER'S BRIEF
Our customer works from home on a daily basis and therefore requested our assistance to help design a comfortable home office that thoughtfully utilised a compact room in his Wolverhampton home. We installed traditionally styled fitted furniture, including a peninsular desk with a kneehole on either side, which delivered spacious leg room for both him and his visitors to enjoy.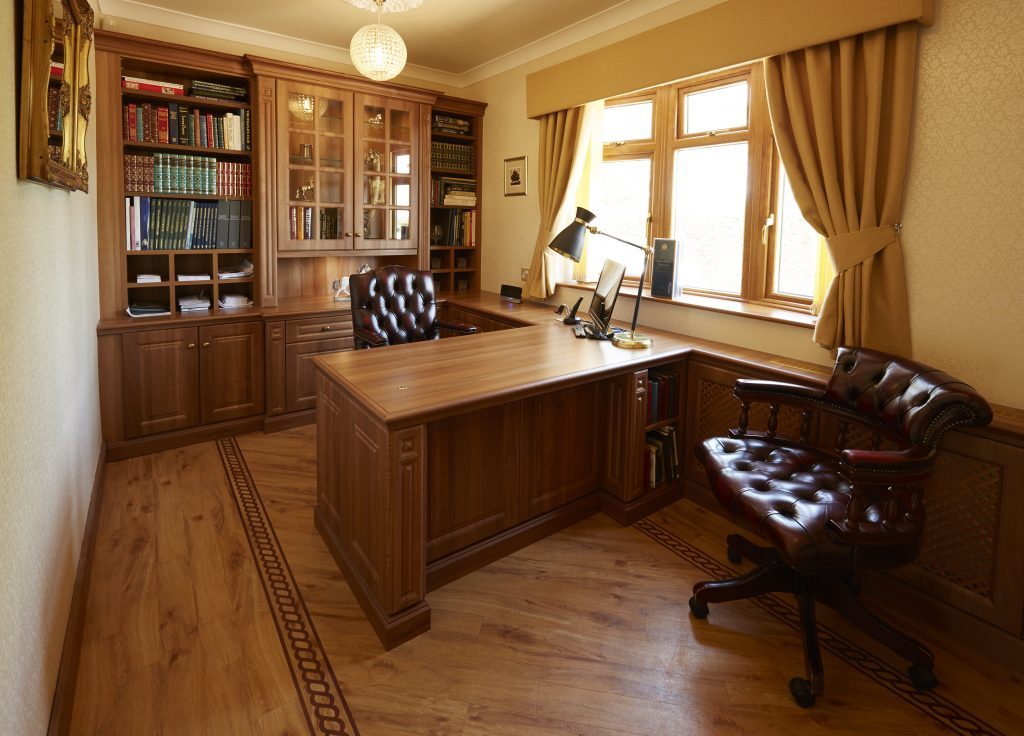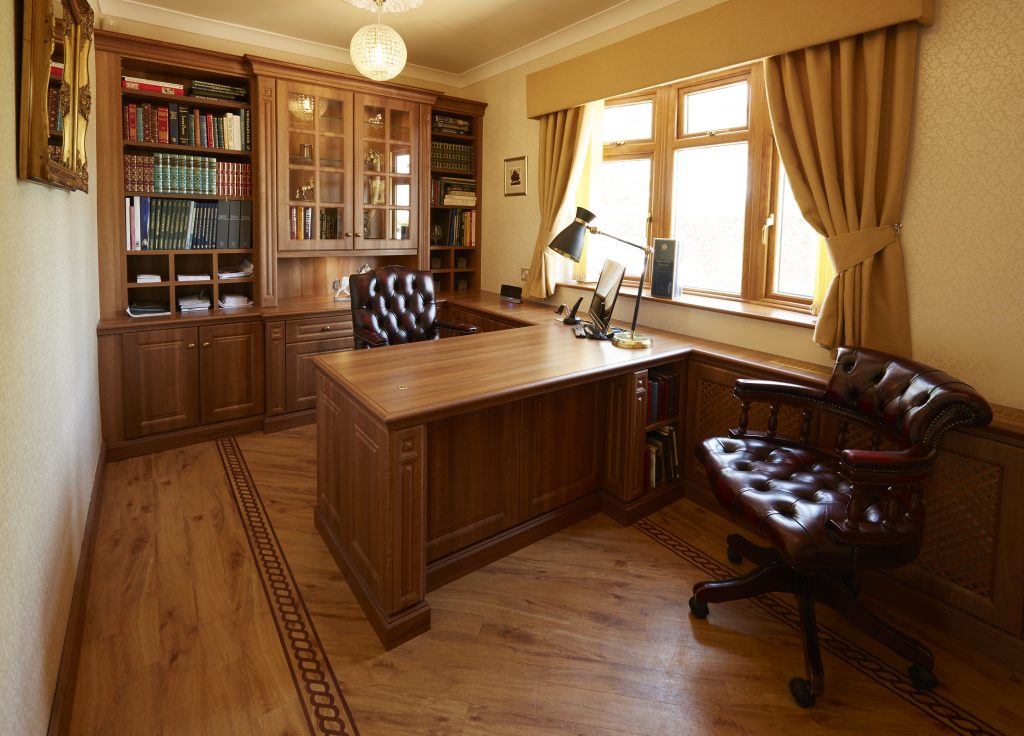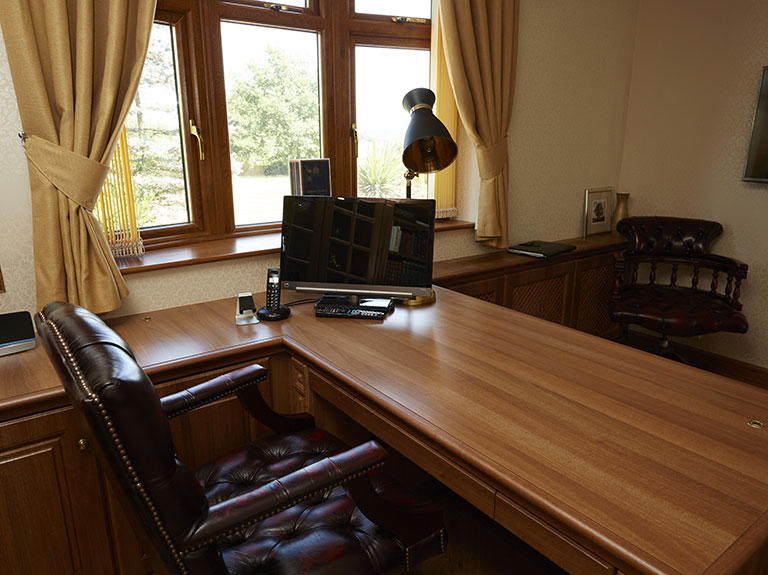 Desk fitted in front of window
Positioning is key
In order to create a bright and welcoming work environment, the desk was designed and fitted in front of the window, allowing our customer to work with the daylight flooding in. The Uno Walnut wood finish grain ties in with the wooden window frames, providing a warm tone throughout this traditional home office.
Gold finish grommets
Gold finish grommets
The desk was fitted with grommets to accommodate cables and help keep the desk space neat and organised. They provide a smaller and more discreet alternative to cable ports. The grommets were finished with a gold surround to co-ordinate with the customer's brass plug sockets and other integrated features within the office.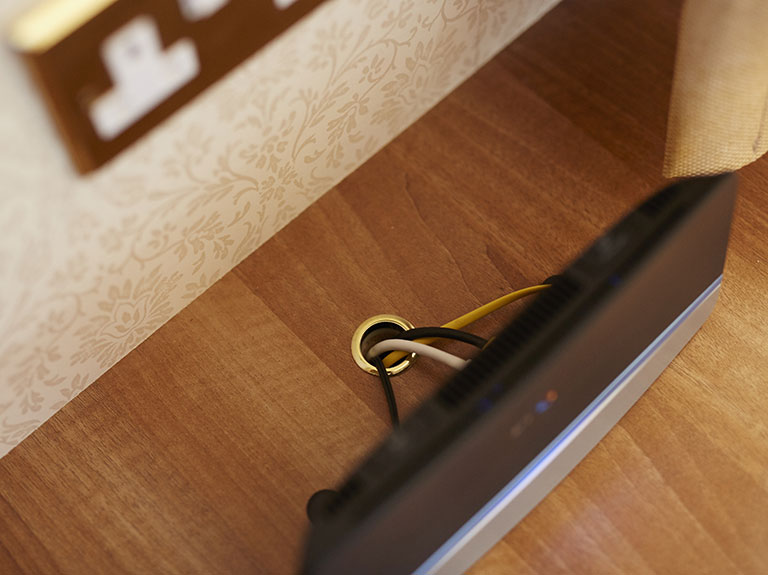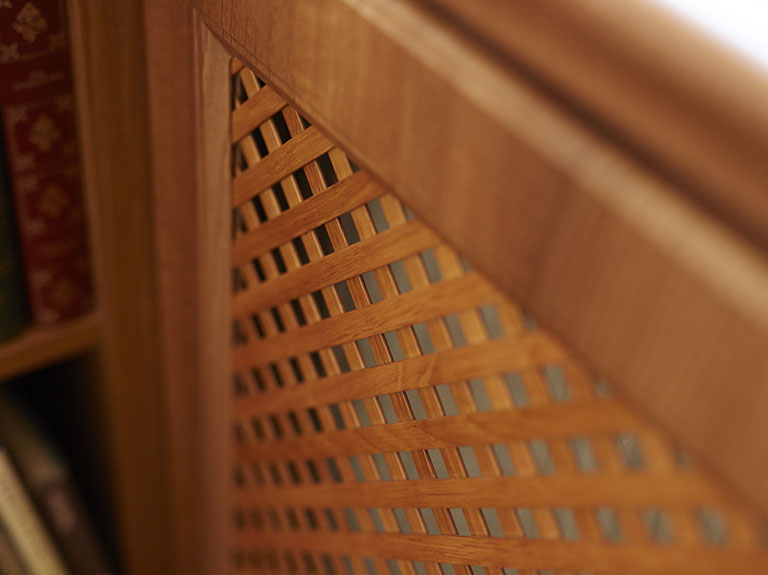 Lattice radiator covers
Uninterrupted aesthetic
We crafted and fitted bespoke radiator covers in a matching New England style and Uno Walnut wood grain finish. The elegant framed lattice design of the radiator fronts allow air to circulate freely around the radiator.
Gold finished radiator vents
Consistent style
Radiator vents installed in the top of the radiator covers ensure the operation of the room's central heating was unaffected by the close proximity of the fitted furniture. These vents were supplied in a gold finish similar to the colour of the desk grommets and beautifully complemented the warm tones of the Uno Walnut finish wood grain.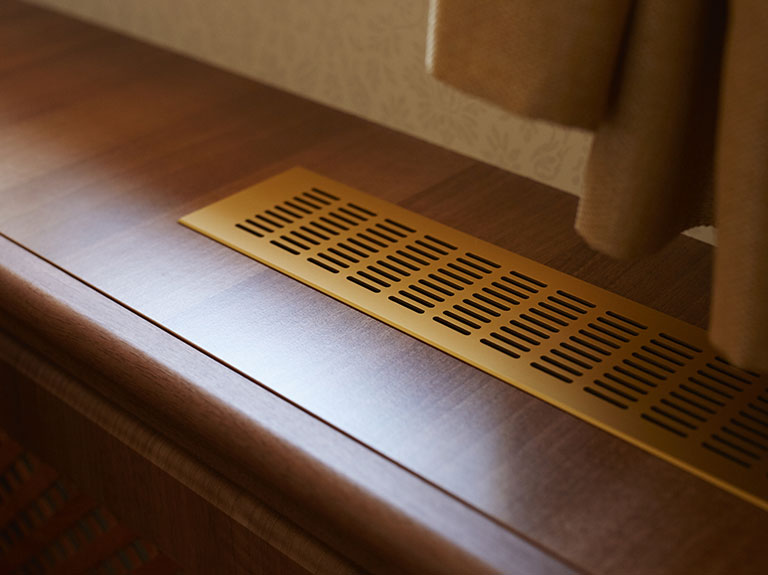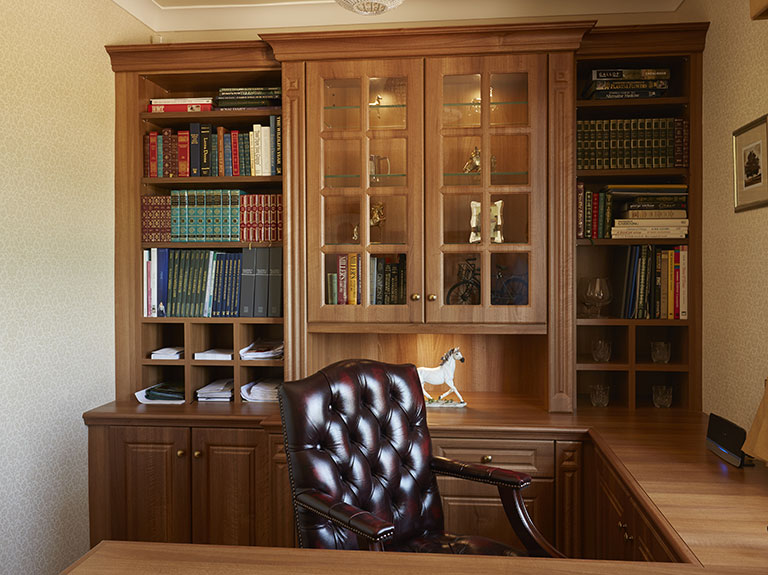 Convenient bookcase storage
Uniquely designed
Our experienced designer considered the different storage options required to suit our customer's professional needs, creating bespoke built in cabinetry with feature breakfront pilasters. This made to measure cabinet utilised the available space and provided a selection of open and closed storage areas.
Glass fronted display cabinets
Walnut and glass
The centre of the unit features a display cabinet, complete with attractive multi-paned glass doors. Combined with internal glass shelving, this provides the customer the perfect position to display books, photos and treasured possessions.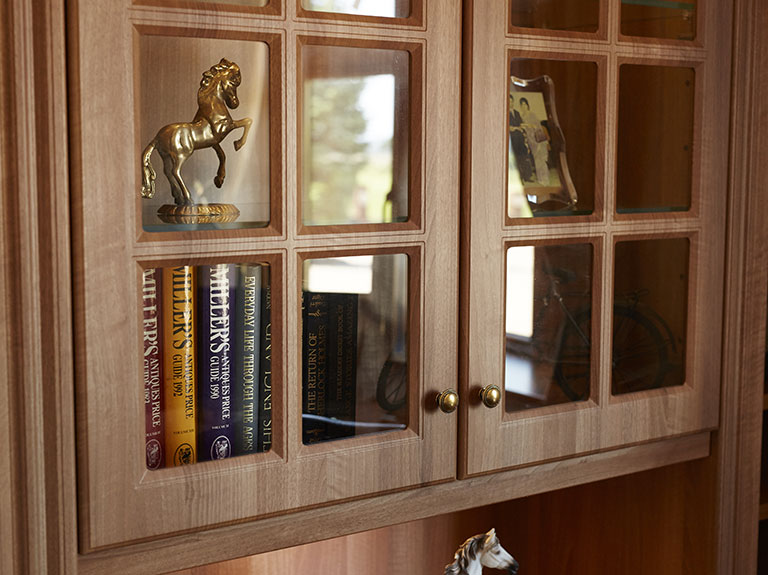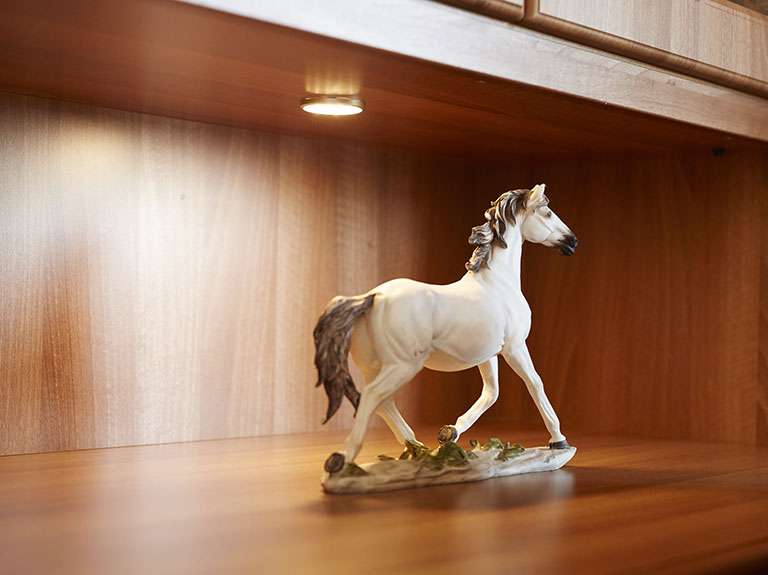 LED lighting
Decorative details
LED lighting was installed within the display cabinet and below to create a feature above the counter top. This allowed the customer to draw attention to his most prized possessions and unique decorative items, bringing a touch of personalisation to his home office.
Bespoke pigeon holes
Modular design
Bookcase cabinets each side of the display unit were fitted with bespoke sized pigeon holes. These extend the full depth of the unit, creating an area where our customer can keep his documents, correspondence and reference files organised, all within easy reach of the desk.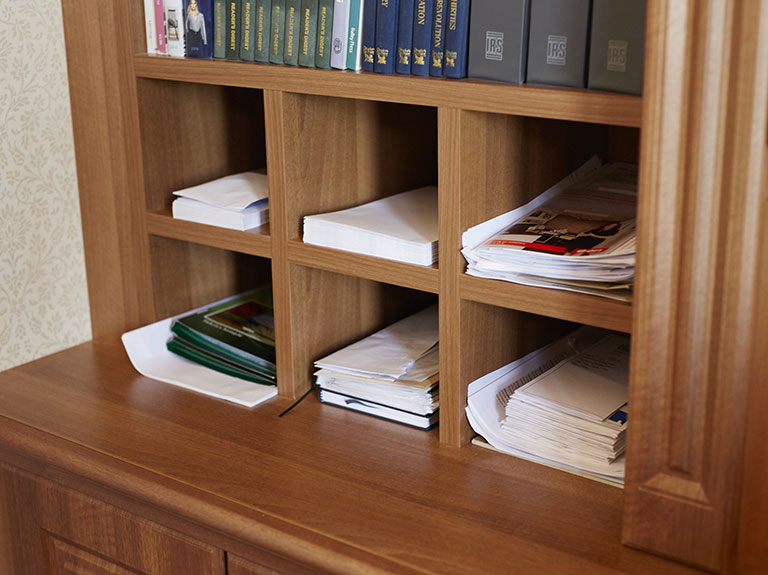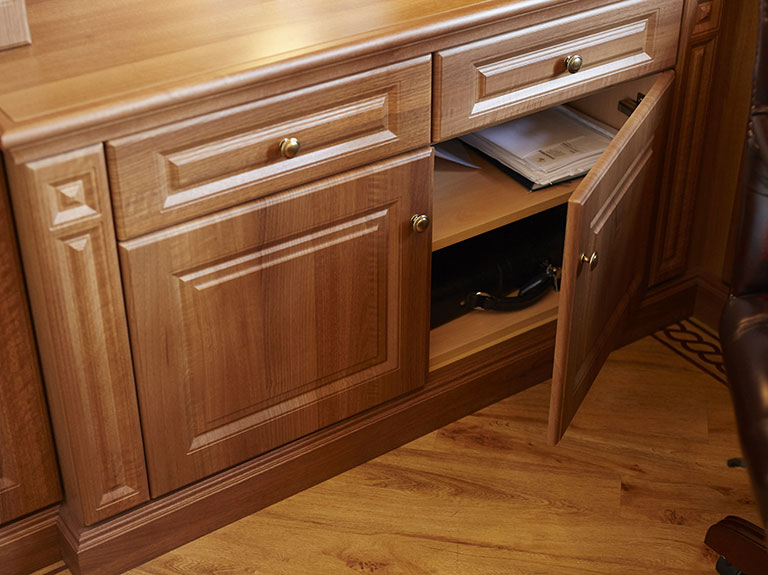 Low level cabinets
Storage solutions
Low level cabinets are ideal for storing away larger items and folders. Two matching drawers were integrated above, complete with a soft close function as standard. The finished traditional look is achieved through the sculptured detail and style of the fascias combined with the introduction of a break in the alignment of the cabinets framed by two pilasters.
Slide out printer shelf
Thoughtful additions
The integrated cabinets provided an area for the client's printer to be stored. This was housed on a slide out shelf, which delivered a smooth operation and gave our customer easy access when required. A cut out at the back of the cabinet also allowed access to plug and telephone sockets while keeping them neatly hidden out of sight.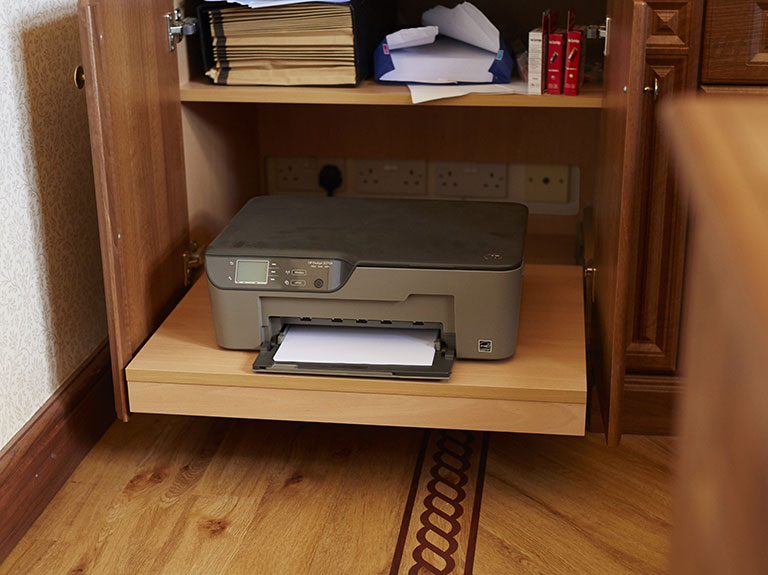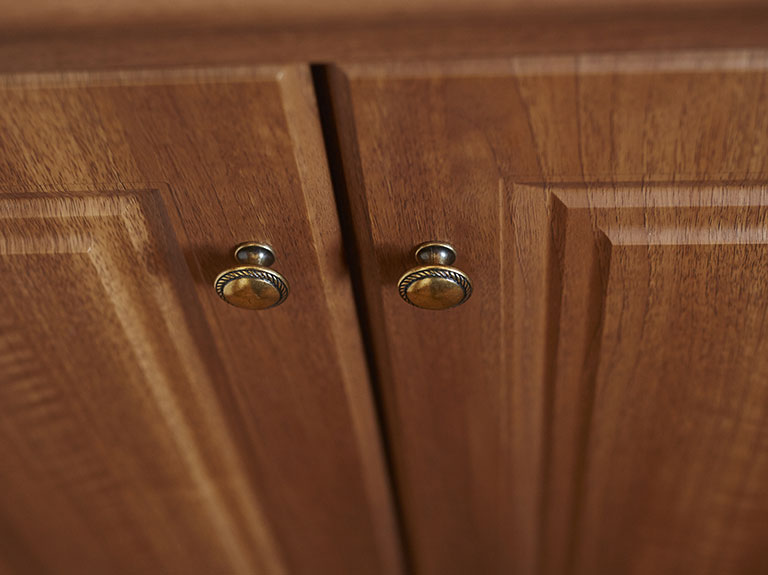 Gold finish handles
Finishing touches
At Strachan, we offer an exclusive range of door knobs and handles to perfectly embellish your fitted furniture. To create a seamless style, our customer chose gold finished handles for the cabinets doors and drawer fronts to match the radiator vents and desk grommets.
The Strachan Brochure
Order a free copy of the new Strachan brochure for design ideas and inspiration. Find elegant bespoke designs for bedrooms, lounges, walk-in wardrobes, home offices, libraries and more. Browse at your leisure and discover the ideal way to transform your home.
Request a new brochure