Types of Desks for your Home Office
The desk in your home office is your personal workspace.
; a calming, relaxing and comfortable workspace can help you focus and work to your full potential. Moreover, a great desk that resonates with your work style and has lots of useful features can make things more convenient too. Take a look at these great types of desks that not only look incredible but also provide excellent functionality. Meaning they could help you stay organised, productive and stylish.
Read below to find out about the most popular types of desks, and hopefully get some ideas and inspiration for your own home office.
What are the different types of desks you can have in a home office?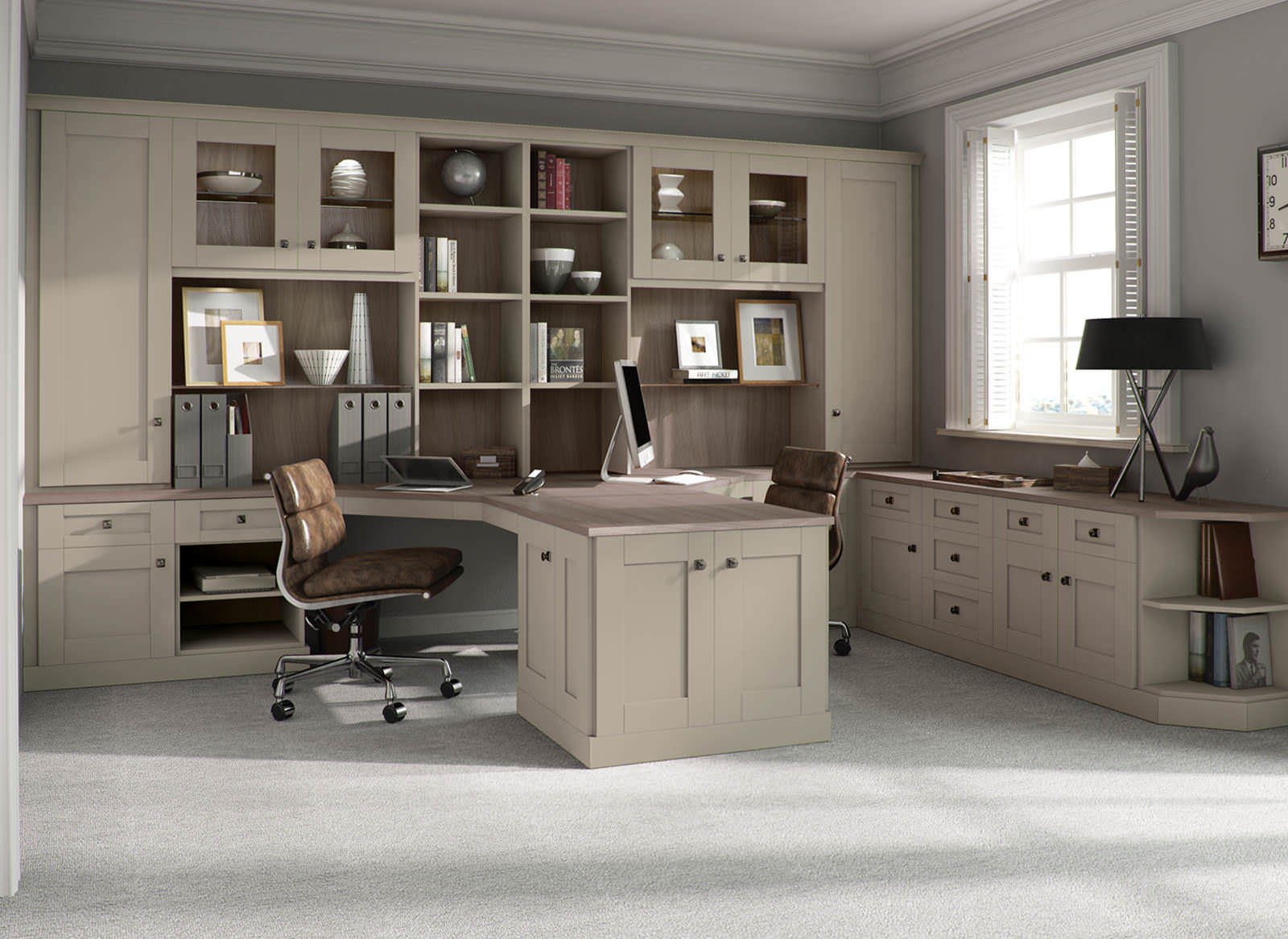 Shared Desk
Shared desks can work really well in home offices. They look fantastic, and they're useful for busy couples. You can work together and take care of bills and home duties in a comfortable setting.
With lots of desk space and legroom, this Peninsular desk is big enough for two people to work opposite each other. Boasting a luxurious sage and driftwood finish, the hand-crafted desk has a calming ora that might help you relax into your work.
Not only are shared desks large and comfortable, but they can be fitted with lots of useful storage features too.
Every inch of this shaker influenced desk above is utilised for functionality. The desk itself has lots of drawers and cupboards, and even a fitted shelving unit above. This provides plenty of storage space for all your valuables and office essentials.
Breakfront Desk positioned under the window
Positioning your desk under your window is a great way to bring natural light into your home office, especially during the colder months when the daylight hours are shorter.  Designing a breakfront desk under your window is the perfect way to lift your spirits whilst your working hard in your fitted home office.
Natural lighting boosts wellbeing and productivity, so a fitted window desk like the one above could lift your mood and enhance your productivity. Moreover, a fitted window desk doesn't just create a healthy workspace. It can also contain a wealth of useful storage features.
The Classic Oak computer desk above features a slide-out keyboard tray and printer tray, intricately detailed drawers, and beautiful glass-fronted shelving units. All of these features add to the sophisticated charm of your home office and help you settle into your work with minimal angst.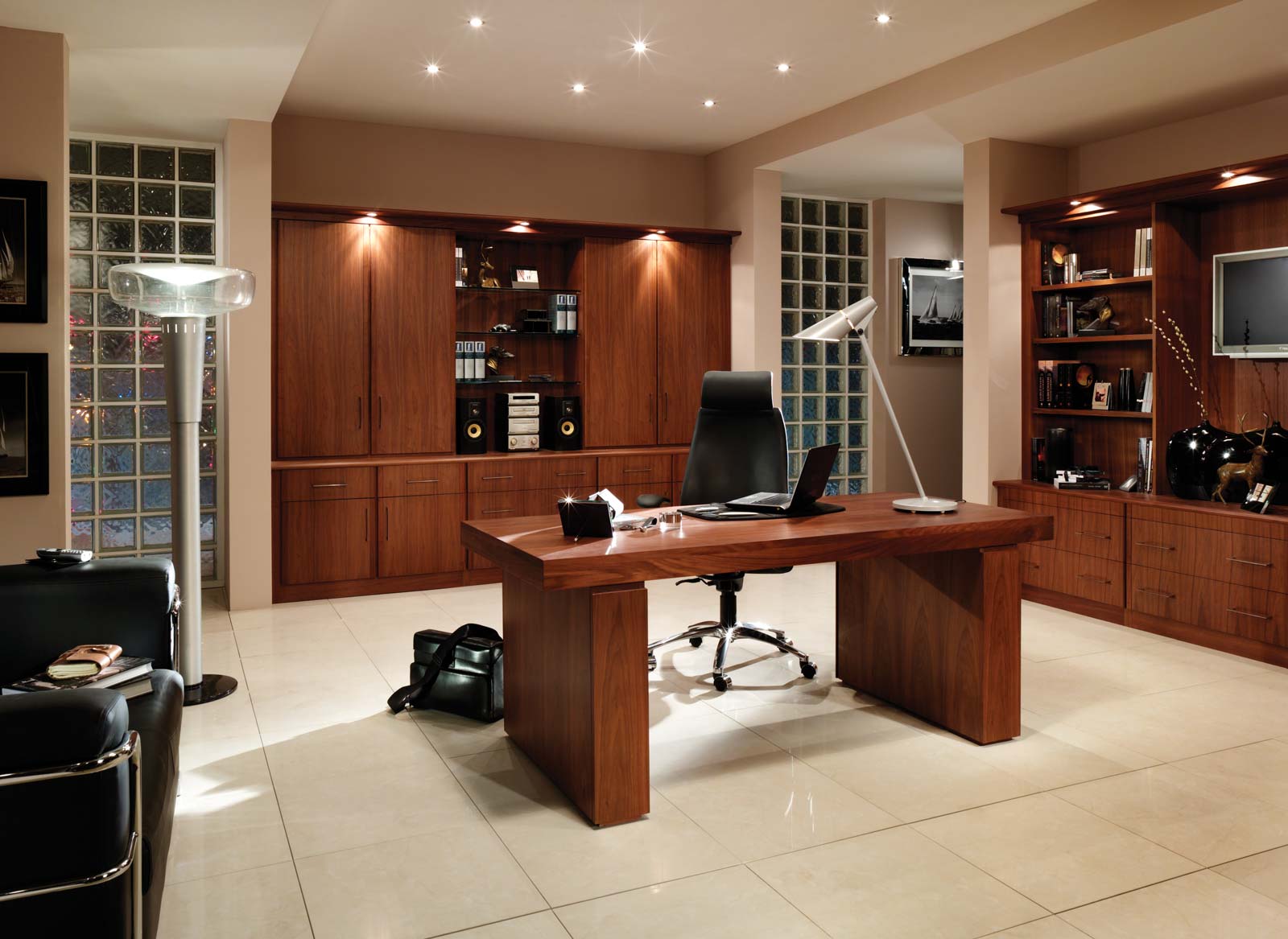 Freestanding Desk
A freestanding desk stands alone as a statement in your home office. This American Black Walnut executive desk above is free-standing and imposing in stature. Its deep and resonating texture with its real wood grain makes a grand statement.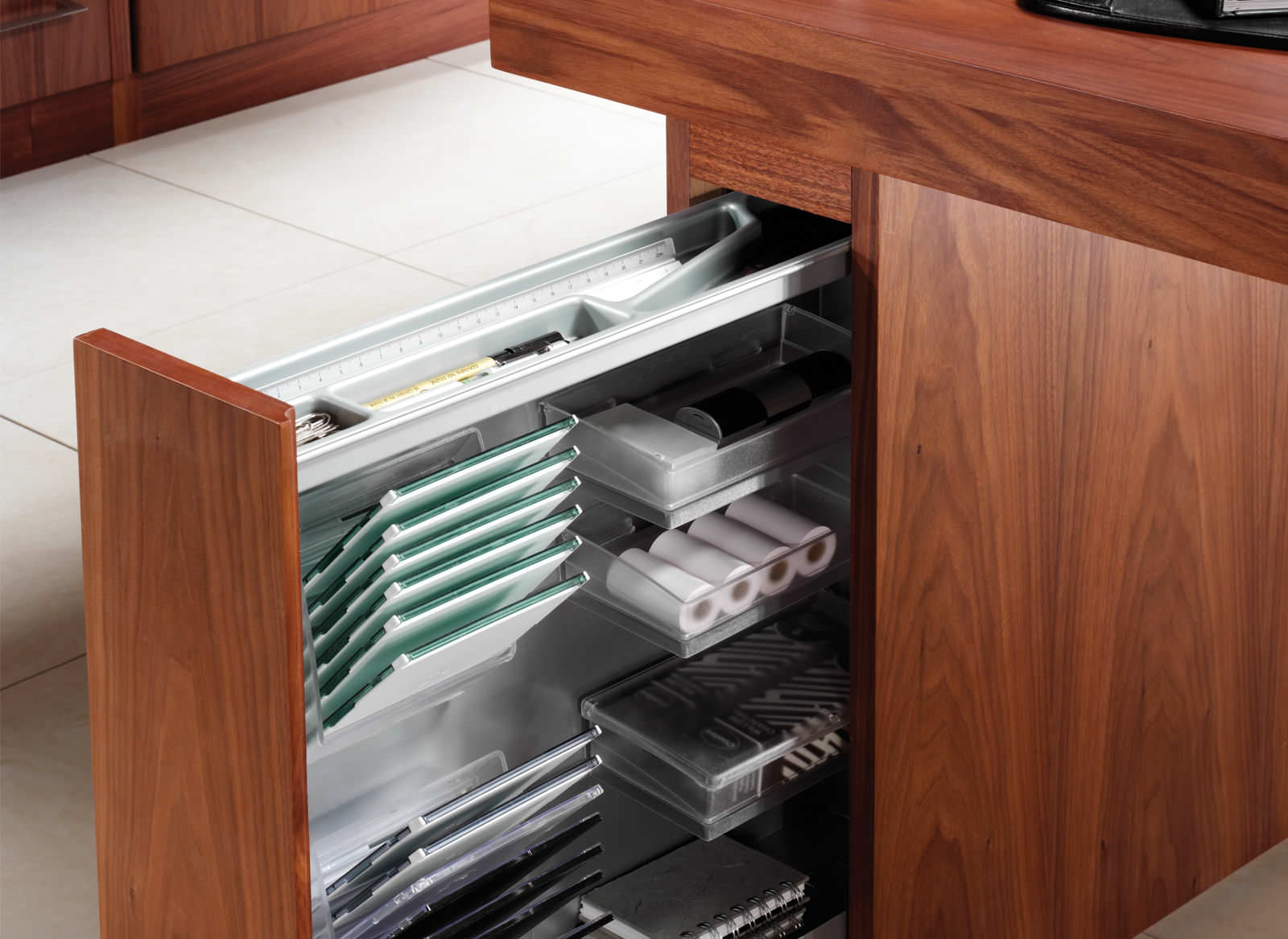 Freestanding desks by Strachan are not only bold in appearance, but they're full of storage options too. This desk is both beautifully hand-crafted and full of useful features. Including soft close drawers, drawer dividers, and even secret pull out pilasters to store your valuable items.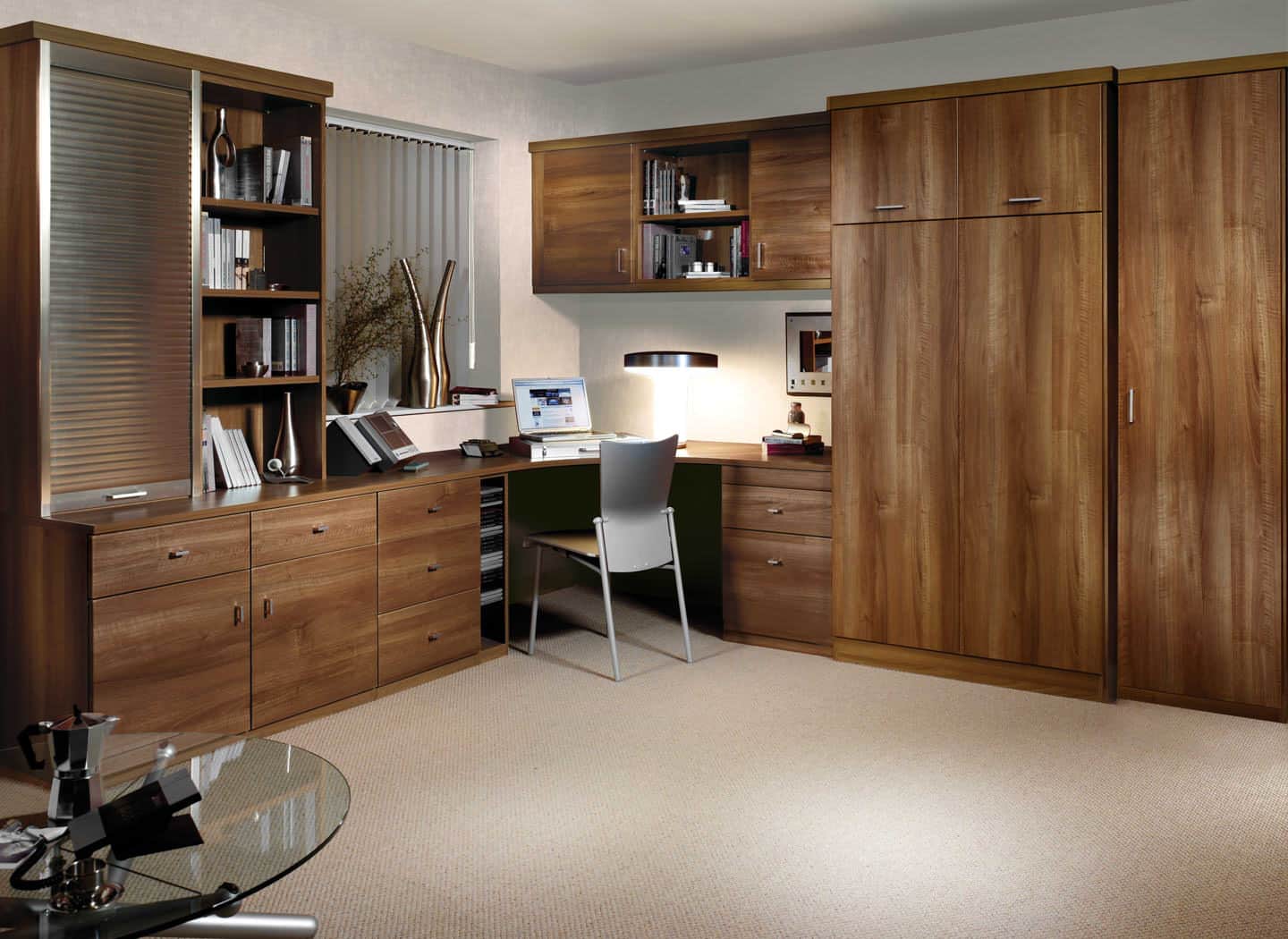 Curved Corner Desk
A curved corner desk is sleek and inviting. This walnut finished curved desk provides a soft aesthetic that eases you into your work. The cleverly curved design utilises all the space available to provide both maximum desk space and storage space.
Curved desks look great in contemporary, classic and traditional style home offices.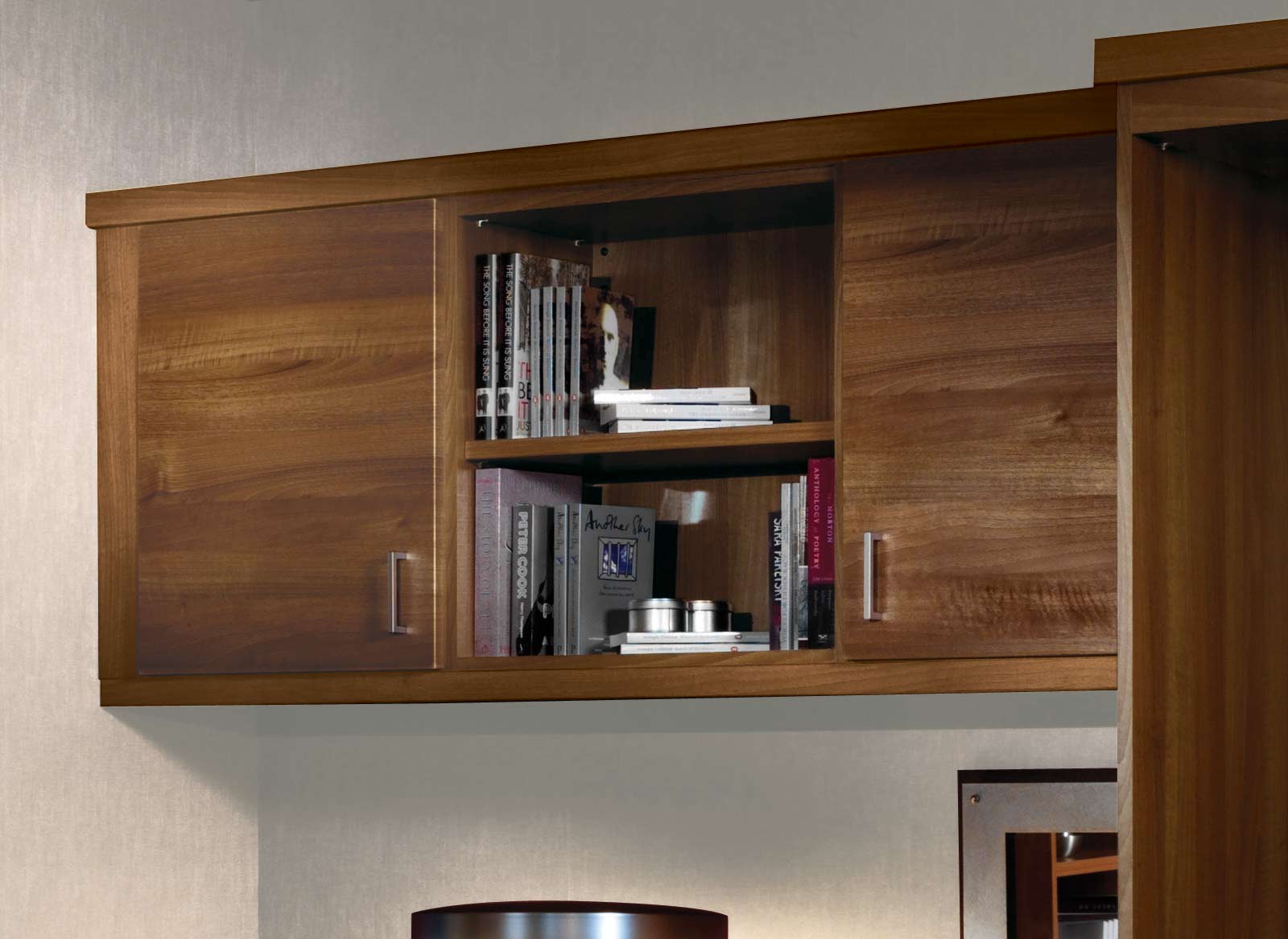 This beautifully designed desk is further enhanced by fitted overhead shelving units.  They provide lots of extra space for your books and appliances as well as enhancing the aesthetics. Fitted to the wall, they blend well with the rest of the home office design for an ideal designer look.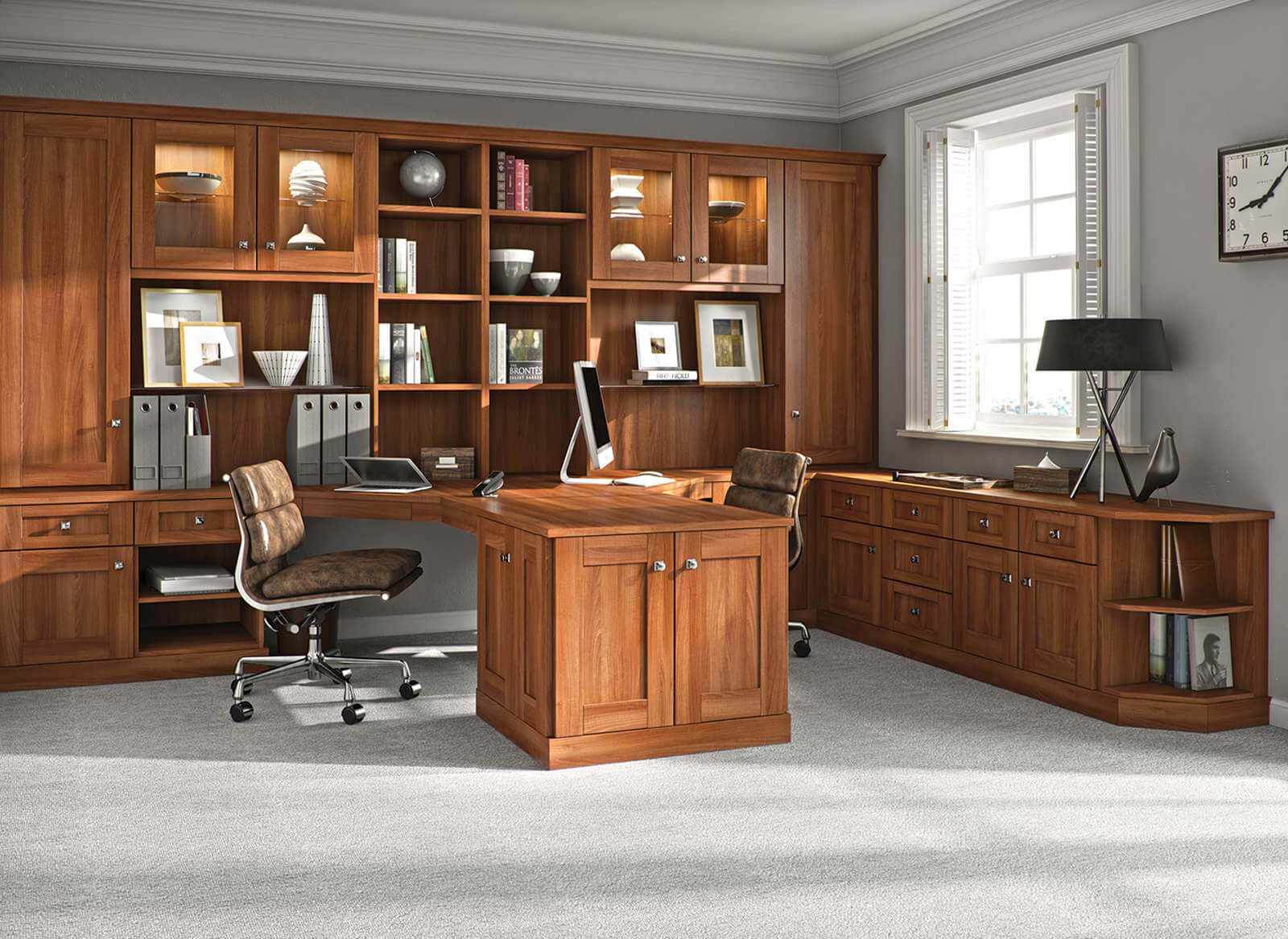 Angular Desk
Extending in two directions, angular desks provide lots of space for working, and a comfortable amount of legroom. Fitted to the corner of your room, or back to back, angular desks are spacious with plentiful storage.
This shaker style home office computer desk is dual-sided and makes excellent use of all the space available in the room.
A dedicated matching shelving unit is perfectly fitted across the length of the wall. Connecting directly to the desk, it creates a seamless finish.
Moreover, the stunning shelving units and cupboards provide plenty of space to store all of your office essentials.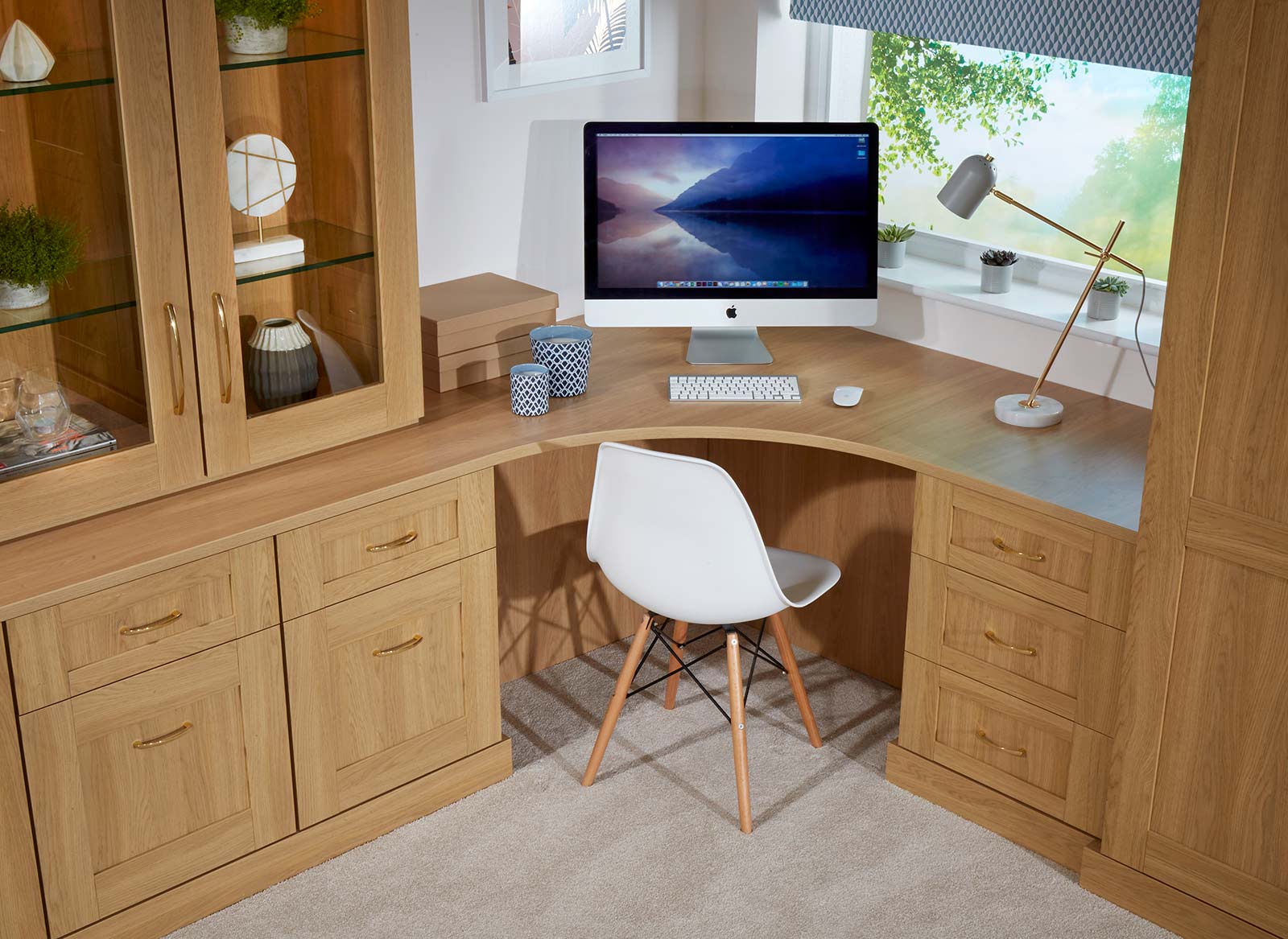 Corner Desk
A corner desk is an ideal piece of furniture if you're looking for a space-saving desk option. With plenty of surface space and legroom, it'll fit neatly into the corner of your room. This leaves the main room space free for anything else you might need it for.
This beautifully fitted desk is perfect for a desktop computer and it's full of superb storage options. Shaped desks can be designed and fitted to maximise the functionality of the space you have available.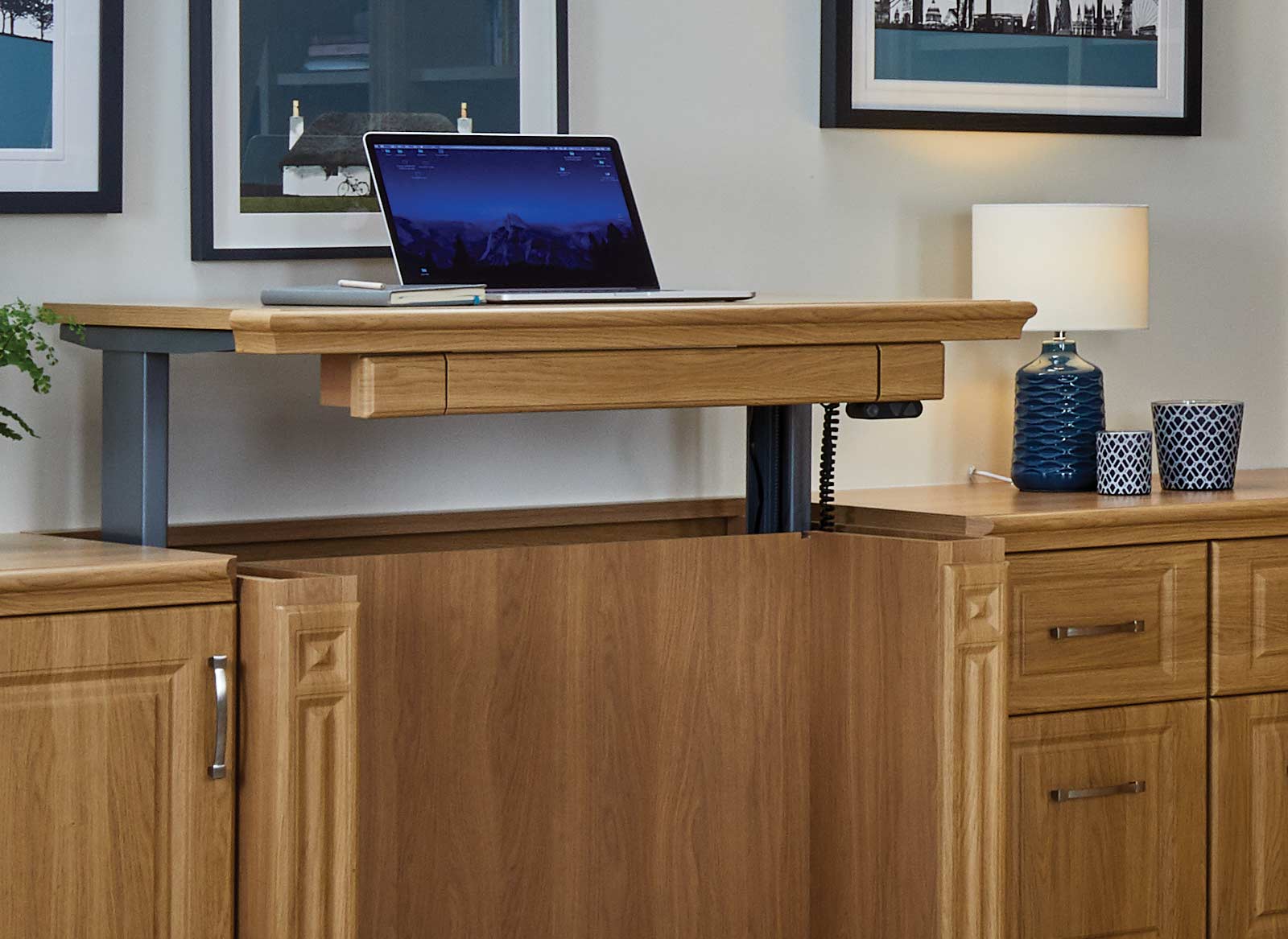 Sit-stand desk
Do you spend a lot of time working in your home office? A sit-stand desk could have a positive impact on your work.
A sit-stand desk is height-adjustable. Meaning you can move the desk platform up and down, which allows you to work in either a sitting or standing position.
Studies conducted in recent years indicate that working at a sit-stand desk can bring many benefits. Including losing weight, reducing levels of anxiety and fatigue, and positively benefiting your happiness and well-being.
The Strachan sit-stand desk above is ideal for a home office. The desk blends perfectly with the traditional theme of the office and the hidden mechanism is electronically operated, meaning you can set it to the perfect height for you at the touch of a button. The desk can also be operated via an app downloaded to your mobile phone or tablet.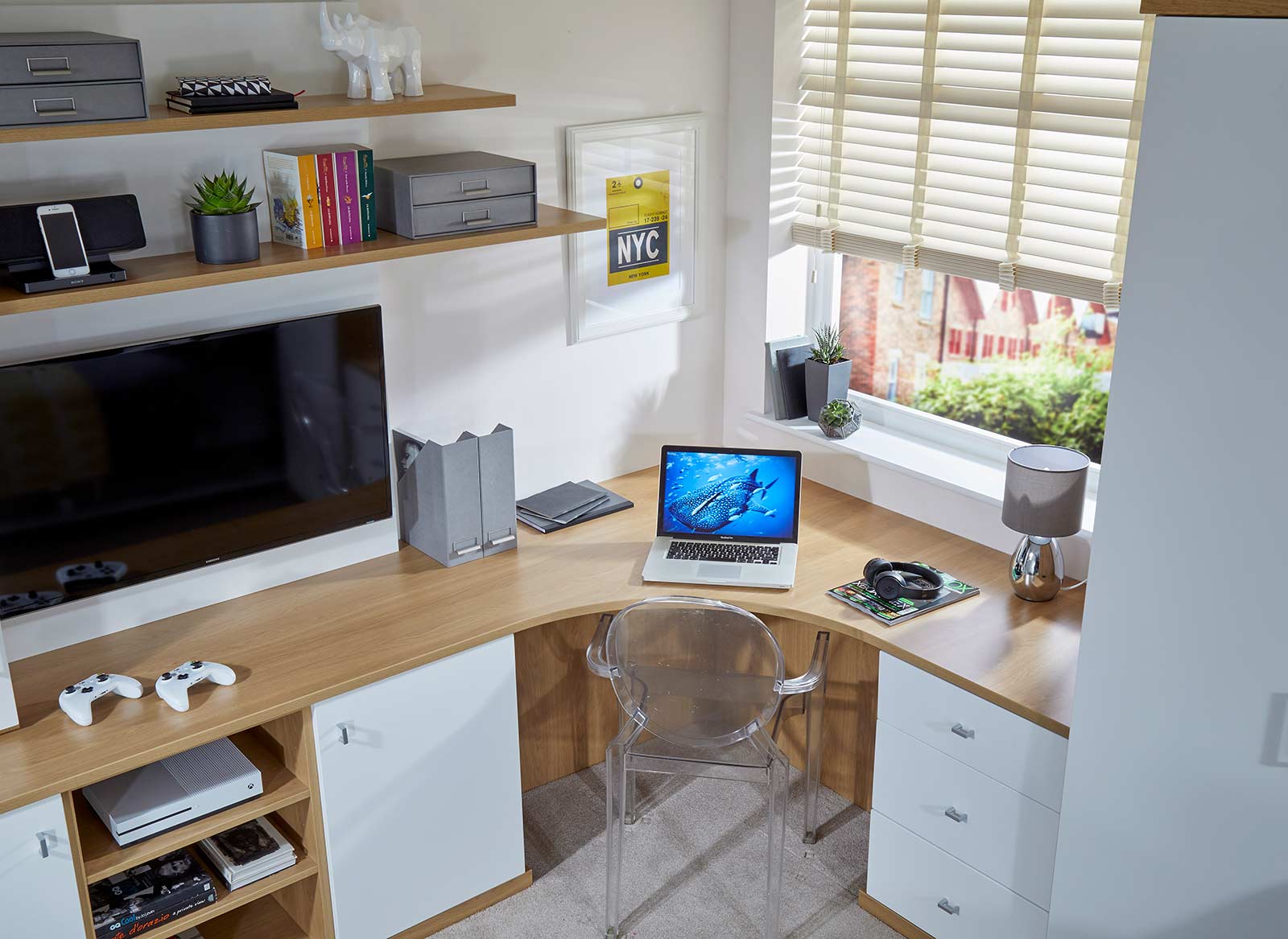 Computer desk
A computer desk is ideal for a home office and a study bedroom. Computer desks provide a comfortable surface for working, and they're built with cable management in mind.
The Strachan computer desk above is perfectly fitted into the corner, meaning the user can enjoy a seamless and functional space for work and hobbies.
Fitted computer desks can also be fitted with clever extras and storage features to make your life easier. You can install features like internal filing, drawers, shelves, keyboard trays and even integrated LED lighting!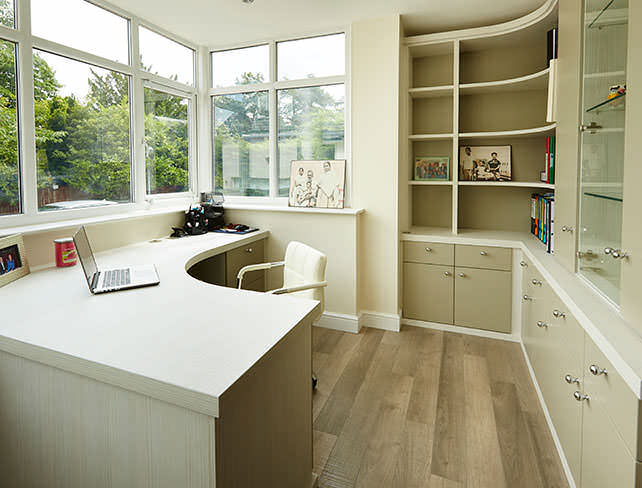 L shaped desk
As well as creating a nice focal point, an L shaped desk gives you a large surface to work on and enables you to keep all your office items close by. This helps you to keep your work and your mind organised.
L shaped desks can be designed to fit in with any interior design, they're ideal for a luxury home office.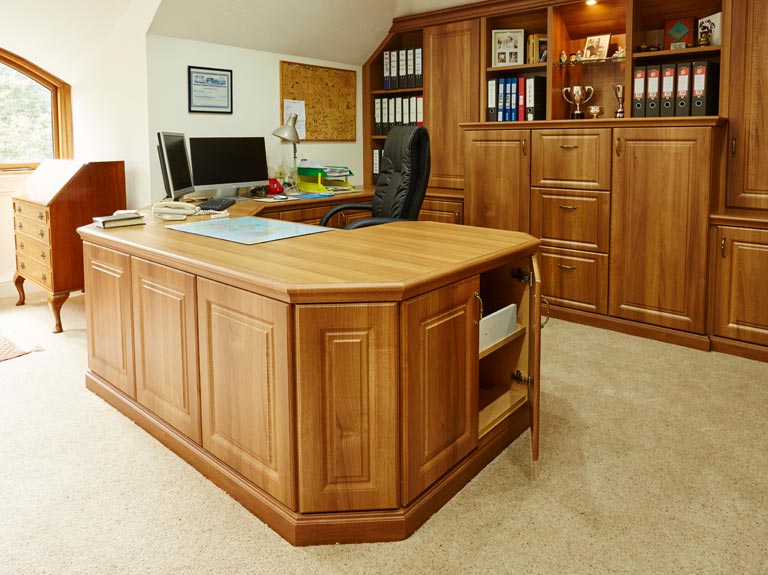 U shaped desk
This type of desk is ideal for someone who needs a large work area. The desk has three surfaces and is packed with storage features. The user comfortably sits in the middle of the wrap around desk with all their office essentials close to hand.
The handcrafted fitted Strachan U shaped desk above is finished with beautiful traditional detailing for a luxurious statement.
Finishing touches
When you bring your dream desk to life, it's important to remember finishing touches. Your type of desk needs to be finished properly for a completely seamless appeal.
If you have a keen eye for detail, you may have noticed the grain matching across all of the home office furniture above. Natural grain matching creates a subtle seamless appeal throughout your home office. With grain matching, you choose the types of wood, and your designer ensures the grain is consistent across your whole design.
Also, it's crucial you consider cable management. This will ensure all of your electricals are wired up nicely and out of sight, so the aesthetic of your home office desk type is seamless.