An Elegant Home Study
Sophisticated style for a productive space
Our customer's brief
An elegant home study
Our customer asked us to make the most of a light and airy room in his home by creating a sophisticated home study design. He required a work desk and storage for his technology, along with bookshelves and display units. It was also important that the fitted furniture didn't interrupt the spacious feeling of the room.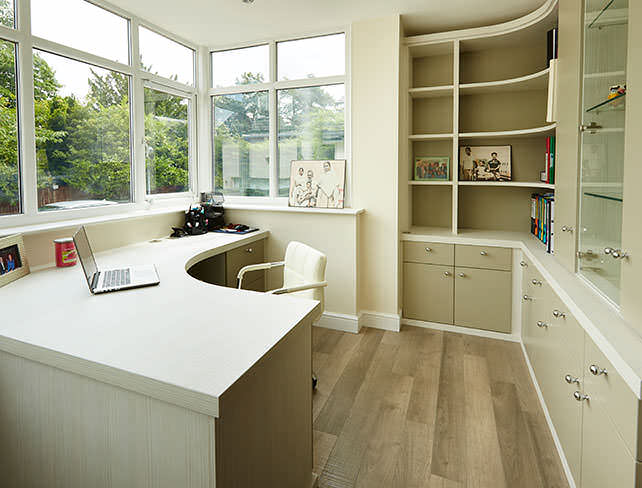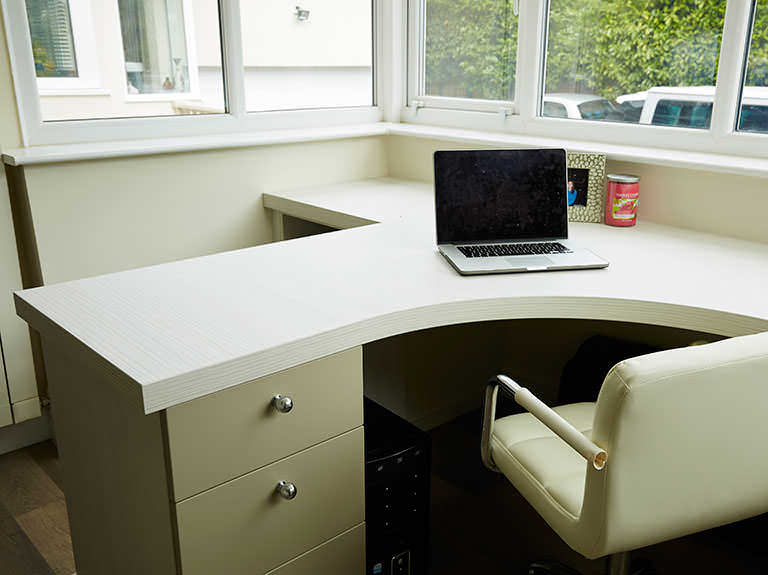 A seat with a view
Curved peninsular desk
A spacious desk was fitted against the wall, providing an uninterrupted view of the garden. With a peninsular design and curved shape, the desk provided a comfortable work area that received plenty of light throughout the day. An additional space was available to the side, complete with storage for various items and equipment.
Convenient designs
Slide out printer tray
Below the additional desk space, a slide out storage feature was fitted. This meant that the customer could easily access the printer without it taking up any worktop space. Other low level drawer units provided general storage and filing.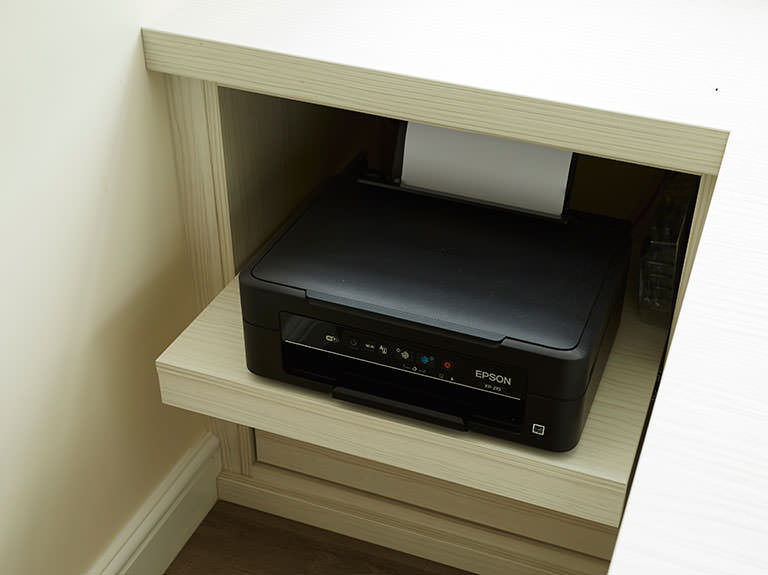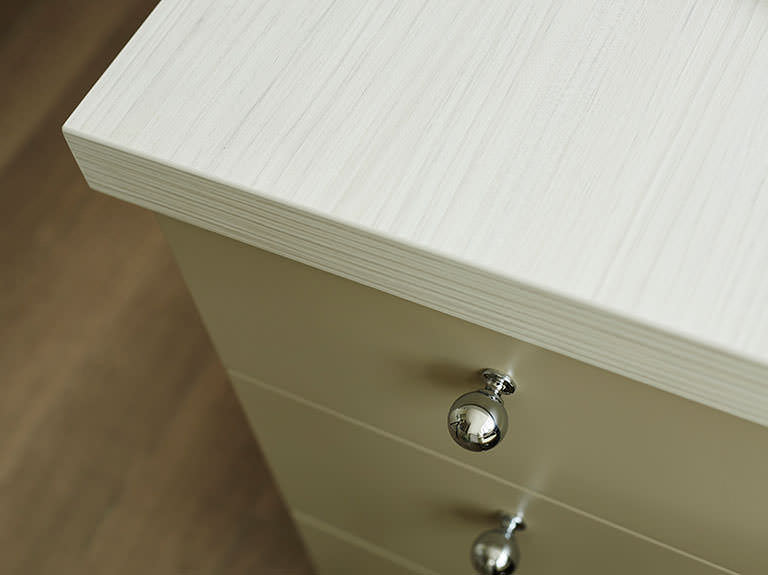 Unique style
Optima in Sage and Pearl
All our fitted furniture is tailored uniquely to our customers' tastes. Our designer presented a range of different designs and finishes to the client, who chose a light colour scheme with a two-tone Sage and Pearl. This was applied across the contemporary, curved profiles of the Optima range. This choice of muted shades worked wonderfully in the bright space.
Contemporary and curved
Fitted corner unit
In order to optimise the space across the two back walls, we designed and installed bespoke units. This was configured to include soft close drawers and shelves, as well as tall cabinets and a display area. We installed curved shelves to the corner bookcase to compliment the aesthetics of the curved peninsular desk.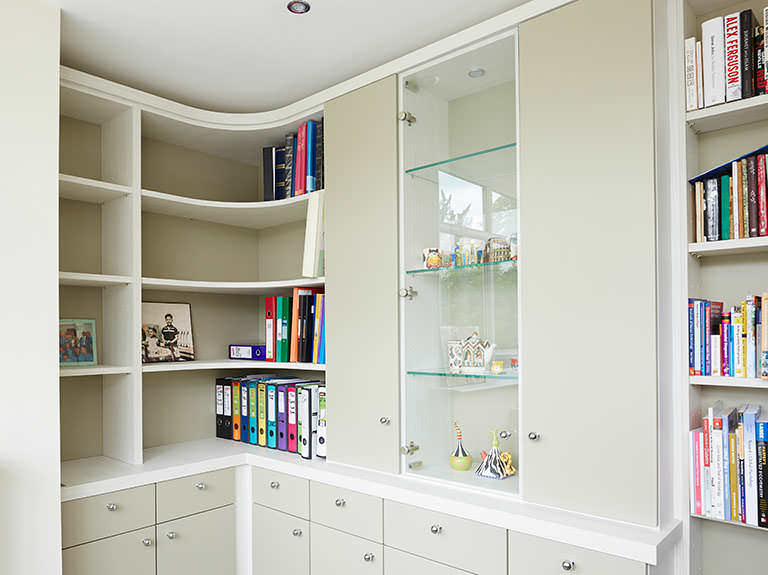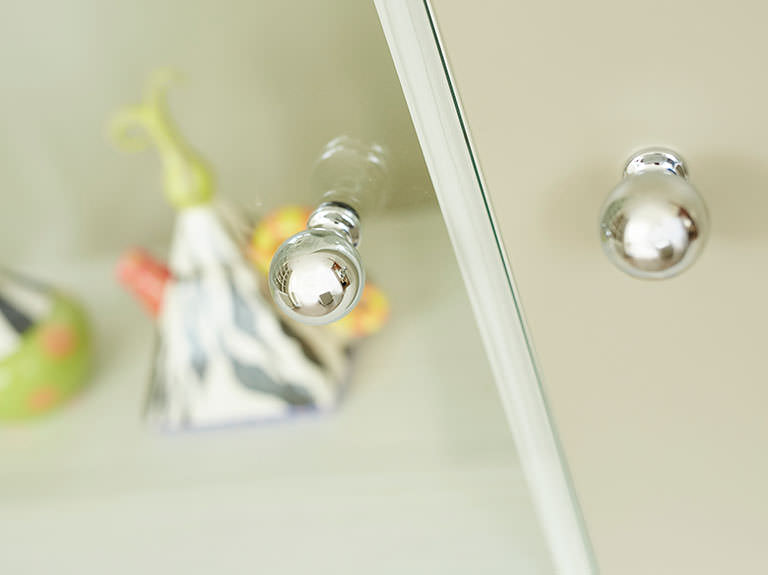 Proudly on display
Glass shelving and cabinets
A full glass fronted display cabinet was incorporated into the design. Complete with matching glass shelves, this elegant design feature was the perfect way for the customer to proudly display their treasured items.
Crafted to perfection
Bespoke bookshelves
The corner space was utilised with appealing bookshelves for the customer's literature and documents. The narrow space to the side of the tall storage cabinets was also optimised with reduced depth bookcases to make the most of the available storage space.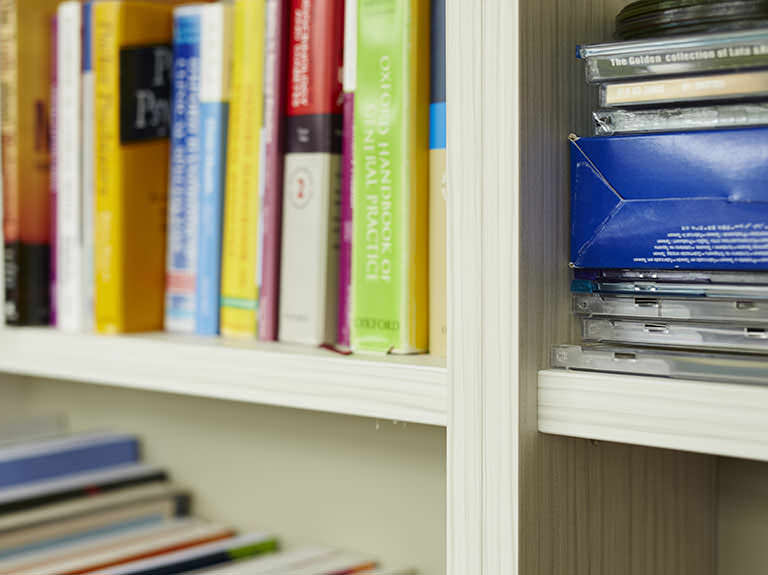 The Strachan Brochure
Order a free copy of the new Strachan brochure for design ideas and inspiration. Find elegant bespoke designs for bedrooms, lounges, walk-in wardrobes, home offices, libraries and more. Browse at your leisure and discover the ideal way to transform your home.
Request a new brochure