An alluring en suite and dressing room
featuring sharp lines
Our customer's brief
An alluring en suite and dressing room
Our customer was looking to create a glamorous dressing room and en suite in her Henley home. We crafted a selection of bathroom and storage furniture, featuring the sharp lines of the Capri range and finished in an alluring mixture of High Gloss Black and real American Black Walnut wood grain.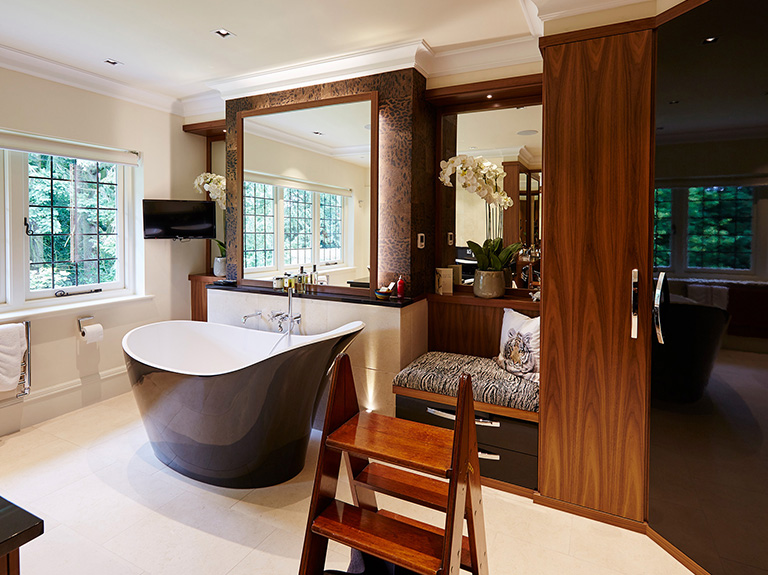 Fashionable and functional
Bespoke contemporary wardrobes
Double width wardrobes were fitted with corner wardrobes either side, to provide maximum use of the space available and create a dramatic aesthetic. These were finished in lustrous High Gloss Black, with the two outer fascia's and carcases displaying a symmetrical American Black Walnut wood grain.
Tailored solutions
Glass fronted accessory drawer
The wardrobes were configured with bespoke storage solutions to perfectly suit the client's requirements. Internal drawers featured a glass front with wooden dividers to help the customer keep her accessories and smaller clothing items organised with ease.


Dedicated accessory space
Pull out shoe shelf
Below the glass fronted drawers, we configured a double pull out shoe shelf which delivers a smooth opening and soft closing operation. This provides the customer with easy access to two rows of her shoe collection.
Accessible systems
Hidden Rako lighting
A hidden compartment was created behind the hanging rail in one of the fitted wardrobes. With Walnut wood grain finished panels, this provided the perfect solution for the customer's Rako lighting system, keeping it hidden from view for a seamless aesthetic while allowing service access when needed.


Effortless organisation
Mirrored cabinet with internal hooks
We designed and fitted cabinets with internal shelving, giving our customer an area for her additional toiletries and cosmetic products. Hooks were fitted to the door to provide a space for her jewellery to be stored in pristine condition, while mirrored front panels were fitted for added convenience.
Ventilated cabinet
Dedicated Sonos storage
In order to house the customer's Sonos system, the cabinet was fitted with a top level, made to measure shelf. Integrated vents were fitted above for a consistent air flow to ensure the system could operate efficiently and allow the customer to enjoy her favourite music while getting ready each morning.


Glamorous details
Backlighting on mirror
In addition to installing a large feature mirror above the bath in a matching wood surround, we also integrated LED backlighting. This provided the ideal ambient lighting levels, while also bringing an extra touch of glamour to the dressing room design.
Added elegance
Dressing table with glass top
We installed a dressing table that provided the customer with a comfortable space to get ready every morning. This was finished in a matching American Black Walnut finish and was fitted with a glass top. In addition to looking sleek and modern, the glass top protects the wood grain surface from cosmetic damage.


Discreet storage
Hidden dressing table drawer
A bespoke drawer was included within the dressing table design and finished in a co-ordinating High Gloss Black. This was fitted to the exact space available and set at a height ideal for the customer, providing a discreet storage space below the mirror where she could store her cosmetic products within reach.
Stunning seating
Bespoke wood trim stool
We created a bespoke stool that featured a real wood trim in American Black Walnut. This raised the stool height and seamlessly tied it in with the fitted furniture suite. This was then finished with an upholstered seat in the customer's supplied fabric.


Co-ordinating comfort
Plush padded seating
The Customer's own fabric was also used to upholster a matching seating area in the dressing room. An integrated bench utilised the corner space in the room and featured a plush cushioned pad for extra comfort.
Stylish and spacious
Extra depth drawers
A drawer unit was fitted below the seating area with a soft close function as standard. These were customised to make full use of the extra depth available, extending back into the carcase to deliver generous drawer space. The fronts were finished in High Gloss Black with statement polished chrome handles.


Discreetly hidden
Push to open storage space
A hidden storage area with internal shelving space was fitted above the seating area. This comprised of two discreet cabinet fronts in American Black Walnut with an innovative push to open mechanism, meaning it provides the perfect place for hidden storage.
Beautiful bathroom furniture
Granite topped sink cabinets
The same American Black Walnut wood grain finish and High Gloss Black colour scheme was applied to the fitted bathroom furniture. The sink cabinet included storage space and towel hooks, along with an integrated splash back and luxury granite top, supplied by the customer.


Made to measure
Inch perfect drawer space
The sink cabinet featured internal drawers with a modern curved frontage in place of a handle. These were precisely crafted to the customer's measurements to deliver inch perfect storage for her toiletries and cosmetic products.
Clever designs
Pull out pilaster
A pull out pilaster in the sink cabinet was made to a special size in order to fit some of our customer's larger items. These items can be stored away in the bespoke pilaster shelving with additional metal storage racks. The front was finished in the warm tones of the American Black Walnut wood grain and was set on a runner for smooth operation.


Consistent aesthetics
Walnut toilet system
To create an interior design style that flowed throughout the dressing room and en suite, Strachan also created a bespoke unit to conceal the toilet cistern, which was finished in the Walnut wood grain and featured a mirrored panel above. This was then plumbed with a contemporary toilet and statement flush button.
The Strachan Brochure
Order a free copy of the new Strachan brochure for design ideas and inspiration. Find elegant bespoke designs for bedrooms, lounges, walk-in wardrobes, home offices, libraries and more. Browse at your leisure and discover the ideal way to transform your home.
Request a new brochure