A grand and spacious study
Traditional style in a unique space
Our customer's brief
A grand and spacious study
Mr. and Mrs. Innocent approached us to request a grand and practical study suite that would utilise a room in the top level of their home in Ongar, Essex. This project would therefore require bespoke furniture designs that fitted to sloping ceilings and awkward spaces.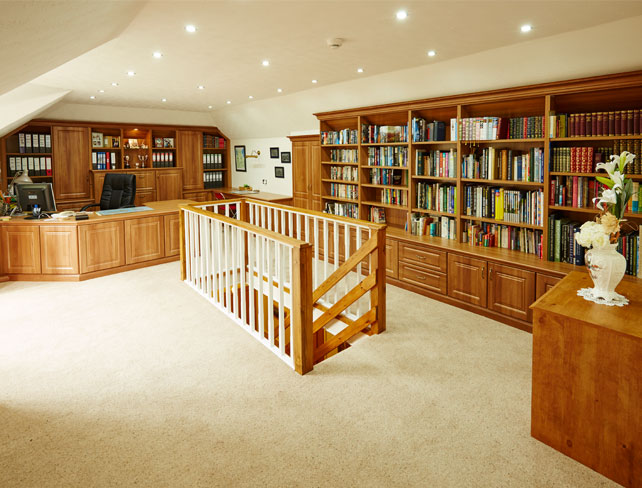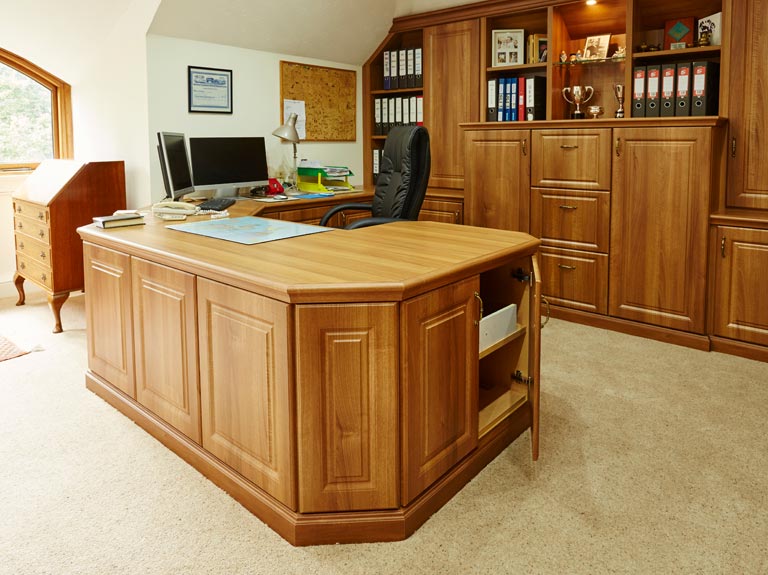 Dedicated work space
Peninsular desk with storage
A traditionally styled desk was fitted against a wall. Featuring a peninsular design, it delivered a generously sized work space. Internal storage was also integrated into the desk and was discreetly hidden behind cabinet doors that perfectly matched the finish and detailing of the desk panels.
Simple solutions
Hidden pull-out printer shelf
The desk also included other storage solutions to make the customer's work day even easier. A pull out printer shelf was discreetly hidden behind a cabinet door, allowing easy access when needed and the ability to store out of sight when not. An area below the shelf provided storage for printing supplies and access to power points behind the cabinets.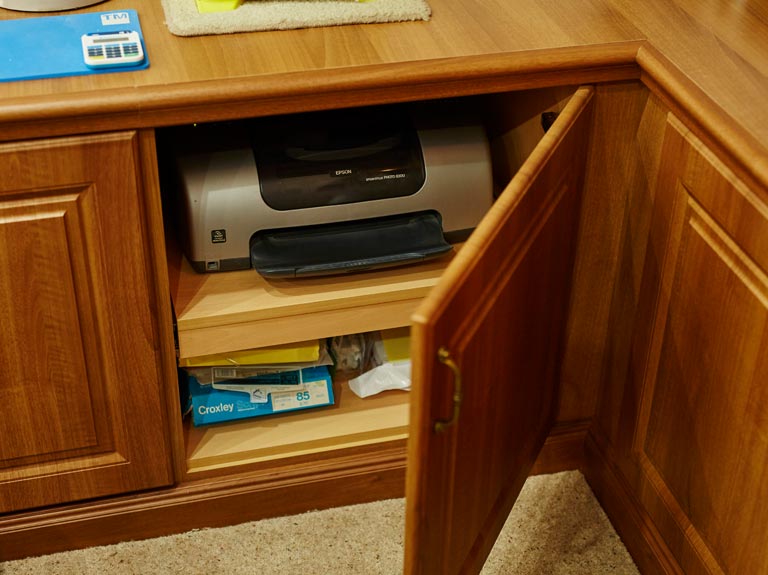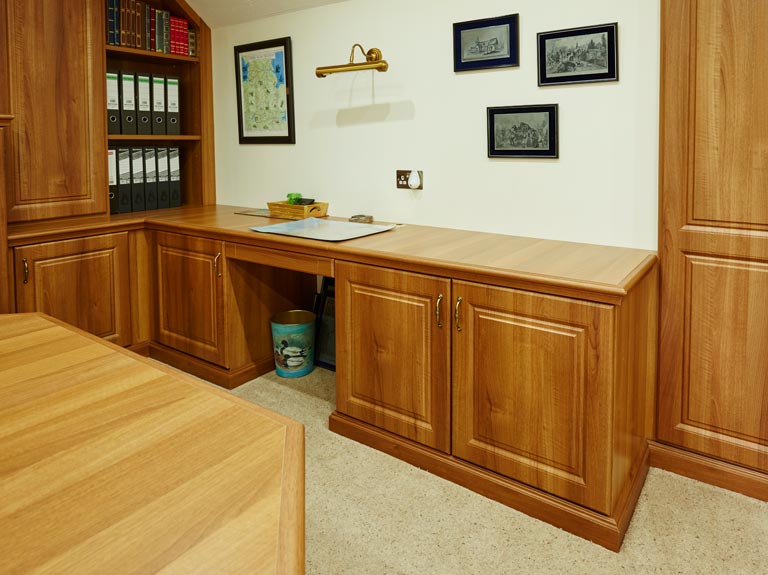 Co-ordinating designs
Workspace for guests
We installed a second desk as a work space for guests. This was fitted against the wall in a matching traditional New England style and Uno Walnut finish. This was configured with single and double width cabinets on either side, along with leg space to provide comfort and a hidden pull out drawer for more storage options.
Uniquely tailored
Versatile storage units
Bespoke storage units were designed and crafted to fit precisely under the room's sloping ceilings to the full extent of the wall space. This featured a mixture of different storage areas suited to the customer's needs, including both open display spaces together with cabinets and drawers.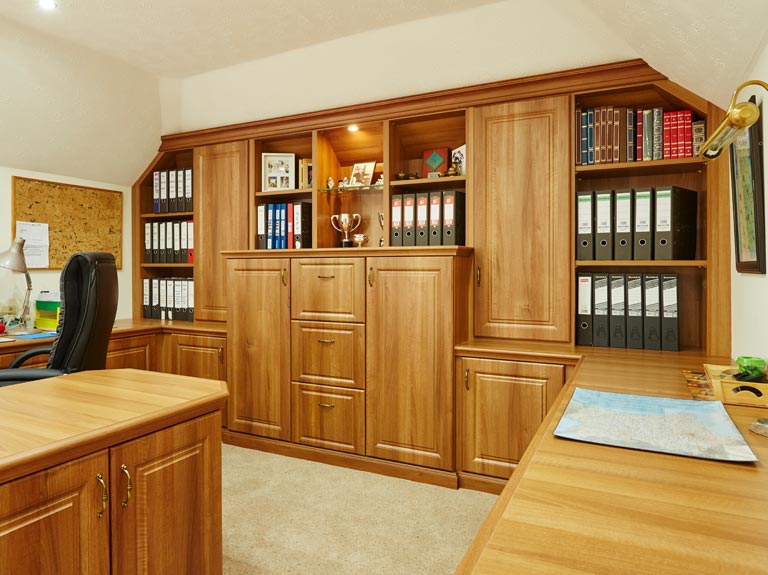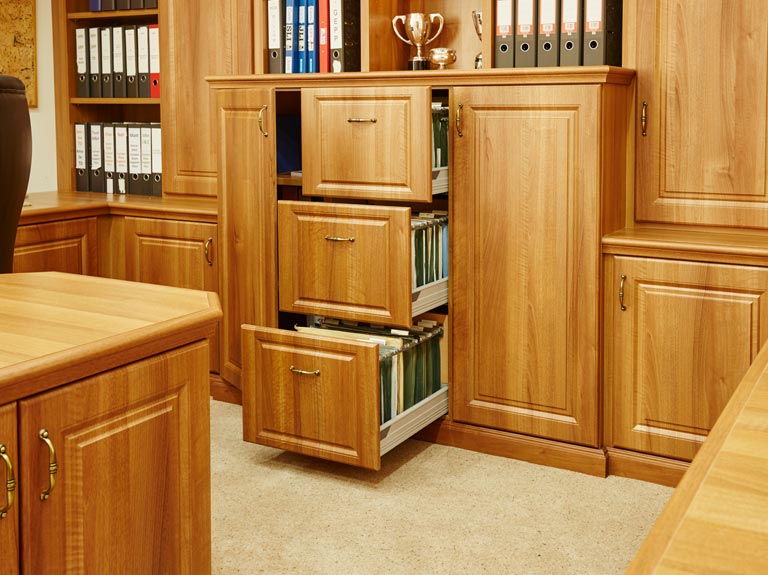 Thoughtfully constructed
Three tier filing drawers
In the centre of the storage unit, we included three tier filing cabinets. These were finished in a matching Walnut wood grain and fitted with soft close file drawer runners for smooth operation. They have an internal filing feature so the customer can enjoy effortless organisation.
Masterfully designed features
Moulded worktops for a striking effect
The filing drawers, along with the two tall cabinets that frame them either side, were set forward from the rest of the storage units as a feature. The worktop fits flush with the above bookcases for a dramatic and timeless look.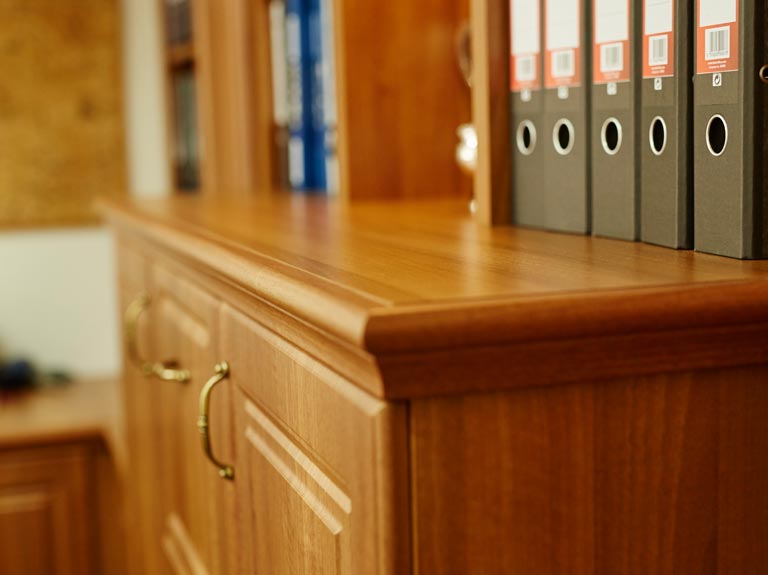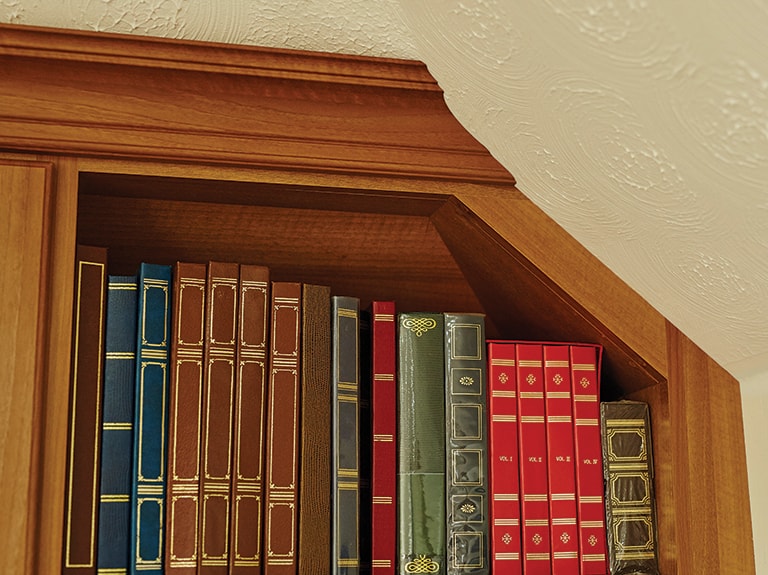 Functional designs
Fitting around sloping ceilings
The unit was fitted to the eaves of the room with slopes in two directions. This carefully considered design made maximum use of the room's awkward spaces, while the shelf depth still provided functional storage space for books, folders and display items.
Display cabinet options
Glass shelving and LED lighting
Above the filing drawers and in the centre of the storage unit, we fitted a space that is ideal for displaying the customer's photos and treasured items. Complete with glass shelving and integrated LED downlighting, this area provides an elegant focal point and brings a touch of personalisation to the home office.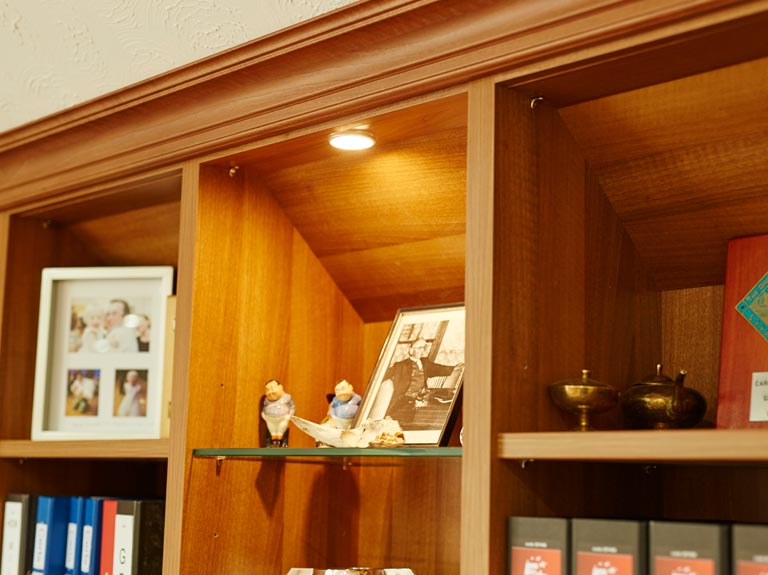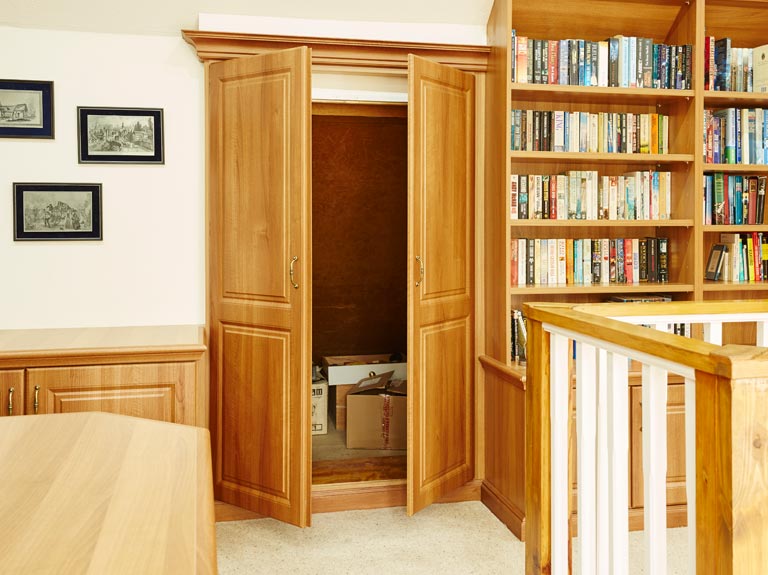 Discreetly hidden
Matching doors conceal eaves access
To conceal access to the eaves and create an uninterrupted aesthetic, we manufactured matching New England bespoke doors which our expert fitters installed onto a frame around the access point, complete with coordinating cornice and plinth mould.
Carefully finished
Scribed to sloping ceiling
In order to create a seamless finish, the top of the bookcases were scribed to fit flush against the sloping ceiling. This involved shaping the bookcase carcases, top panels and cornice mould in a precise manner to the slope to deliver a fully fitted look with traditional charm.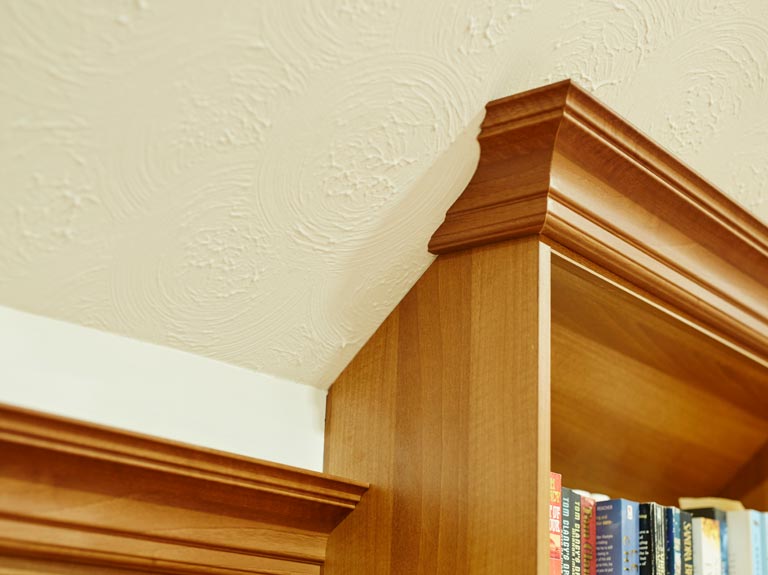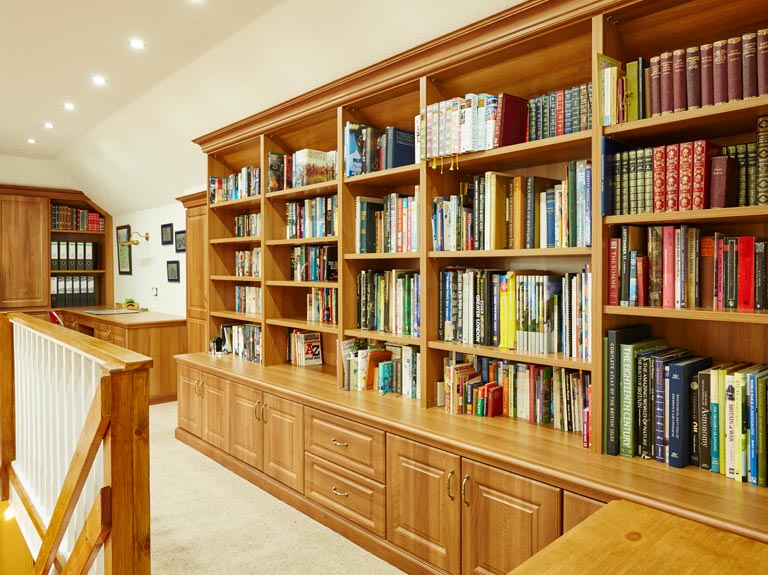 Stylish shelving
Bespoke bookcases
Made to measure bookcase units were fitted, featuring various height shelves. Crafted in our traditional New England range and finished in a warm Uno Walnut wood grain, this provided a stunning storage space for the customer's literary collection.
Constructed for convenience
Low level storage
Additional low level storage space was integrated below the bookcases. Along with cabinets, we designed and fitted double height drawers with a soft close feature as standard. The drawer fronts were finished with the customer's choice of handle.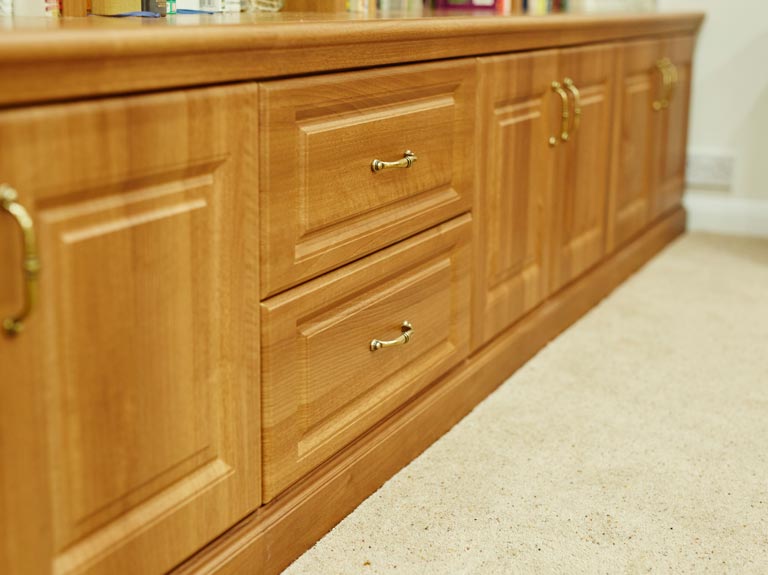 The Strachan Brochure
Order a free copy of the new Strachan brochure for design ideas and inspiration. Find elegant bespoke designs for bedrooms, lounges, walk-in wardrobes, home offices, libraries and more. Browse at your leisure and discover the ideal way to transform your home.
Request a new brochure