A beautifully designed fitted study
with space to display collectibles in style
Our customer's brief
A bespoke study with space to display collectibles in style
Our customer contacted Strachan requesting a bespoke study for his home in Ascot. He required a dedicated workspace, together with an area to proudly display his extensive collection of vintage model cars. Our expert designers created made to measure solutions that were as practical as they were aesthetically pleasing in our Prima, English Oak finish.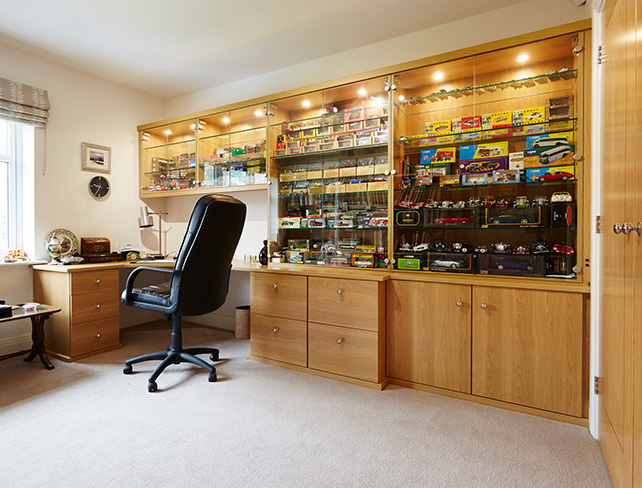 Delightful display cabinets
Glass doors, shelves and LED lighting
Wall to wall bespoke display cabinets were designed. Two suspended cabinets above the desk area, created additional storage whilst not taking up any of the customer's workspace. In addition to glass shelving and glass doors, LED down lighting was installed to illuminate and draw attention to every detail of our customer's precious collection.
Beautiful and bespoke
One-piece worktop
A one-piece worktop was intricately crafted and shaped for the desk top, delivering a single grain wood direction for simplicity. This gives a pristine effect to the worktop and showcased Strachan's renowned attention to detail. The desk utilises the room's space and features full depth leg room for complete comfort.


Effortless organisation
Integrated filing system
The desk was configured to include drawers, featuring a soft close function as standard. A double height filing system was integrated within two of the drawers. This provided the customer with a clever storage solution and an easy way to stay effortlessly organised with all his documents.
Additional storage space
Coordinating shelving unit
Our customer wanted to retain his existing bookcase but required additional storage, therefore our designer created a shelving unit in the English Oak finish, to match in with the new study furniture. This provided the customer with more storage options, without compromising on the seamless style of the study. Each shelf was made to measure, delivering inch perfect space for folders, books and files.

The Strachan Brochure
Order a free copy of the new Strachan brochure for design ideas and inspiration. Find elegant bespoke designs for bedrooms, lounges, walk-in wardrobes, home offices, libraries and more. Browse at your leisure and discover the ideal way to transform your home.
Request a new brochure