An on trend guest bedroom
with space saving sliding door fitted wardrobe
Our customer's brief
An on trend guest bedroom
Our customer requested that we create an on trend and inviting space in her guest bedroom. Our expert consultants designed modern fitted furniture, delivering storage and convenience. The suite was finished with the light tones of Natural Oak and featured cream glass panels across the sliding wardrobe doors.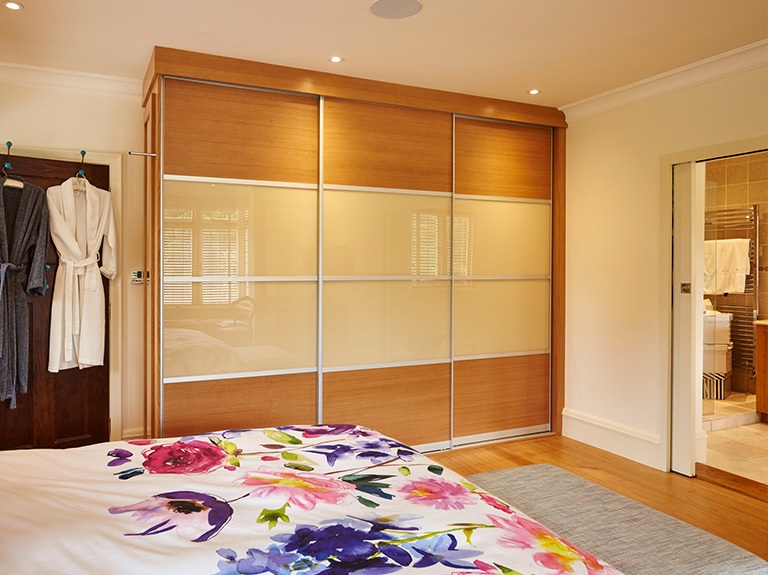 Overhead storage
Full height wardrobes
We fitted contemporary bespoke height wardrobes that delivered floor to ceiling storage. This included an overhead storage compartment above the hanging rails, where the customer could stow away her suitcases and seasonal items.
Convenient configurations
Slide out shoe shelf
We crafted and installed internal storage solutions inside the wardrobes, which provided easy access to all clothing items and accessories. A double slide out shoe shelf was fitted behind the sliding wardrobe doors, giving the customer a dedicated area for her shoe collection.


Dedicated designs
Glass fronted drawers
A glass fronted, three tier chest of drawers provided the perfect place for the customer's bags, shoes and accessories, all accessible at a glance. This was fitted below the slide out shoe shelf, both concealed behind the soft closing sliding wardrobe doors.
An abundance of space
Double height hanging rails
The modern fitted wardrobes also featured double height hanging rails. This made maximum use of the internal wardrobe space with versatile storage for the customer's various clothing items.


Elegant finishes
Glass topped dressing table
A made to measure dressing table was also installed in the guest bedroom. In addition to the real wood finished furniture and integrated mirror, the worktop was then protected with cream glass to emphasise its lustrous look and protect the dressing table surface whilst tying in beautifully with the sliding wardrobe door panels.
Storage within reach
Full depth dressing table drawer
An oak fronted drawer extended back into the full depth of the dressing table carcase, providing a generous amount of storage space. The smooth operation of the soft close drawer meant that cosmetic items and grooming products could be kept close to hand.


Unique seating
Bespoke upholstered stool
A bespoke height stool in a matching polished wood grain complemented the dressing table and provided a stylish seating area. Our experienced craftsmen upholstered the stool with a cushioned pad in a material provided by the customer to deliver comfort and a personalised touch.
Utilising space
Low level shelving
A corner in the guest bedroom was utilised with a low level shelving unit. This was designed in the classic styling of our Mountain Oak range, which is crafted with real wood for a luxurious finish. Four made to measure shelves provide the customer with an area to display and store her book collection.


Precisely fitted
Scribed to skirting board
The shelving unit was precisely fitted to accommodate the features of the room. This meant that our craftsmen scribed the frame to fit flush against the skirting board, creating a seamless finish that could only be achieved with bespoke fitted furniture.
Symmetrical features
Matching bedside tables
The guest bedroom suite also included two symmetrical freestanding bedside tables. The smooth wood grain worktop provides the perfect space for lamps and alarm clocks, whilst double height shelving below allows other items to be stored within reach of the comfort of the bed.

The Strachan Brochure
Order a free copy of the new Strachan brochure for design ideas and inspiration. Find elegant bespoke designs for bedrooms, lounges, walk-in wardrobes, home offices, libraries and more. Browse at your leisure and discover the ideal way to transform your home.
Request a new brochure