A Beautiful Contemporary Fitted Library
Plymouth case study
Our customer's brief
Bespoke and Beautiful Contemporary Library
In order to utilise space in the customer's Plymouth home and create an inspired aesthetic worthy of a place beside the magnificent sea views, Mrs. Mikus contacted Strachan with the challenge to design a beautiful contemporary library incorporating bookcases, LED lighting and cupboard storage.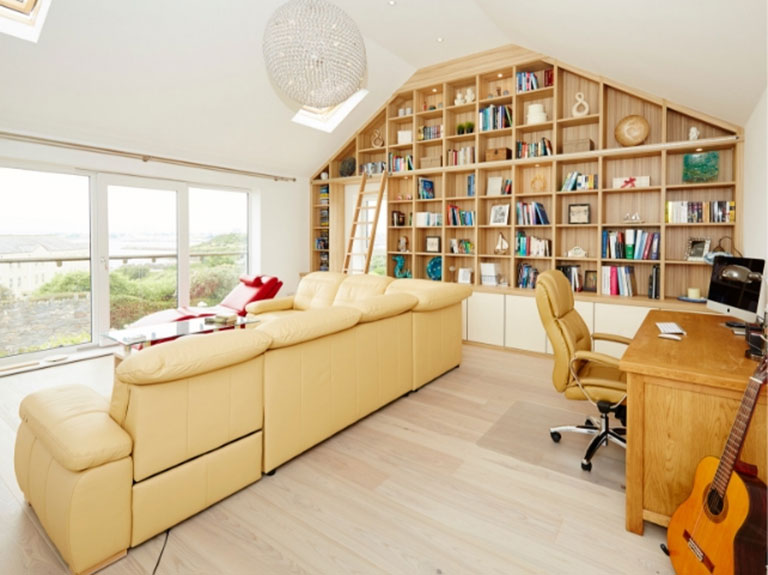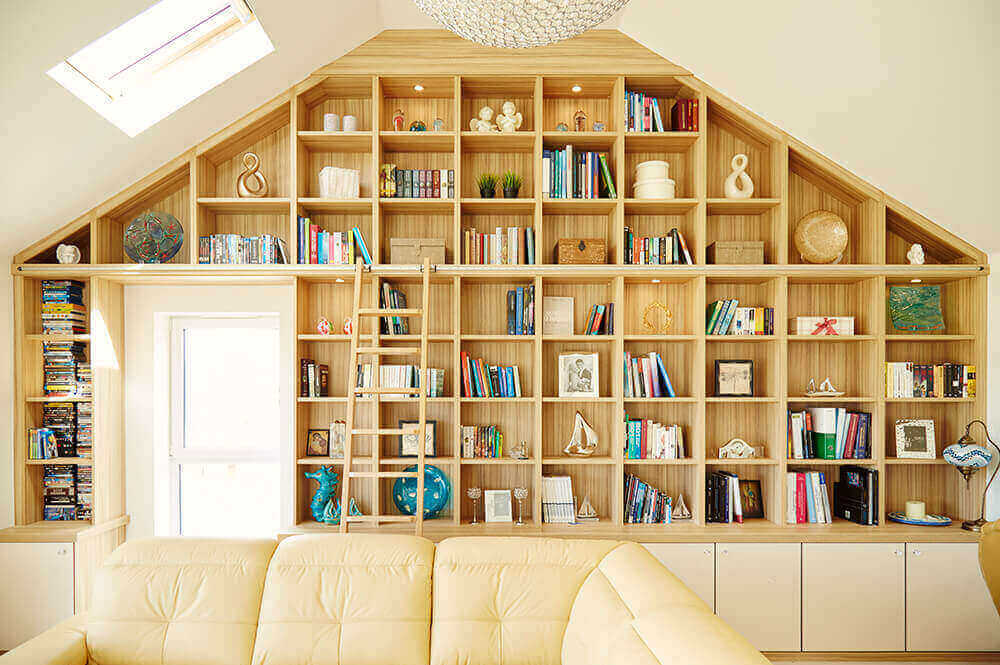 BESPOKE BOOKCASE COMBINATIONS IN A-FRAME DESIGN
Our skilled designer drew upon all his experience to orchestrate a unique bookcase design composed of a symmetrical 5 bookcase combination in the centre with adjacent asymmetrical combinations under the slopes to the vertical side walls. This enabled the furniture to extend the full length of the sloping ceilings around the room's unsymmetrical architecture creating a harmonious and beautiful aesthetic that could only be achieved due to the nature of the bespoke furniture fitted.
SOLID OAK LADDER
In order to allow the customer access to the items on the top level shelves, we supplied a bespoke ladder specifically for use with the library design. This was manufactured in solid oak and finished to complement the wood grain finish of Granadillo for a co-ordinated look.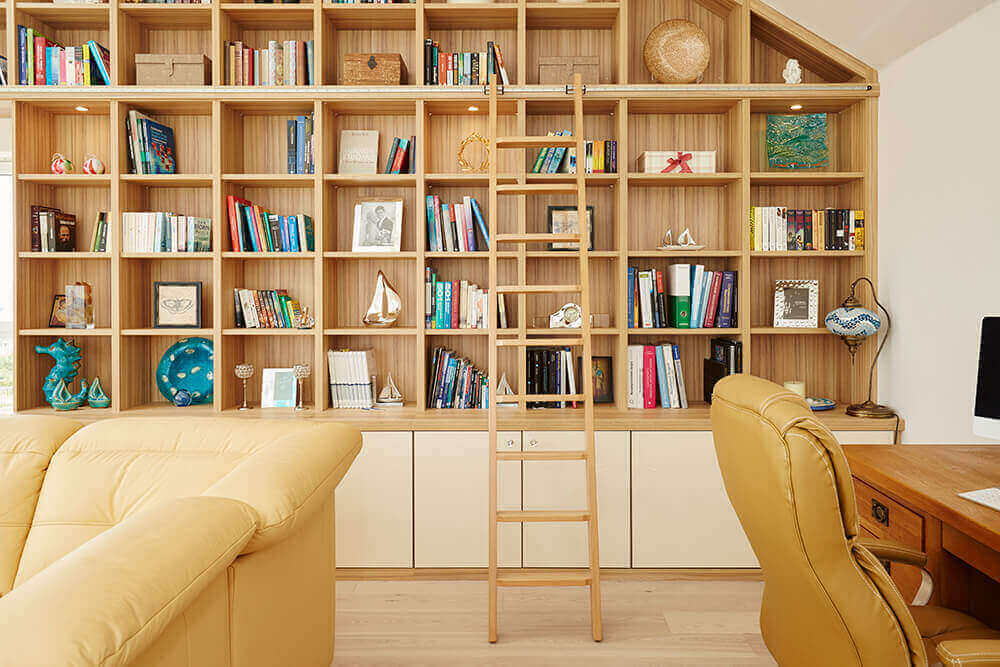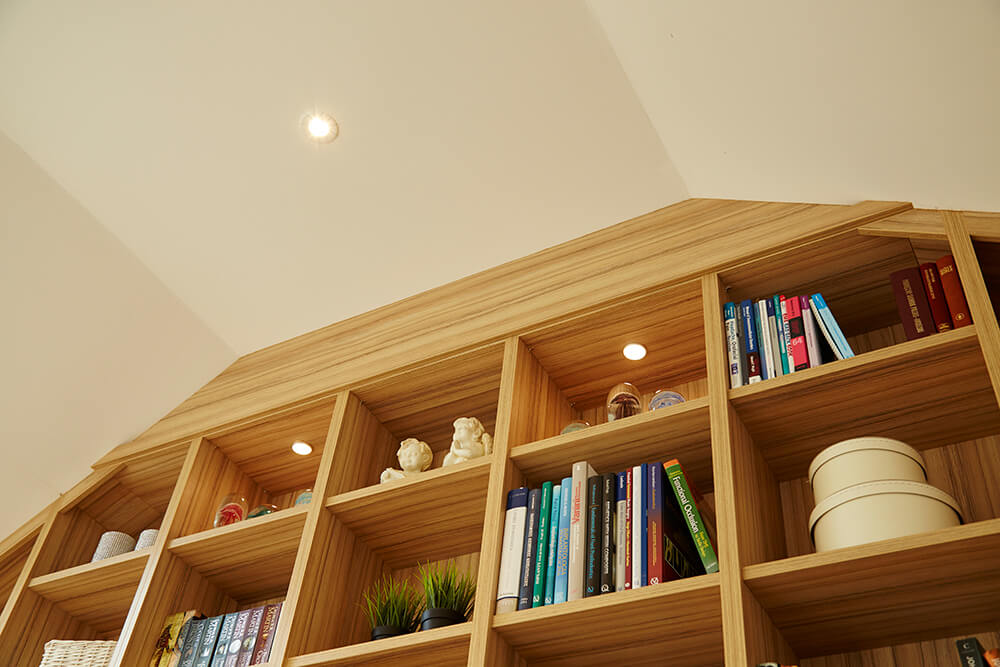 ANGLED BOOKCASES HUG THE CEILING
The shaped bookcase units designed fit the angles of the ceiling, maximise the space available and reach an overall height of just over 3.5 metres. The variable sizes of the same shape angled bookcases left and right mirror each other's character and bring a togetherness between the array of open display shelves for the customer's books and decorative items.
FURNITURE FRAMED AROUND THE WINDOW
The wall featured a tall window which had to be accommodated as part of the fitted furniture design. The construction of bookcase and cupboard storage units each side are designed around the window opening in equal proportions to frame it beautifully and allow for an uninterrupted view.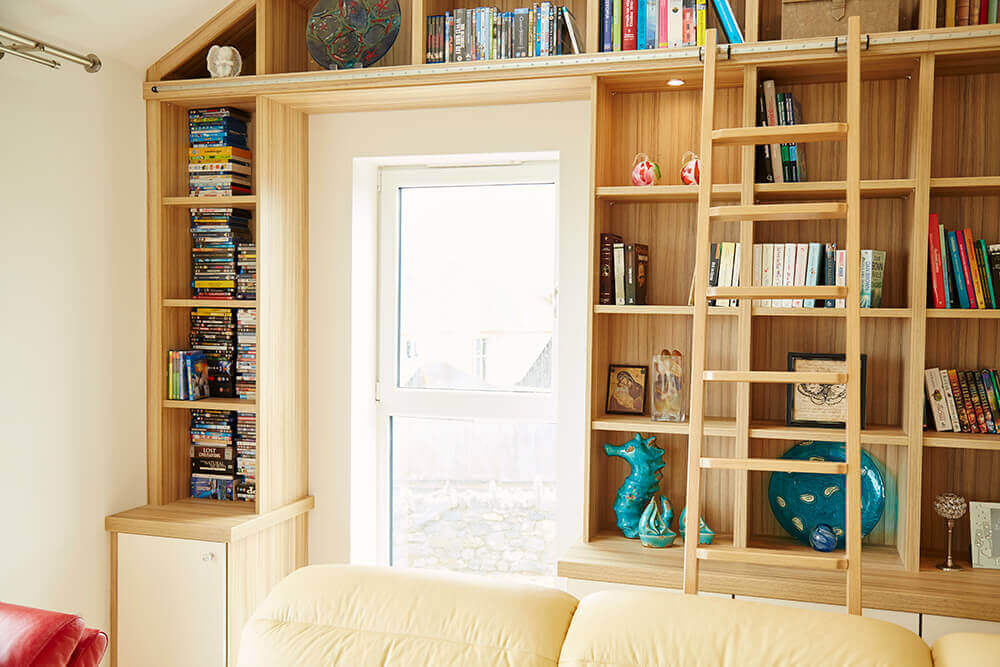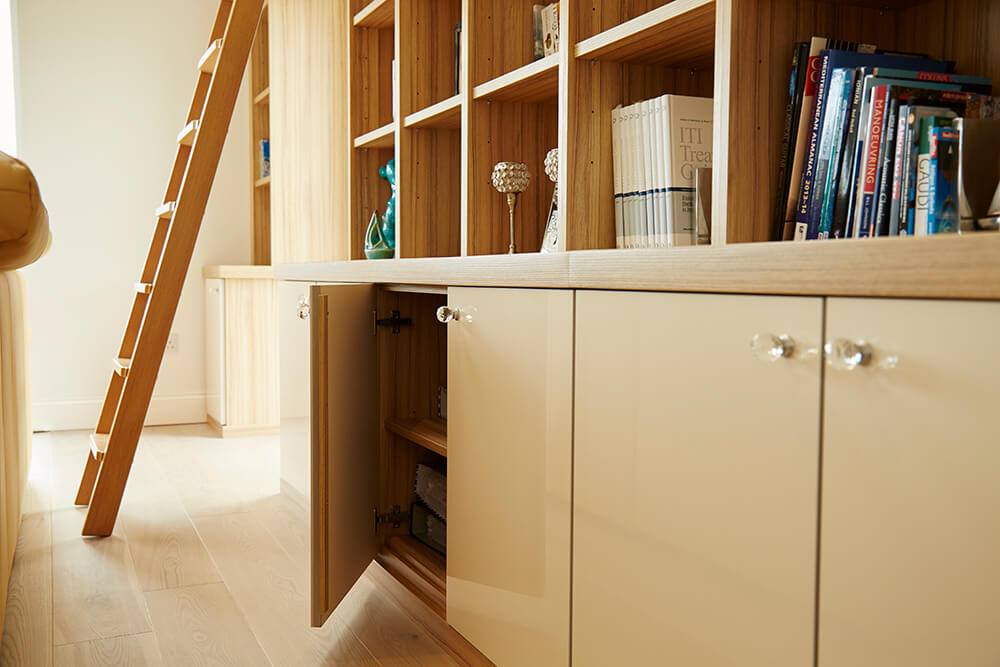 LOW LEVEL CABINETS
Low level cabinets provide the customer with additional storage options. These complement the bookcase design and feature internal shelving, giving an area where items can be stored neatly out of view.
STATEMENT GLASS HANDLES
The cabinet doors were personalised with our crystal cut glass door knobs chosen from our exclusive selection.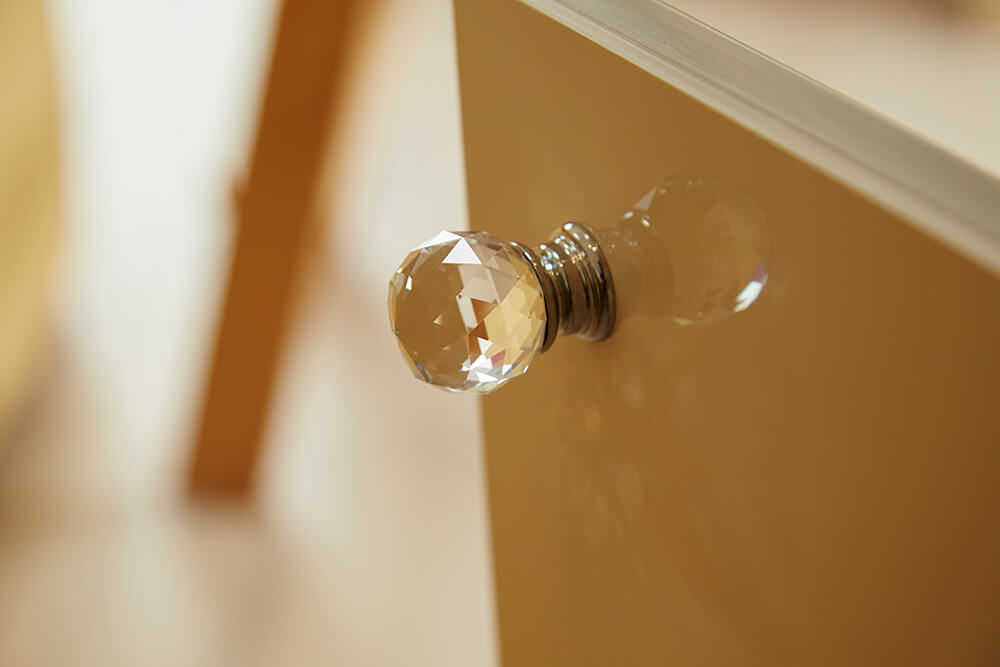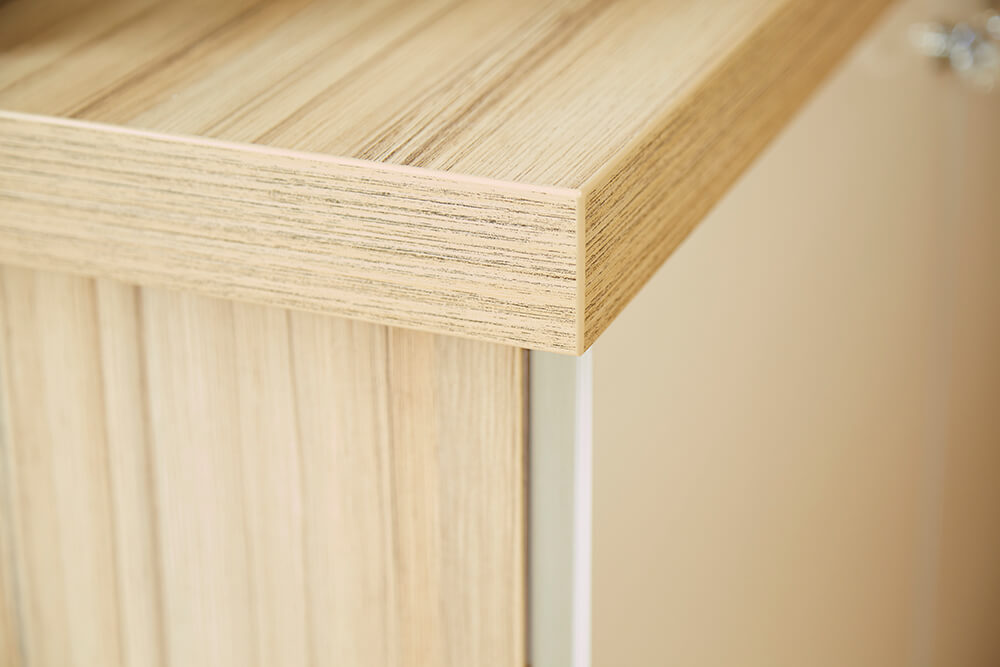 GRANADILLO AND HIGH GLOSS CREAM FINISHES
The customer chose contemporary colours that complemented her home's stunning surroundings. The unique wood grain of Granadillo brought a natural character and charm to the room, while the lustrous High Gloss Cream cabinet fronts reflect light for an airy atmosphere.
The Strachan Brochure
Order a free copy of the new Strachan brochure for design ideas and inspiration. Find elegant bespoke designs for bedrooms, lounges, walk-in wardrobes, home offices, libraries and more. Browse at your leisure and discover the ideal way to transform your home.
Request a new brochure