Hardworking Home Office
Bespoke solutions for a professional work space
Our customer's brief
An adaptable working environment
After knocking through a wall and creating an extension in his home, Professor Taylor asked Strachan to create a home office in his Shropshire home. As a mineral physicist, he required a multi-purpose space for all his equipment and documents, as well as an additional area for visiting colleagues.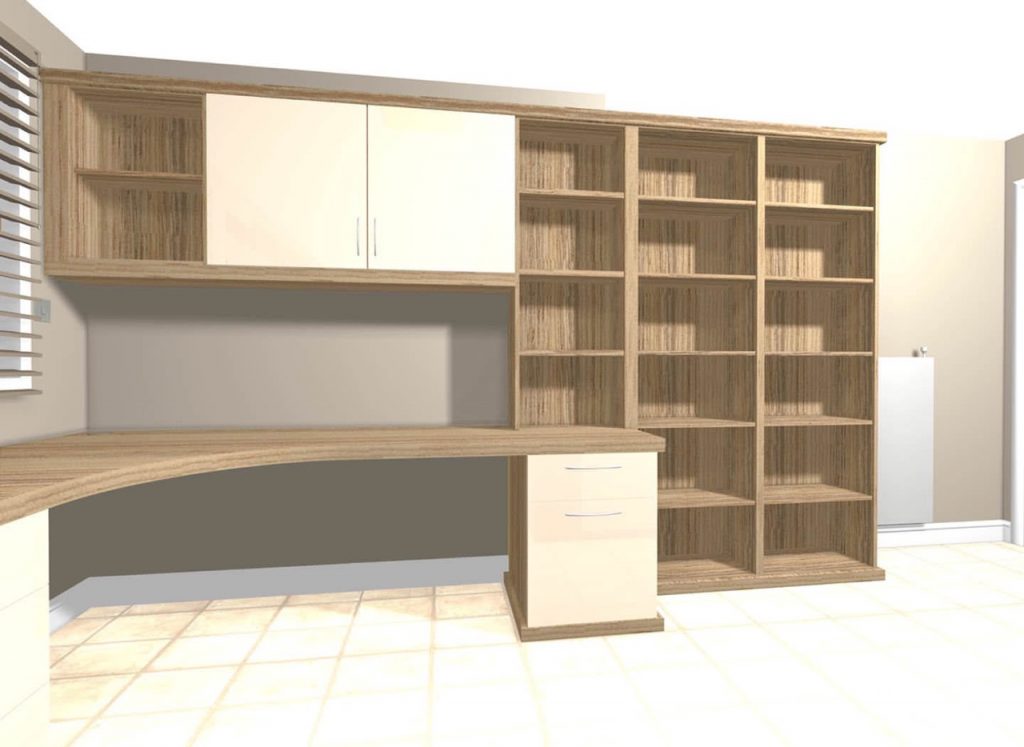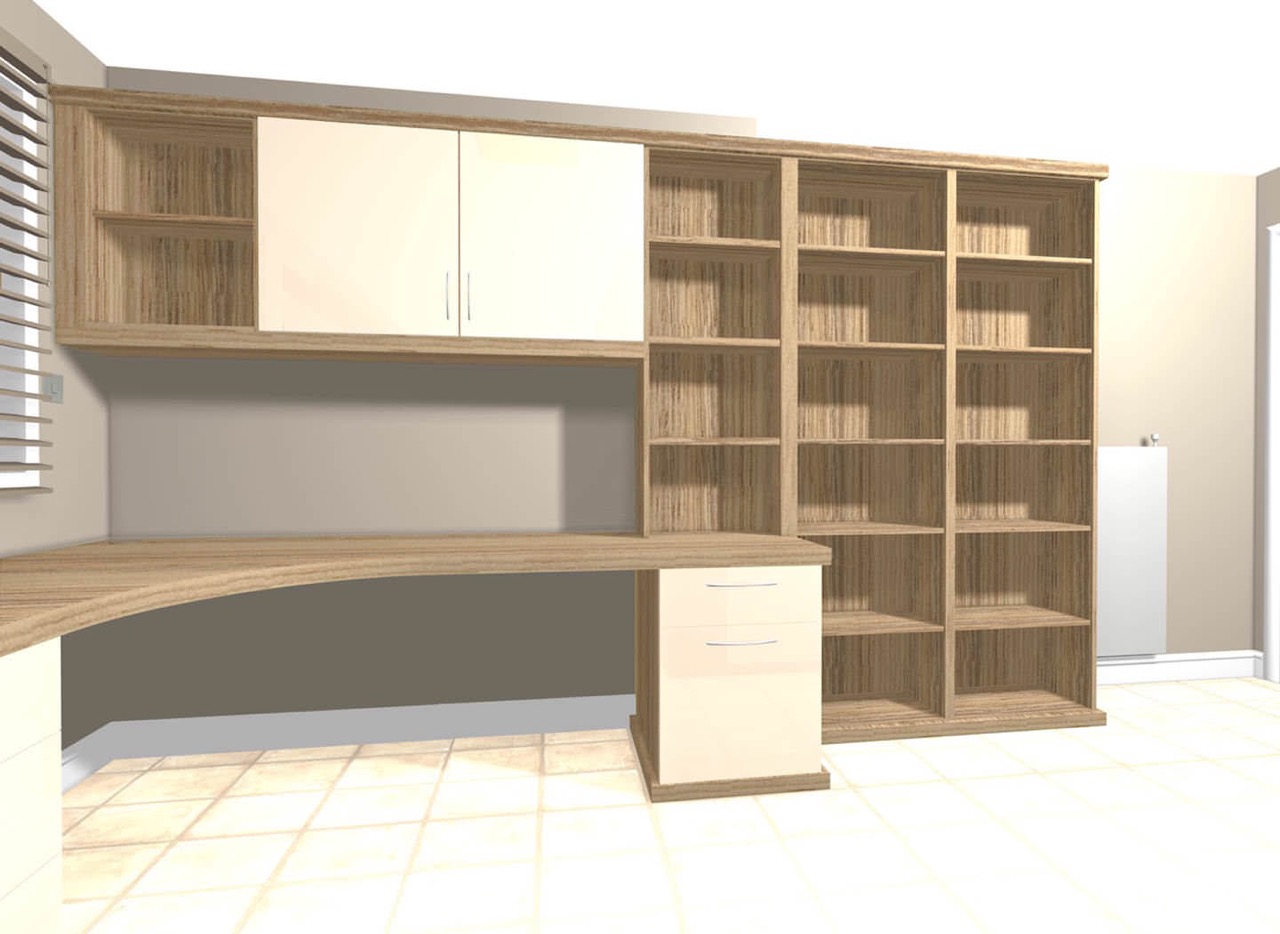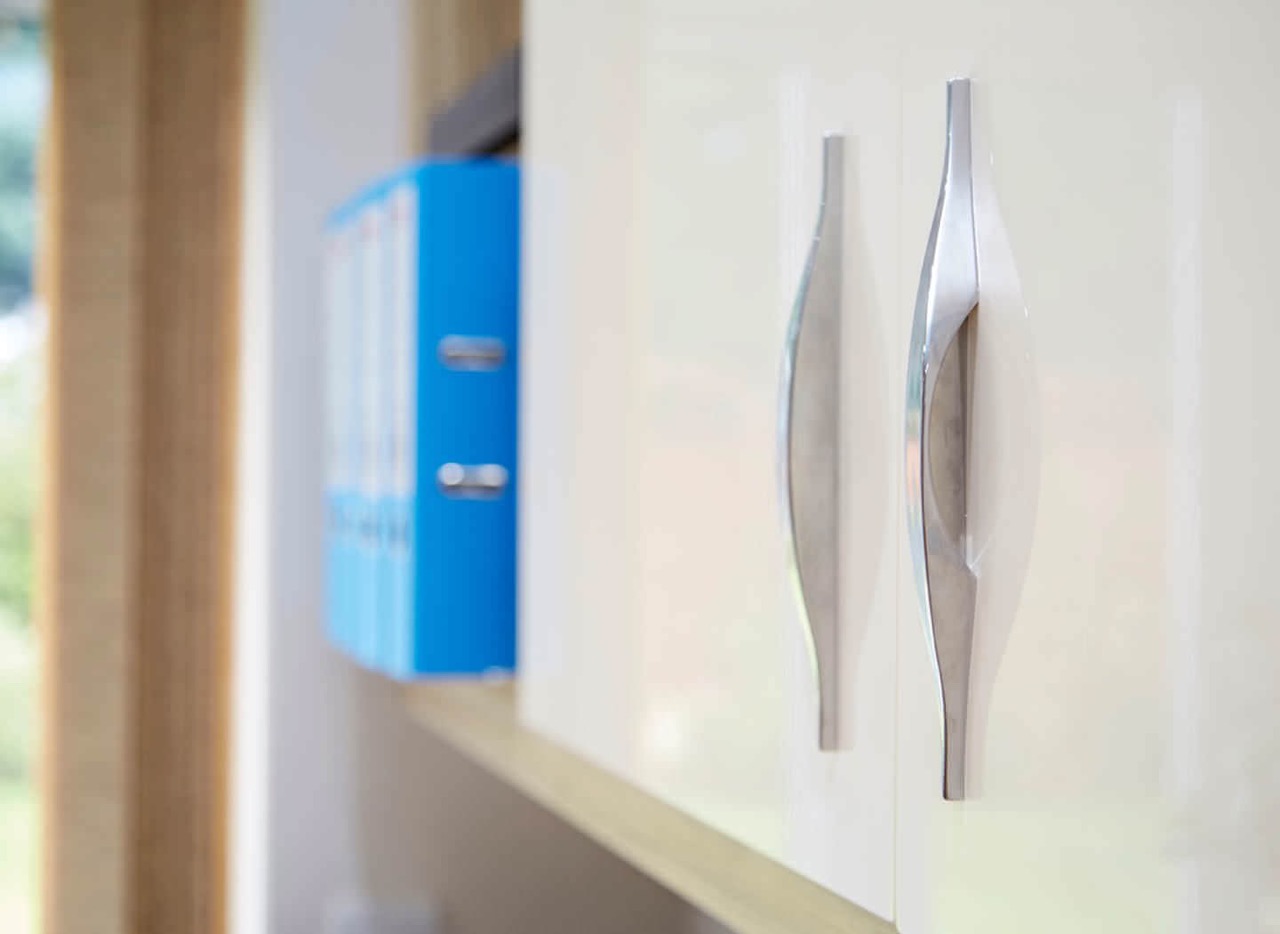 Contemporary styling
Modern designs and finishes
The large patio doors created a light and airy atmosphere in the room, so it was important to reflect this in the furniture design. The Capri range was the perfect match, thanks to its simple aesthetics and clean lines. The customer decided that he wanted a two-tone finish, with a light Granadillo woodgrain complemented by a High Gloss Cream finish, to reflect the light and add a minimalist touch.
Utilising every inch
Flowing curved desk designs
In order to make the most of his room's space and deliver a sufficient working area, we incorporated a curved desk design. Crafted in a modern style, this curved shape allowed the design to flow around the adjoining walls for the most spacious result.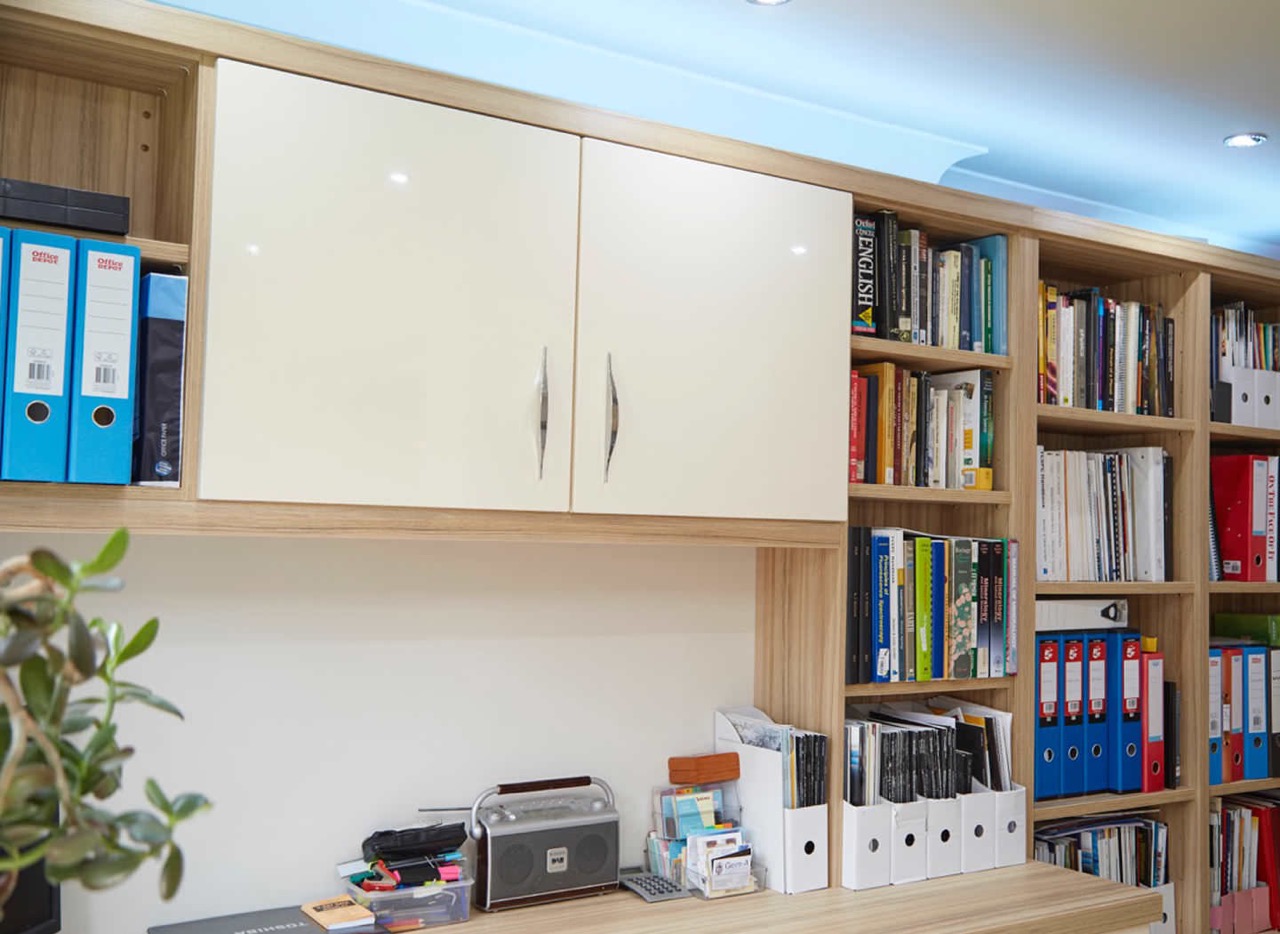 Stylish and functional shelving
Made to measure storage
In order to neatly store Professor Taylor's wide collection of books and documents, our expert design consultant suggested a combination of full length bookcase units along with suspended storage units. Positioned over the desk, this provides plenty of space to keep everything he needs within reach, while a concealed shelf unit allows him to stow items and stationary out of sight.
Practical solutions
Additional working area and storage
Due to the nature of Professor Taylor's work, one desk would not provide him with sufficient working space. His Strachan designer therefore used the room's long layout to incorporate another desk, together with additional bookcases and storage. The desk doubles as a worktop space for all his equipment, saving him time by providing a permanent space for everything he needs and a separate area for his practical work.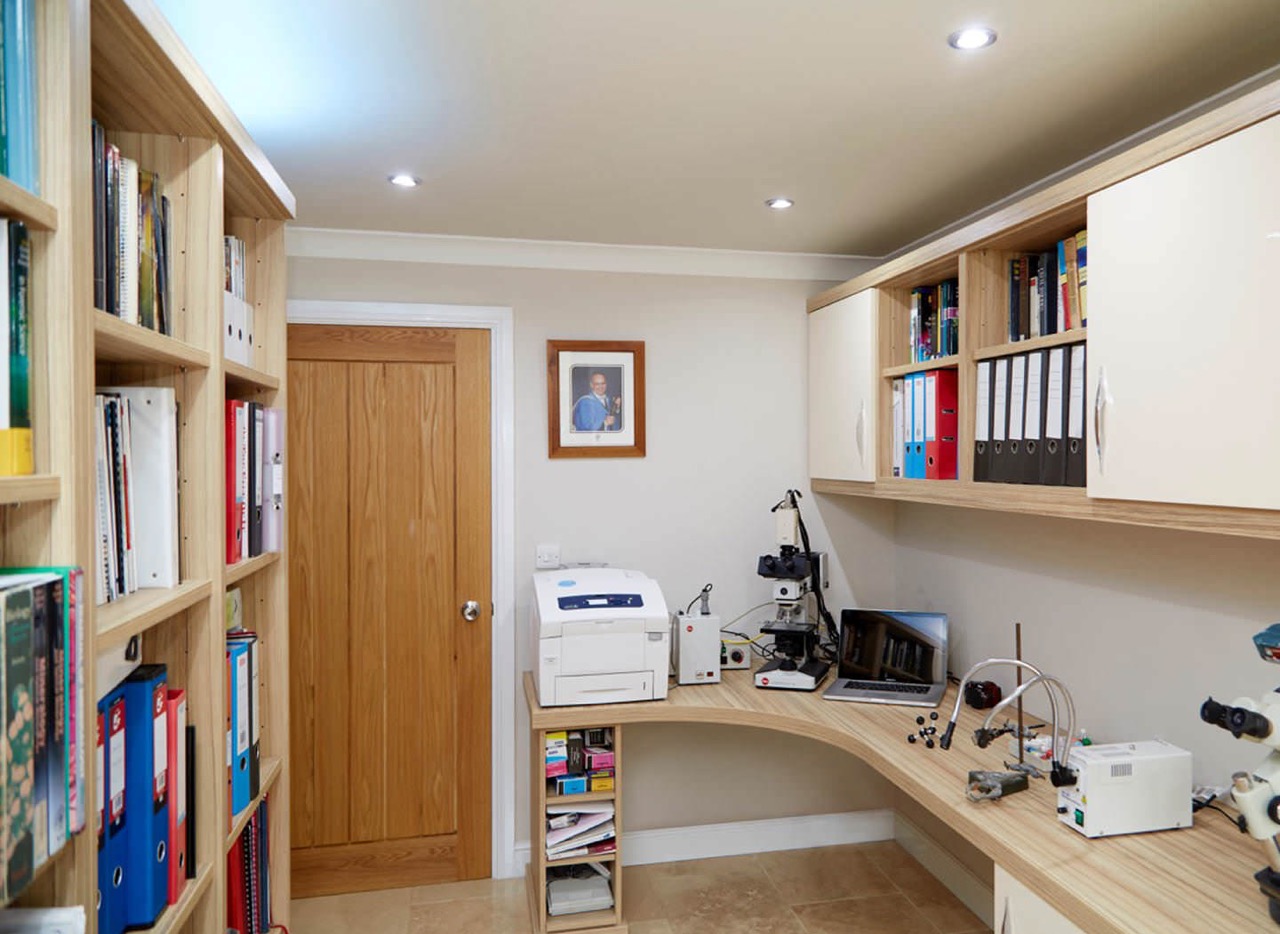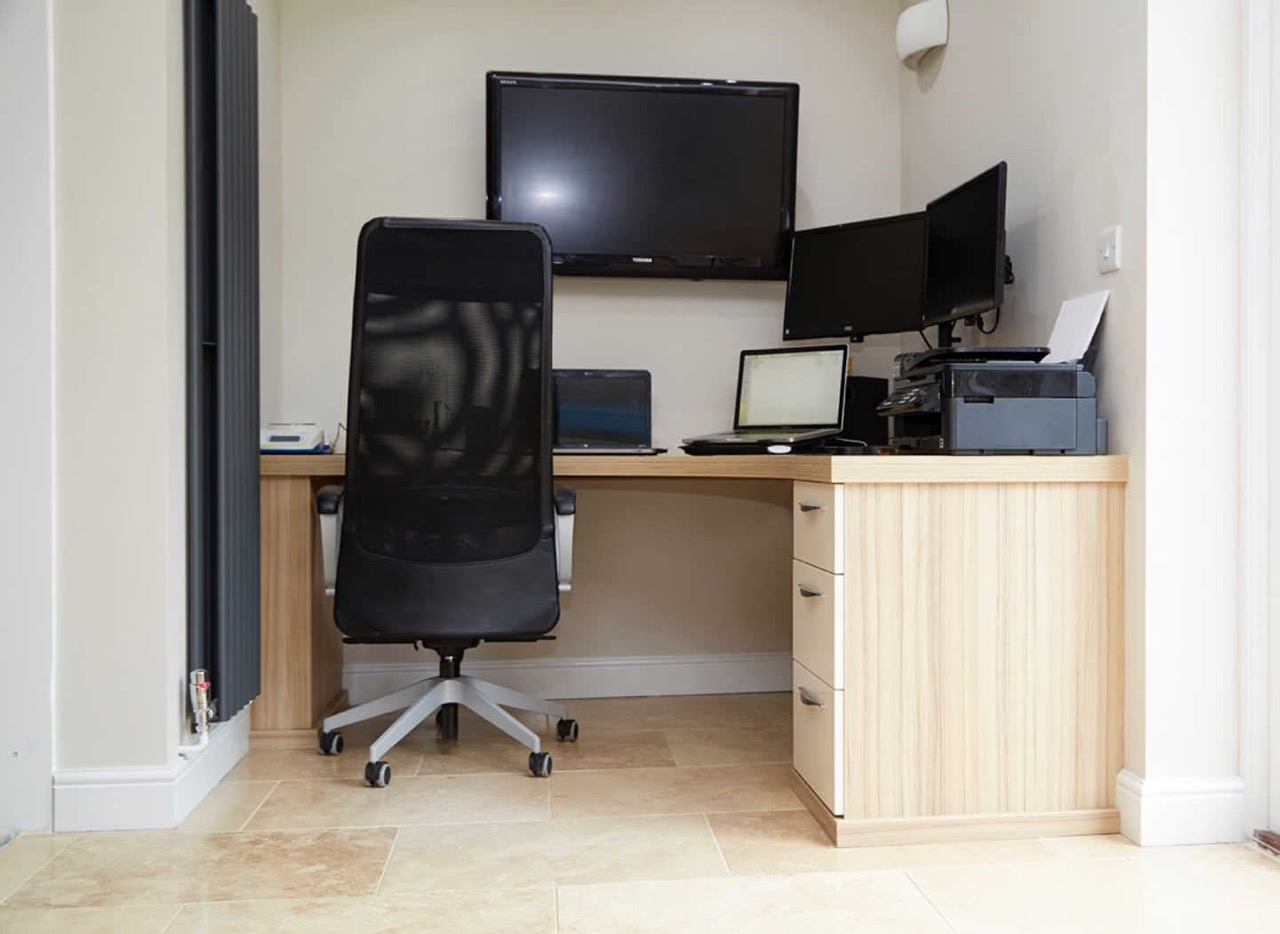 Private and productive
A space for visitors
In addition to Professor Taylor using his home office facility through the week, he may also require a colleague to work alongside him from time to time. In order to facilitate this, as well as offering a wider variety of work options, Strachan fitted a compact corner desk, complete with integrated drawers.
The Strachan Brochure
Order a free copy of the new Strachan brochure for design ideas and inspiration. Find elegant bespoke designs for bedrooms, lounges, walk-in wardrobes, home offices, libraries and more. Browse at your leisure and discover the ideal way to transform your home.
Request a new brochure