Deliberating Between Freestanding Or Fitted Wardrobes?
Are you wondering whether to choose freestanding or fitted wardrobes for your bedroom? Both types of wardrobe design have features that can work well depending on your lifestyle and property, so we've explored some of the more common home challenges our customers have encountered and shared their findings.
Maximising wardrobe storage for your bedroom
Custom designed fitted wardrobes can create more storage space than freestanding wardrobes by better utilising all the available space, however unusual. When made to measure, fitted wardrobe widths and heights are not bound by the often standardised sizes of freestanding wardrobes, and bespoke wardrobe doors can be crafted into shapes that fit the most awkward of spaces.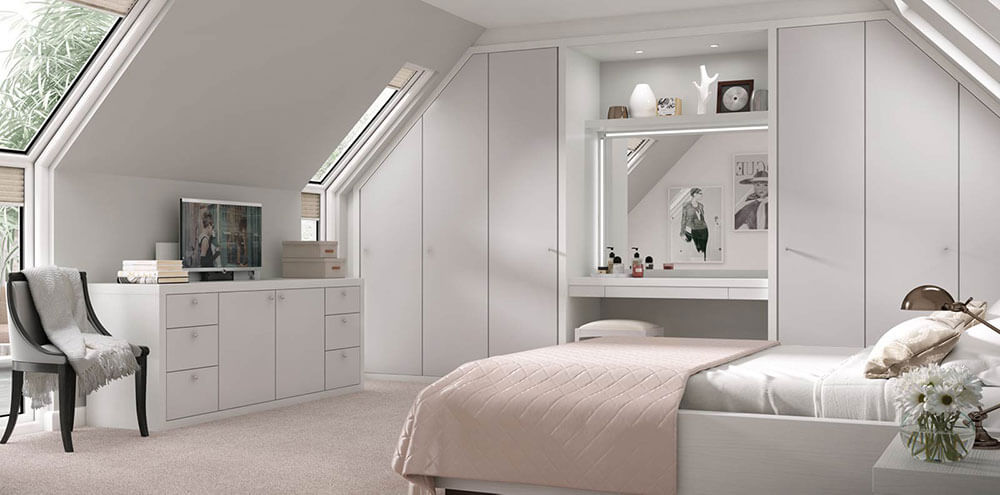 Built in wardrobe interiors can be configured to fit into nooks and crannies unusable by standard freestanding bedroom furniture, and wardrobe interior layouts customised to exact specifications, meaning you can choose exactly what balance of storage you want for your shoes, clothes and handbags. You can consider whether you need more space for hangers or folded clothes, and tailor your wardrobe interior to suit your personal requirements.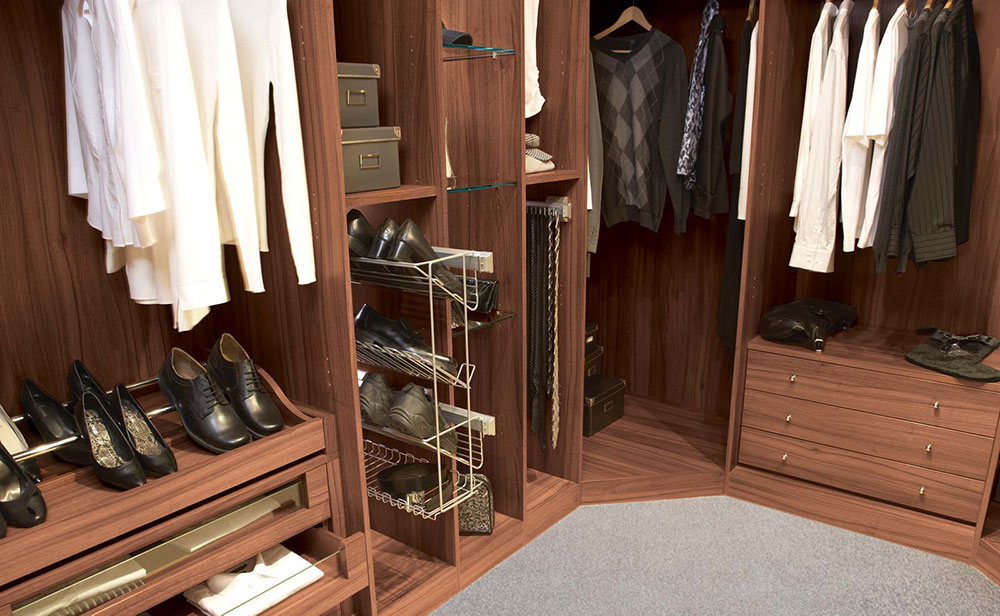 Choosing wardrobes for awkwardly shaped bedrooms
Room shapes with sloping ceilings, curved arches and uneven walls often look awkward and unbalanced with standard rectangular wardrobes and freestanding bedroom cabinets. The flow of a room can feel broken and stuttered by a standard bedroom suite crammed into a bedroom shaped anything other than square! 
Narrow and L-shaped bedrooms suffer particularly, often feeling claustrophobic and unwelcoming. Bulky freestanding wardrobes can end up being placed where they fit, not where they would look good or are easiest to use, making a room seem cramped and uncomfortable.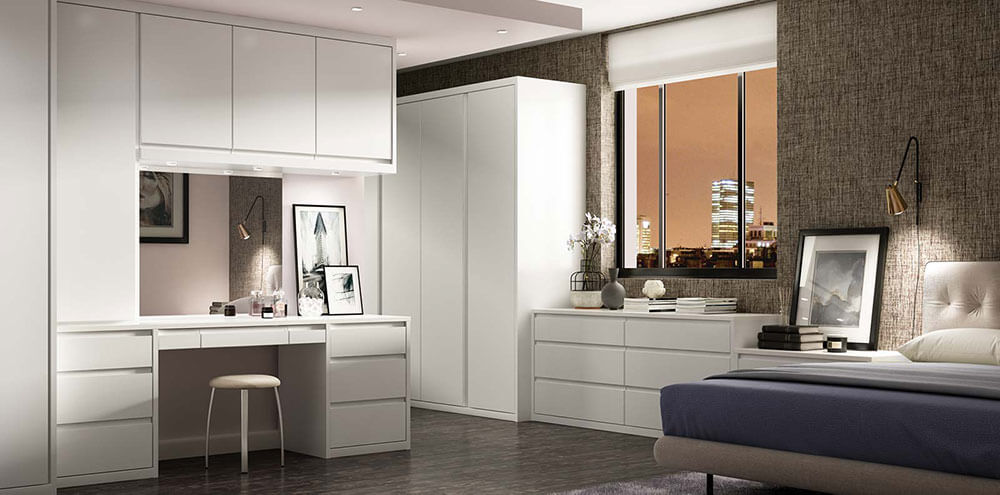 This well thought out fitted bedroom embraces it's L-shape. A bespoke dressing table fitted into the room's outside corner opens up the vista from all angles, and made to measure units fit precisely against each wall achieving confident symmetry.
Bedroom corners don't need to be exact 90 degree angles to accommodate a well fitted corner wardrobe, built in bedroom cabinets can be hand crafted to follow the angle of the walls so units hug like a glove, internal drawers can still slide open and close with ease, and odd gaps can be neatly concealed with matching doors, drawers and pilasters.
Integrating lighting into your wardrobes and bedroom design
Thoughtful bedroom lighting can create a relaxed night time ambience as well as lift a dreary morning. Freestanding bedroom furniture usually relies on overhead lights and extra bedside or standing lamps with unsightly cords to brighten your room.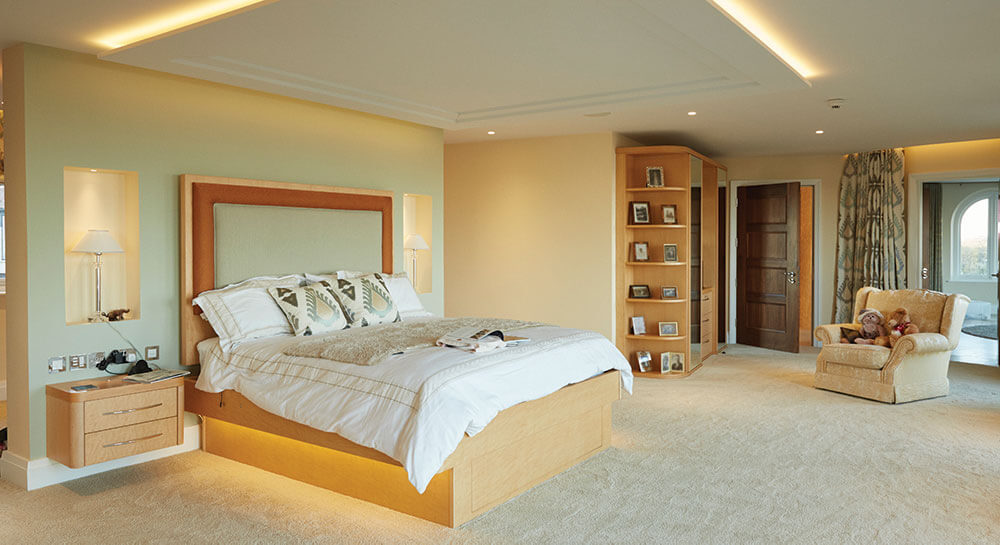 Alternatively, incorporating lighting built into fitted wardrobes helps you find just the right outfit for the day, and having a back lit mirror over an integrated wardrobe dressing table ensures you can be picture perfect without disturbing your sleeping partner.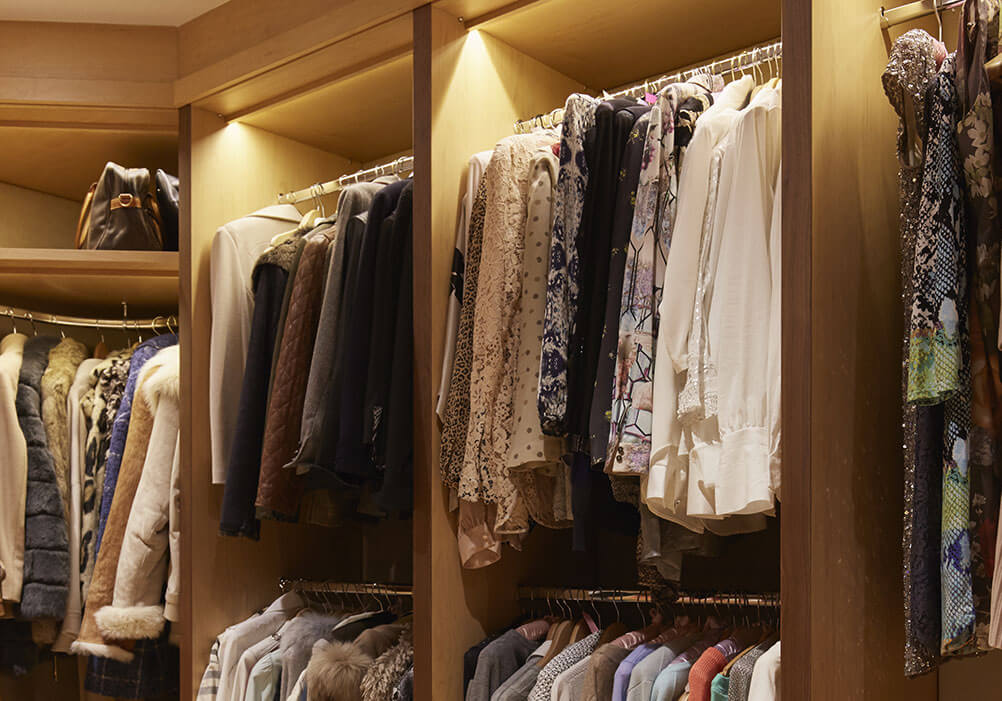 Finishes and colours for your freestanding or fitted wardrobes
Free standing furniture is often only available in limited finishes and colours to minimise production costs. When ordering bespoke fitted furniture, manufacturers can offer a much wider selection of wardrobe finishes and colours because furniture is crafted to your exact specifications from raw materials. New bedroom furniture can even be colour matched to your chosen interior scheme using Strachan's special custom paint finishes.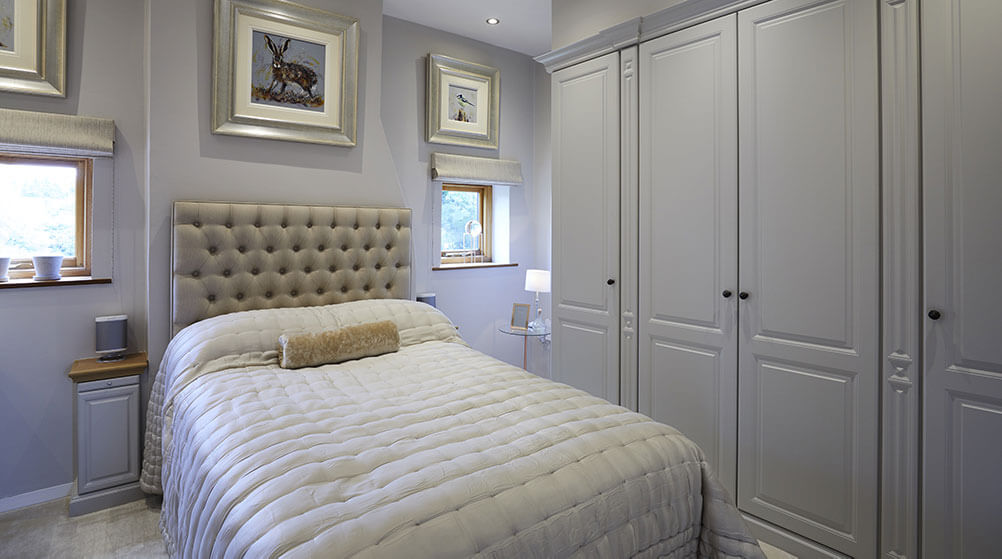 Moving house with your wardrobes
Modern freestanding wardrobes are normally designed to be portable. If you live in rented accommodation or plan on moving home shortly after purchasing they can be taken with you. 
Some of the more modern wardrobes dismantle again with ease, built with a transient lifestyle in mind, however vintage freestanding wardrobe cabinets can be large, heavy and awkward to relocate. It's worth measuring narrow doorways and stairwells before attempting to move one of these. You may also need a professional carpenter to disassemble the wardrobe into manageable pieces and reassemble in its new location.
Fitted wardrobes are designed specifically for the space they are built into, so tend not to be as suitable for relocation, especially if you want a DIY solution. 
Strachan's fitted bedroom furniture can be disassembled using their professional fitters, and rebuilt in a new room if desired. And because Strachan create all their furniture in the UK, many of the wardrobe designs can be extended and adapted to fit your new bedroom space. Ask about Strachan's bedroom refitting service here.