Christmas Preparations for Entertaining at Home
If you're having friends and family over for Christmas, now's the perfect time to prepare your home by investing in the right furniture so your guests are wowed by your decorations and not overwhelmed by your clutter!
Well fitted furniture helps you keep your home attractive, organised and full of storage, meaning you can stay on top of your Christmas checklist. We'll help you create the perfect home for entertaining the people you love. Read below to find out how we can help you can prepare for Christmas with the perfect furniture.
Elegant dining solutions to accommodate every family member
Our designs will add to your home's elegance and deliver convenience and style. Whether you want an open plan living space or formal dining room, we can create furniture layouts to your specification: fitting in precisely to your home and reflecting your personal tastes. And with our wide choice of painted finishes, your new furniture will seamlessly flow in with your chosen colour scheme and decor.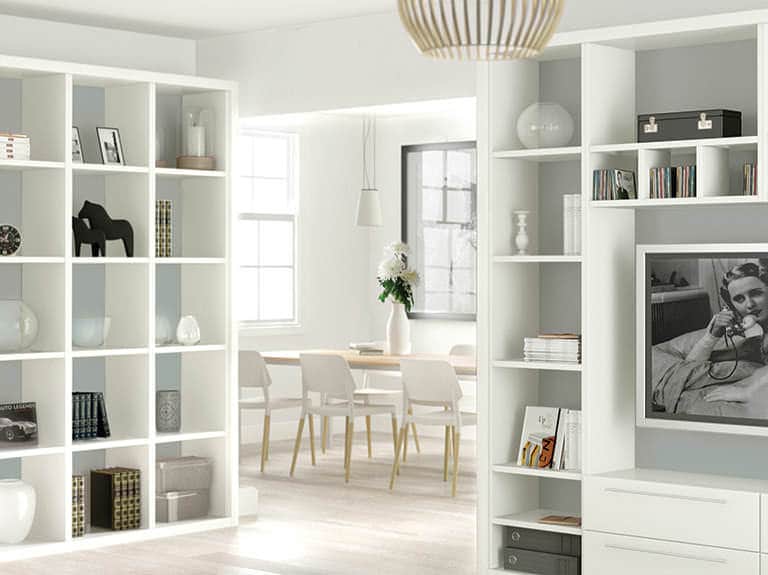 When it's finally time for the family to gather around for Christmas dinner, our elegant dining room furniture will help to perfectly set the atmosphere.
Plan for luxurious lounging
Designing the perfect lounge is a balance of reflecting your style, creating a comfortable space for guests, and providing plenty of storage to hide the everyday clutter.
Relaxing by the warmth of the fire can be one of the best ways to spend a winter evening. Thanks to our made to measure solutions, we can optimise the space around your fire place, fitting shelving that utilises every inch of your alcoves for tailored storage and beautiful aesthetics. Our designers can help you make the most of any awkward area in your home, whether it's a sloping ceiling or small spare room.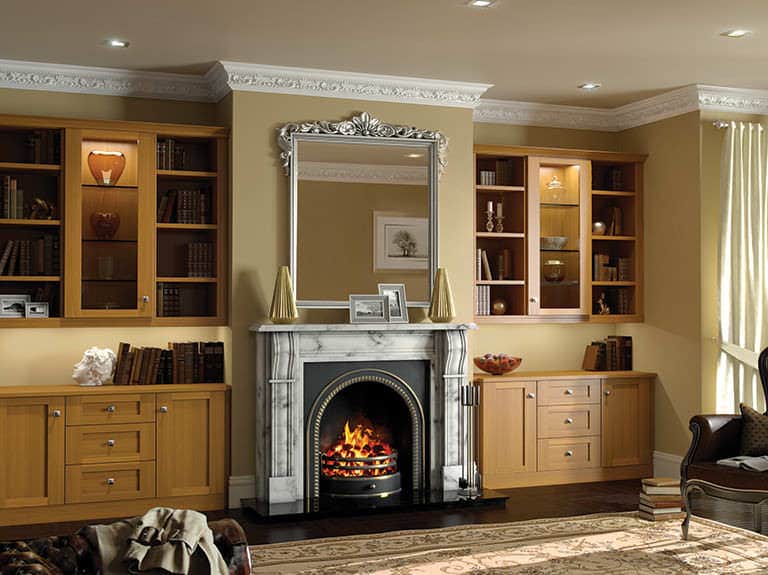 Freestanding coffee tables coordinate with the rest of your furniture suite. This provides tabletop space for relaxed drinks with guests. They can also be integrated with clever storage features for Christmas board games.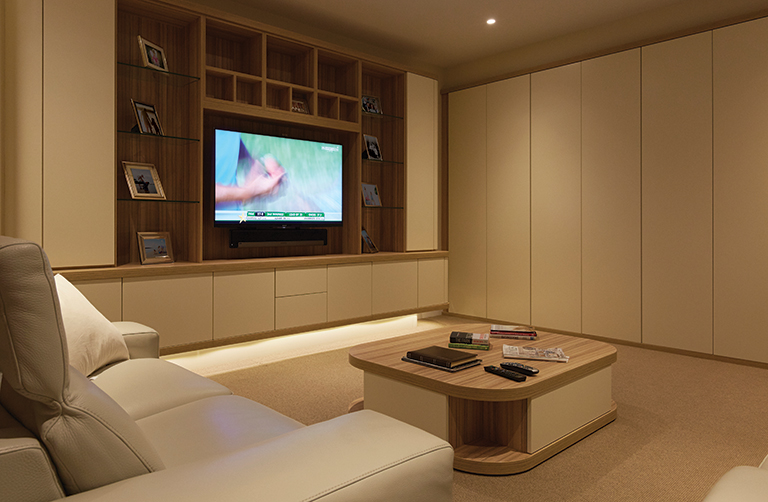 Bespoke coffee tables work beautifully as part of a home cinema room. Entertainment units can be fitted with made to measure shelving and integrated technology features for extra storage. And, with a beautiful wood or painted finish, you can relax fully whilst watching your festive favourites.
Do you have your very own dedicated games room? Add a distinctive decorative touch with intricately designed wood panelling.
Christmas preparations include festive colours and luxury furniture detailing too. From the light shades of Oak to the dark wood grain of Walnut, we have a choice of different finishes to complement your interiors.
We can also design storage areas and integrate luxury features, such as fridges for drinks and refreshments.
Geometric display cabinets beautifully display all your treasured items, while storage units allow you to keep all your crockery and glass wear close at hand, for effortless and fuss free festivities.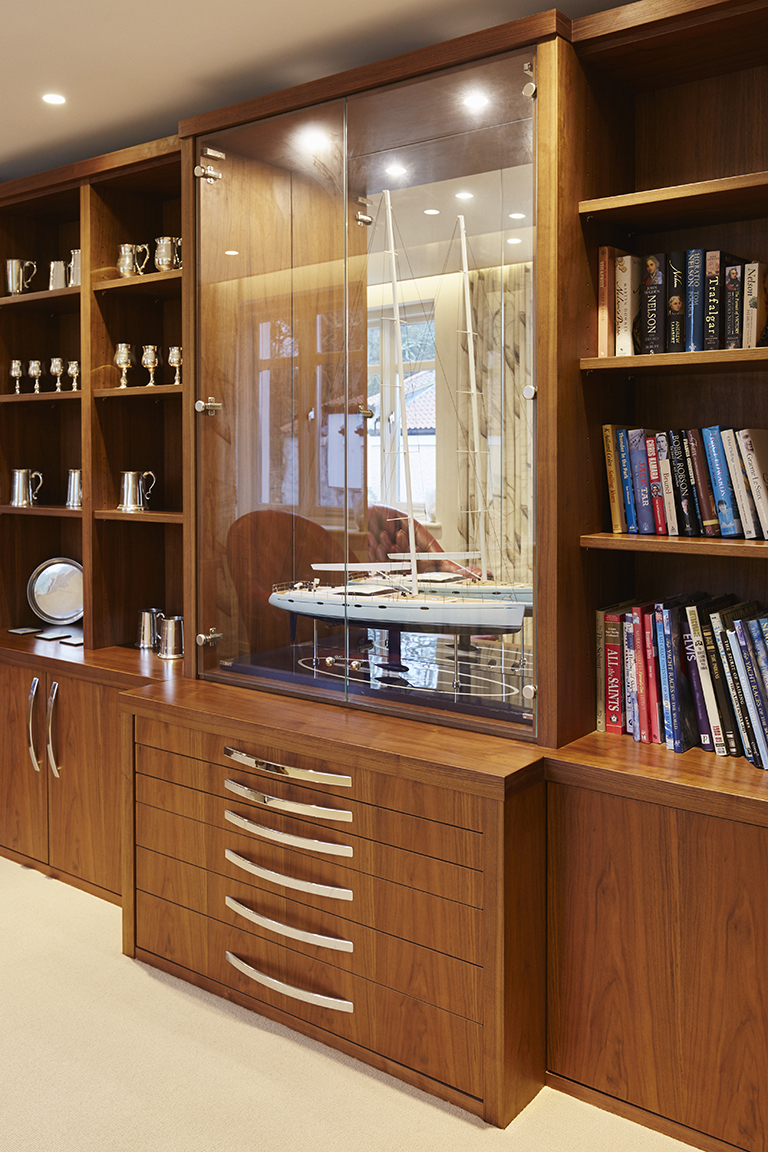 Prepare inviting guest bedrooms
Is your spare room used as a storage space for all the items you can't find space for anywhere else?
Your Christmas planning time is a great time to clear it out and transform it into a guest bedroom of luxury. With a fitted Strachan bedroom, your guests will rest easy and wake up in complete comfort.
Strachan fitted beds add a touch of superior comfort to your room. They're made to your exact specifications and requirements in a range of styles from traditional to contemporary. You can even include intelligent storage features to help you and your guests.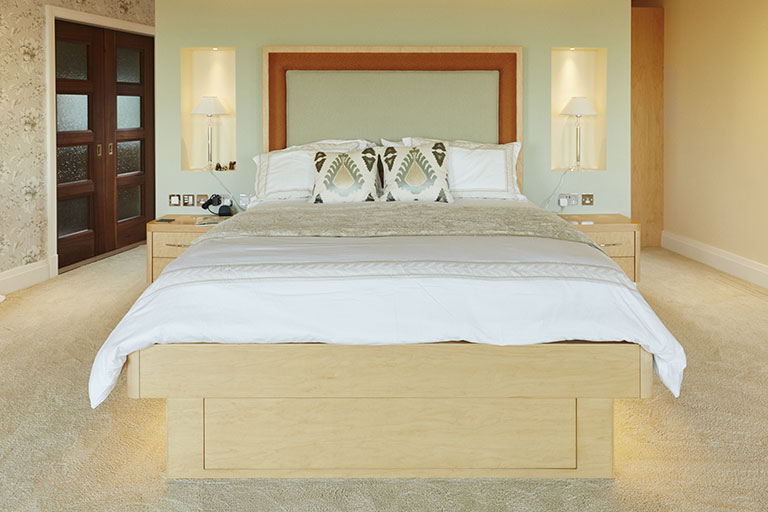 Moreover, you can choose a calming colour scheme to make your guests feel even more welcomed.
Prepare for Christmas even more with fitted wardrobes. Built-in wardrobes give you an abundance of storage space. Fitted wall to wall and floor to ceiling, you won't need to leave things lying around in the spare room, and sliding doors give you extra floor space and mirror doors add to the spaciousness of the room.
If you want to add an extra special touch, a matching dressing table will go perfectly with your wardrobe and bed. It also gives your guests a place to get ready, so they can look and feel their very best on Christmas day.
  
Prepare for extra guests with a fitted wall bed
Your Christmas guests had such a good time at your house that they stayed for another drink… and now they can't drive home! Well, no need to worry if you have a stunning Strachan fitted wall bed. With a smart and smooth mechanism, you can easily fold your wall bed in and out in a matter of seconds. They don't compromise on comfort either.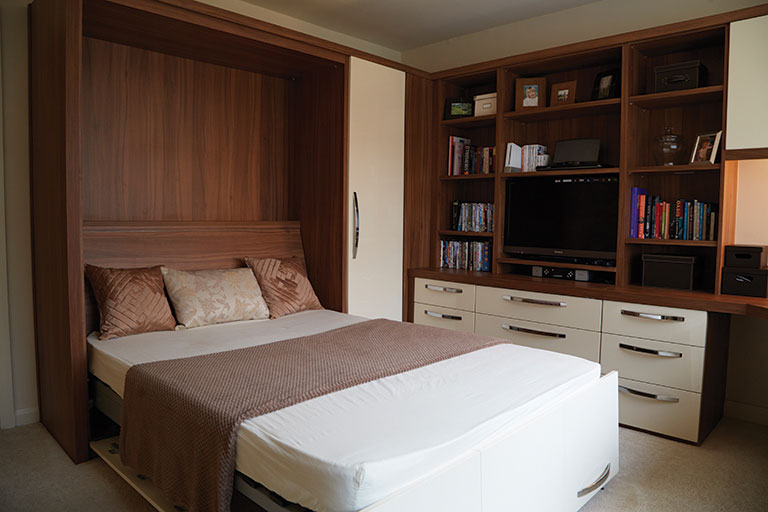 Your Christmas preparations are almost complete with a luxurious wall bed. They can be fitted into any room in your house, and they're indistinguishable from fitted wardrobe doors. Meaning they can be designed to blend perfectly with the style of your home. With clever furniture like this, you can tick sleeping space off your Christmas to-do list.

Wrap and hide Christmas presents in a stunning walk-in wardrobe
One of the most important parts of your Christmas preparations is wrapping and hiding presents. With a spacious walk-in wardrobe that incorporates ingenious storage solutions, you won't have a problem hiding the presents from your kids or your significant other.
Moreover, you'll have more than enough space to store those gifted Christmas jumpers that you can't throw away.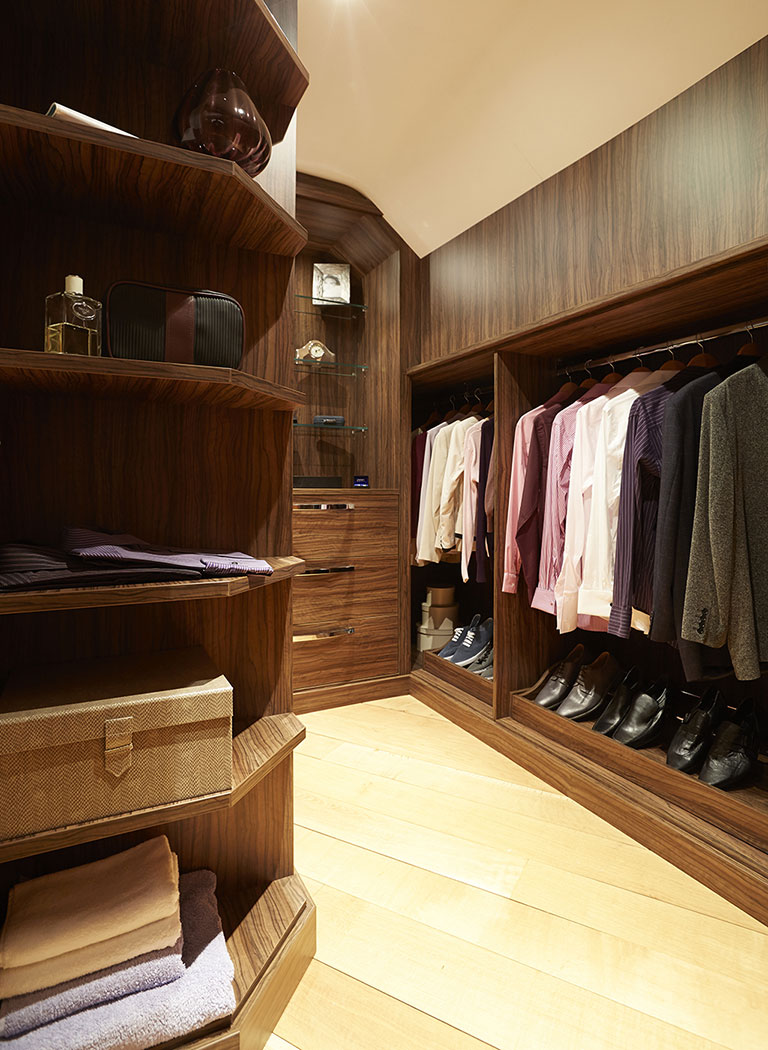 Complete your Christmas preparations with Strachan furniture
Why not browse our range of fitted furniture and find a design you like to keep you and your guests comfortable this Christmas. With fitted libraries, lounges and bedrooms, your guests will be able to relax in luxury. And, with opulent walk-in wardrobes and dressing rooms, you'll have more than enough space for all your presents!