Fitted wardrobes without handles | Sleek & contemporary
Handle-free furniture gives that quintessentially modern look, characterised by clean lines, bold minimalism and an uncluttered aesthetic. It makes a real statement in any interior, especially in bedrooms where its elegant simplicity can bring calm into spaces for rest and relaxation. Fitted wardrobes without handles can make the main centrepiece for a contemporary bedroom and in this blog, we're going to talk about the benefits they offer, as well as the different styles available.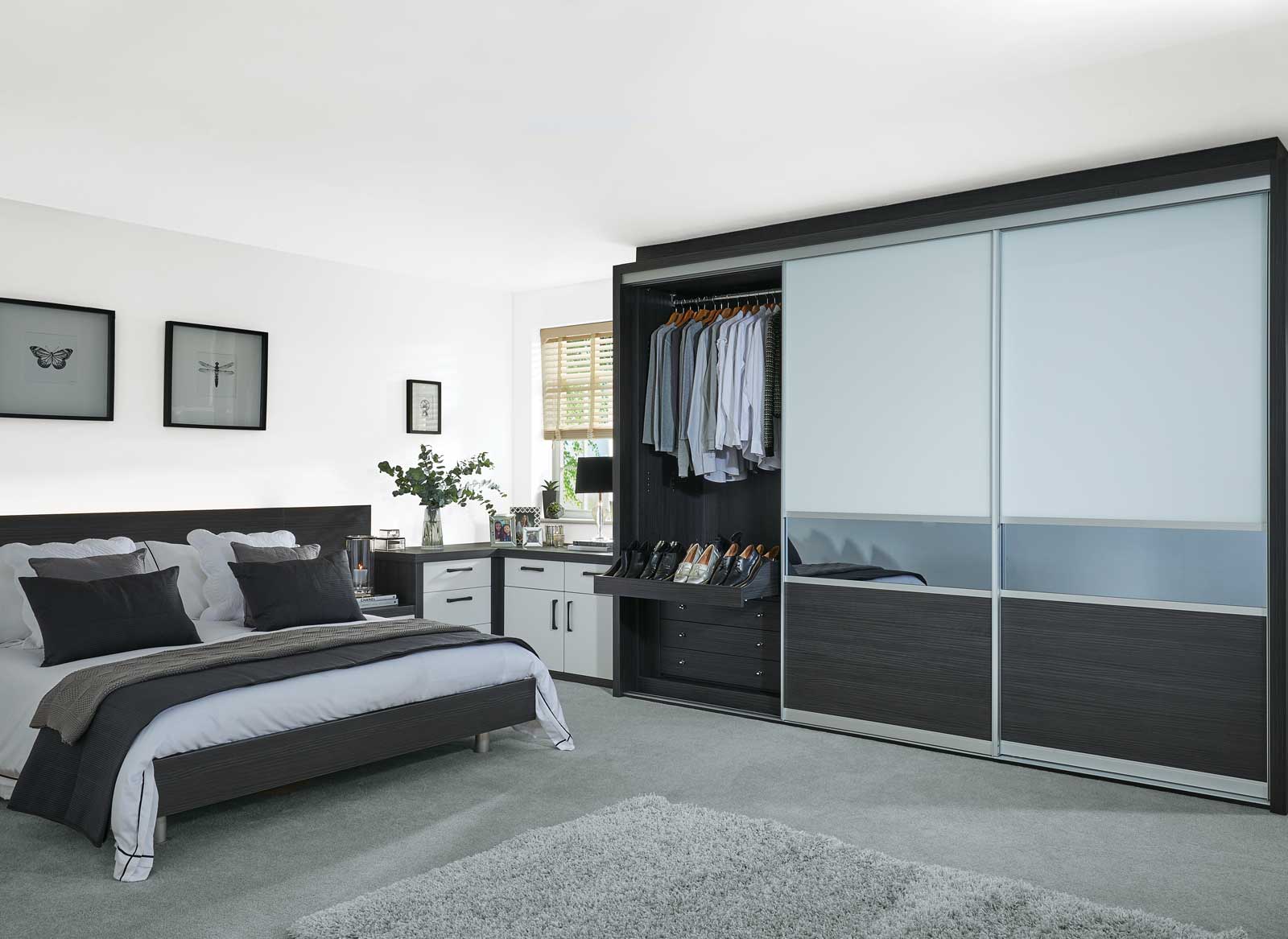 Why choose handle-free wardrobes?
If you like the 'handleless' look of modern fitted wardrobes, then that's reason enough to have them installed. They can create a whole different feel to a room, giving it an inherent neatness that traditional furniture would struggle to replicate. But are there any other benefits?
Designer fitted wardrobes without handles can also be very practical for rooms with less space. For example, if you're having to navigate around the bed and past the wardrobe, you can easily snag your clothes on small handles and knobs, which can end up damaging what you're wearing or even pull doors and drawers open as you move by. A handle-free design completely removes this problem, allowing you to breeze past without worrying about your clothes catching on anything.
Practicalities aside, there's another visual reason why the handle-free look can be so appealing. In minimalist design schemes, handles and knobs can interrupt the flow of the furniture by being too obtrusive or casting shadows, which breaks up the overall aesthetic.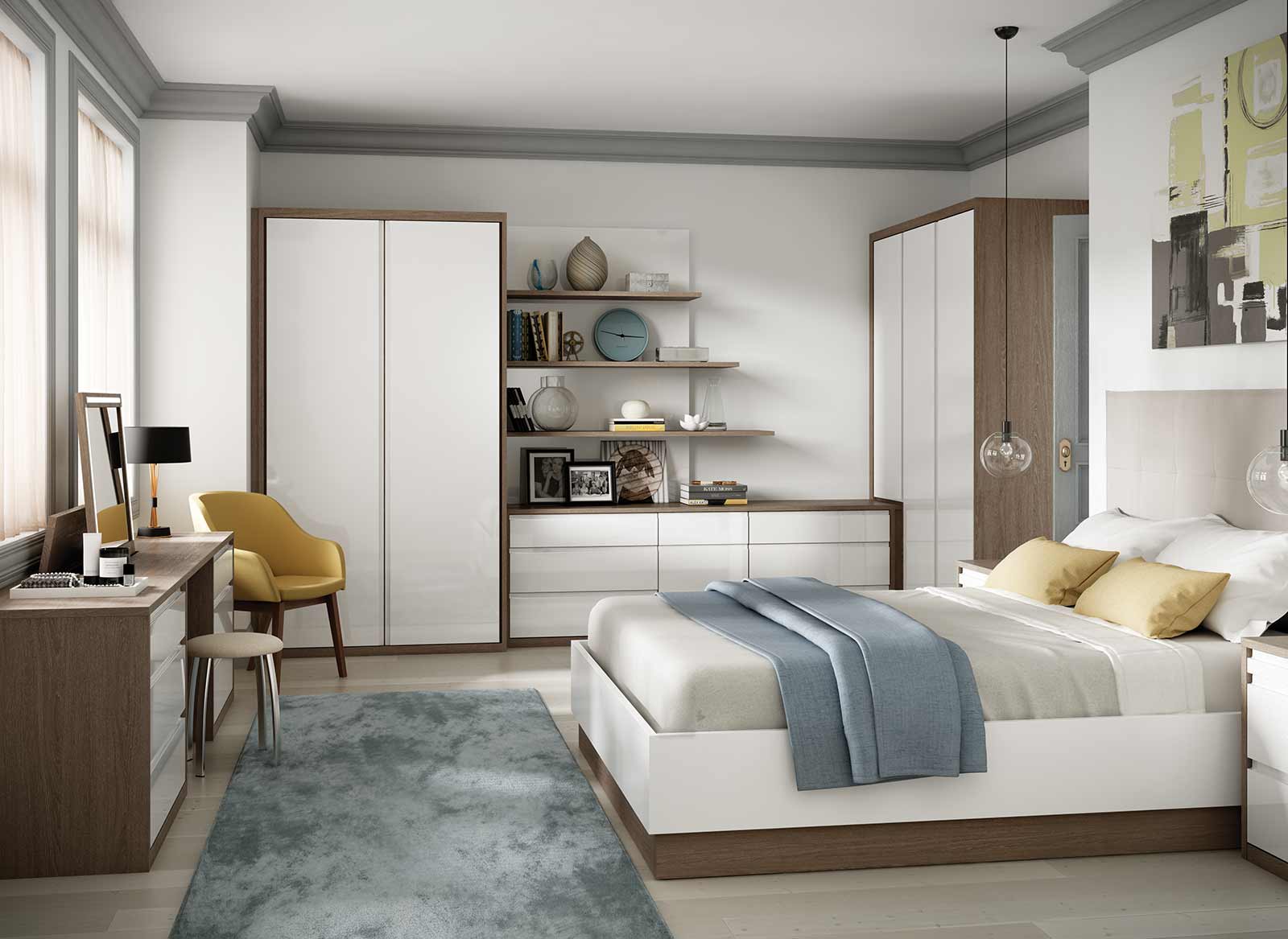 Styles of contemporary fitted wardrobes without handles
When choosing handle-free fitted wardrobes, there are three main styles to choose from: moulded front doors, sliding doors or push-release doors. All of these styles make superb additions to bedrooms so your choice will often come down to personal preference.
  Moulded slab front doors
These types of door and drawer fronts remove the need for a standard handle by moulding a recess directly into the door itself. The discreet hand pulls seen in our Solo white fitted wardrobes allow your storage to have that smooth, flat-fronted design and are particularly striking when paired with a gloss finish. In the right light, the hand pull on a moulded door front is barely visible making it a particularly low-key option for your interior design scheme.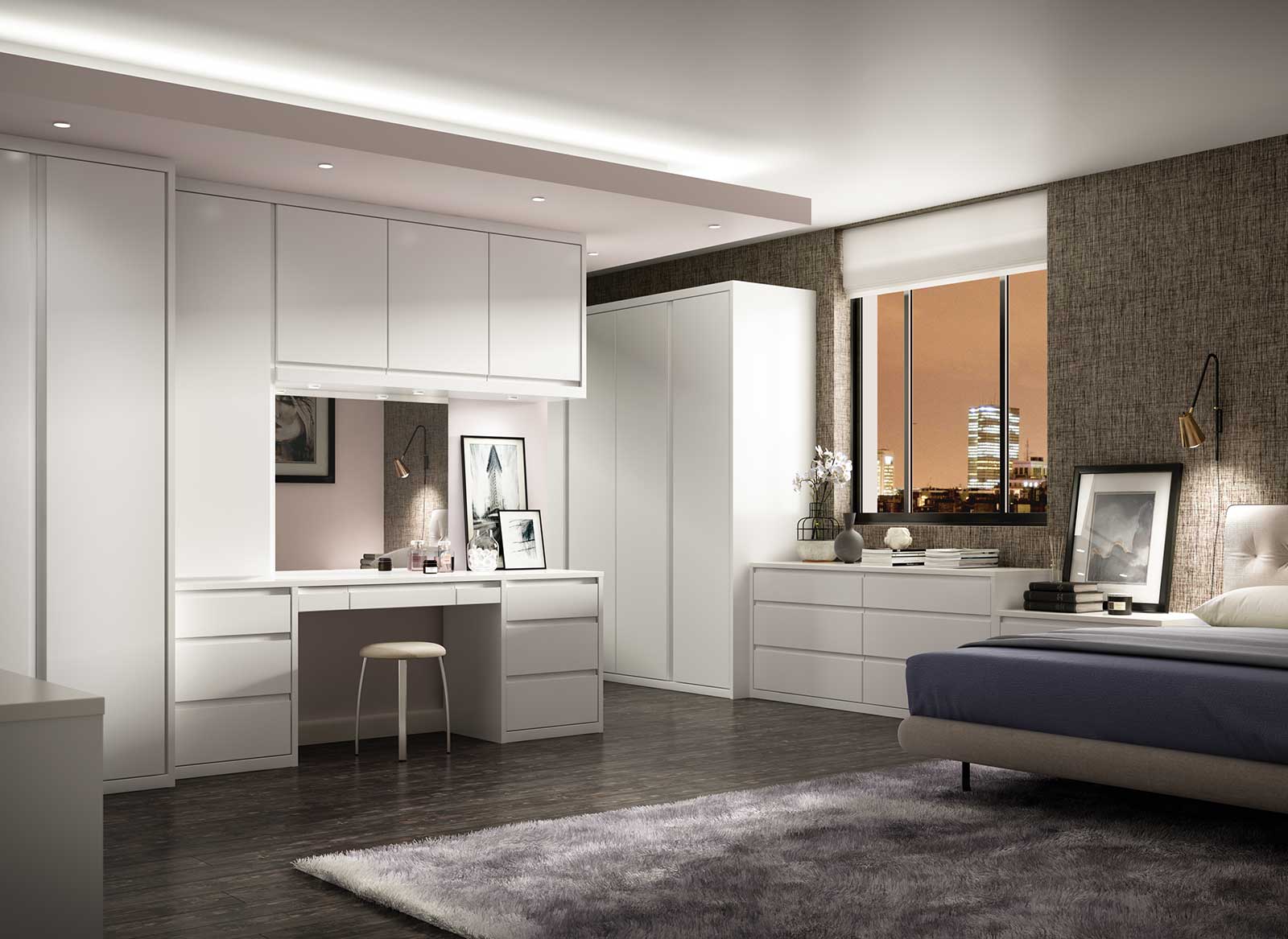 The Solo range is also available in a Dove White finish for a neutral tone that blends into a broad variety of colour schemes. In our Modern White Bedroom Collection, you can see it paired with a natural palette but it would equally suit brighter colours in a statement style bedroom. Moulded front fitted wardrobes are a great choice if you want all of your drawers and fittings to have the same finish and can help unify the whole theme of your bedroom.
  Sliding doors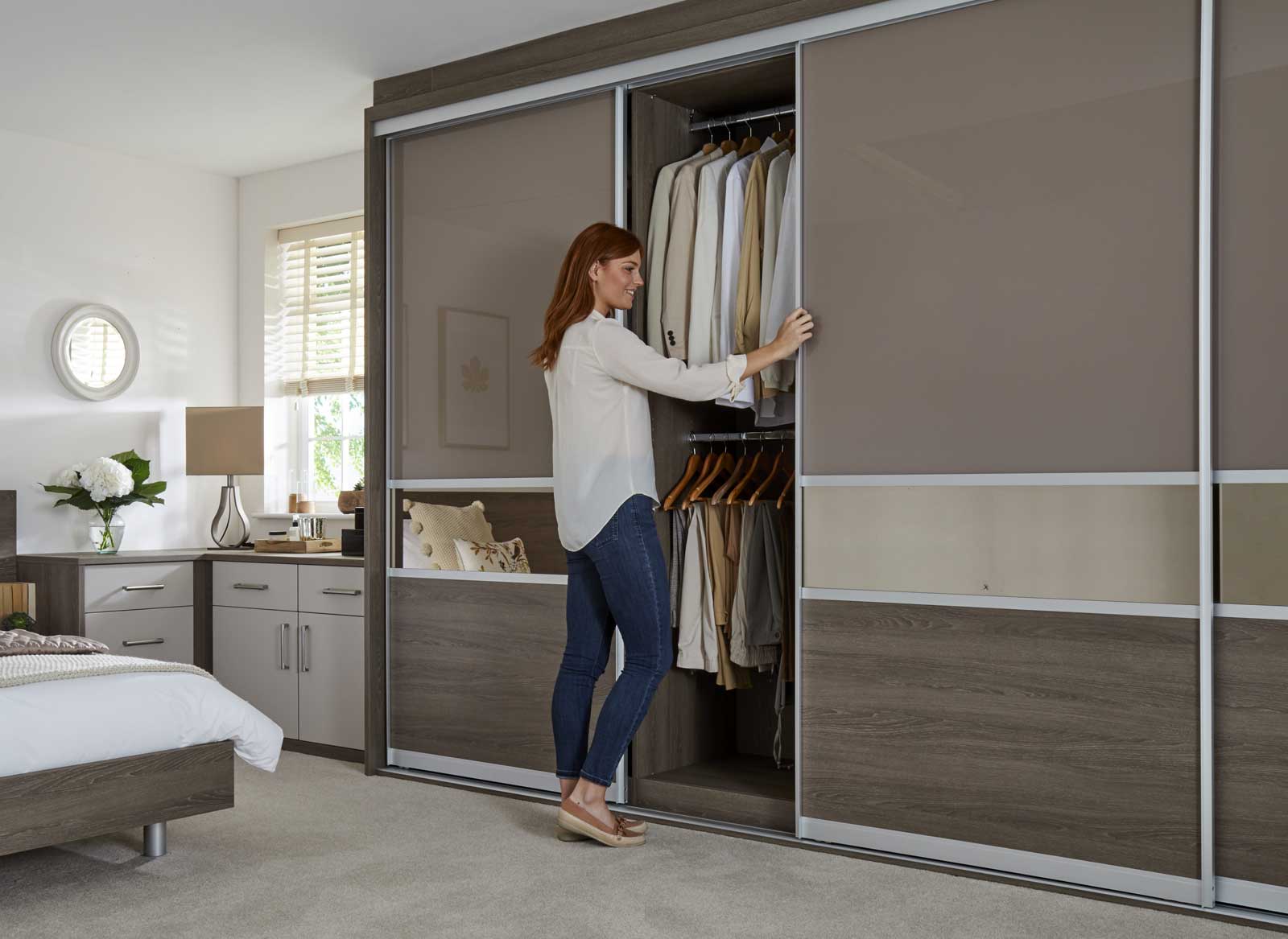 They're highly customisable too – you can have dramatic single panels that dominate the room, or you can add sections of mirror or coloured glass for extra character. By adding additional sections to each panel, it makes your individuality the focal point of the room, blending colours and textures to achieve the effect you want.
One of the highlights of wardrobes with sliding doors is that behind their sophisticated fronts is a world of infinite storage possibilities. You can have virtually any configuration you want to make sorting your shoes, bags, clothes and accessories simple. As shown in our bold bedroom design case study, they're also an effective way to hide awkward architecture or dropped ceilings and can help to even out the appearance of a room.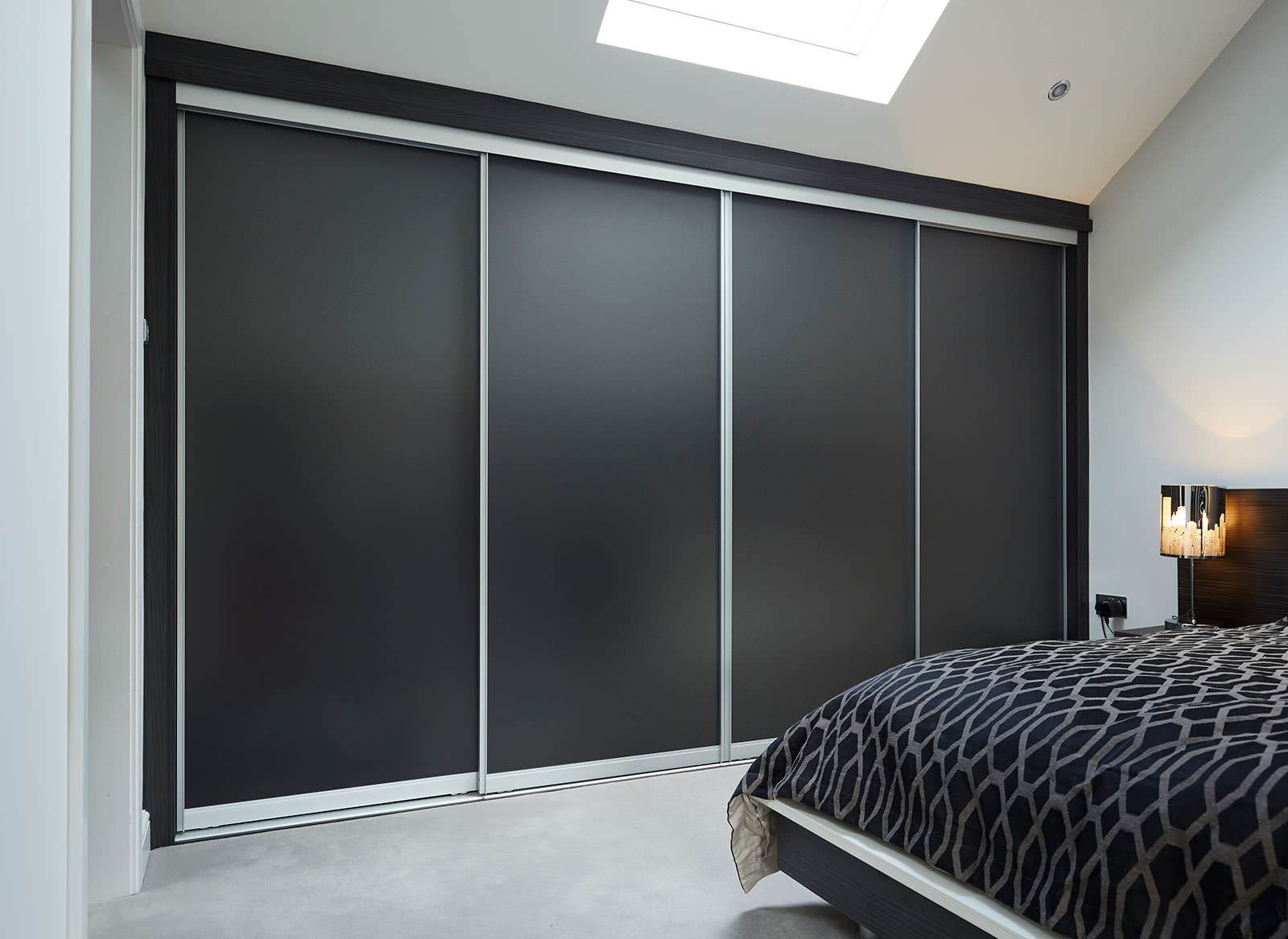 Push-release slab doors
The ultimate choice in minimalist aesthetics, a push-release slab door presents a sleek, unbroken look that is ideal for contemporary bedrooms. These handleless fitted wardrobes use a different mechanism to open and close – just apply a gentle bit of pressure on the door and the push-to-open catches will give you full access to your storage. When you're done, all you have to do is press the door shut and it will click back into place.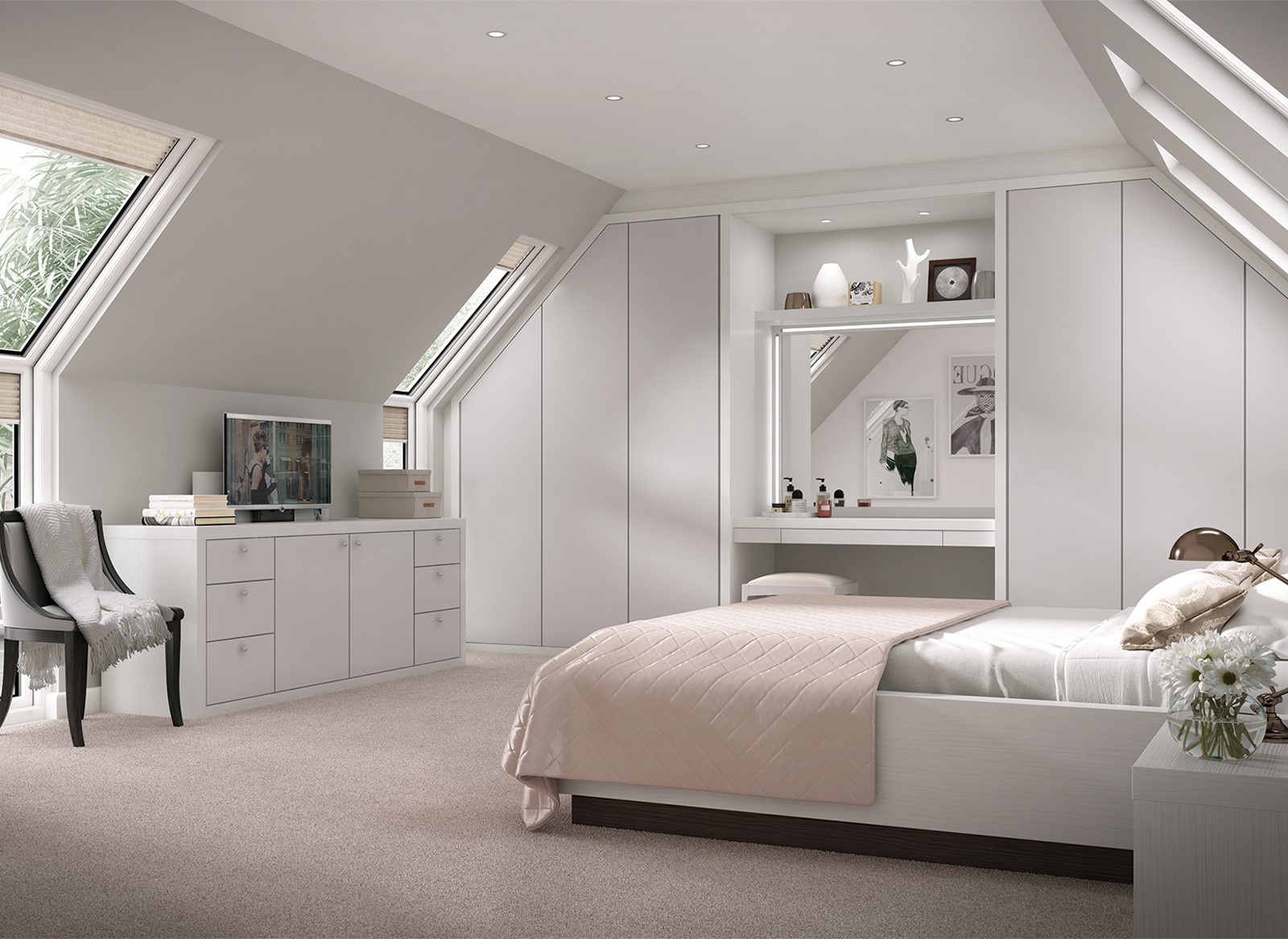 Slab front handless doors create a lot of visual drama too. With nothing to interrupt their elegant exteriors, it's difficult to tell whether they're fitted wardrobes or simply sophisticated wall panelling. Though they blend well into the background, their imposing linearity can also make rooms feel taller, especially when paired with a gloss finish to reflect more light.
Designer fitted wardrobes that stand the test of time
Sometimes it can be tempting to stick with more traditional designs because of their classic looks but even modern fitted wardrobes can have this timeless quality. Good design never falls out of favour and the uncomplicated aesthetic of a handle-free finish is the perfect example. You could choose the pared-back visuals of moulded or push-release doors to let the rest of your room accents stand out, or you could go for sliding doors to make an arresting statement that draws the eye. All it comes down to is which style fits your home and your personality.
Whichever you choose and whatever room layout you're working with, handle-free designs make a versatile option. Order our brochure here or book a free design consultation today so we can help bring your ideas for contemporary living to life.