Luxury Open Plan Living Space Ideas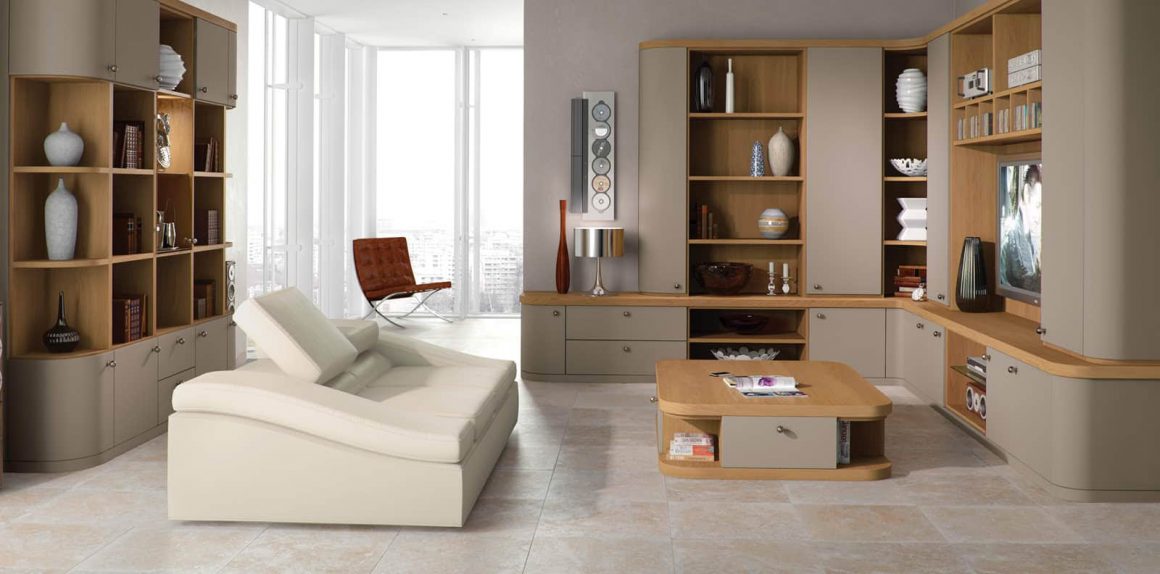 What is open plan living?
Open plan is an architectural term that simply means making use of large open spaces in your home and eliminating small enclosed rooms. 
A well designed open plan living room utilises clever decorating and styling features to keep the home looking separate but seamless whilst providing a soft and appealing aesthetic. 
Social and welcoming, an open plan living space is perfect for any family occasion, party or gathering. You should make use of natural colours and inviting furniture, but ensure your design clearly transitions between the lounging, dining and working areas. The design must be separate but seamless to ensure the mood is right for the different requirements of each section. 
Another benefit is natural lighting, which can contribute to a healthy lifestyle. Removing walls allows much more natural light to spread throughout your home, connecting you to nature and facilitating a softer and more welcoming aesthetic.
This isn't just great for your energy bill, natural lighting is thought to be beneficial for well-being, and being exposed to lots of it can improve your quality of life.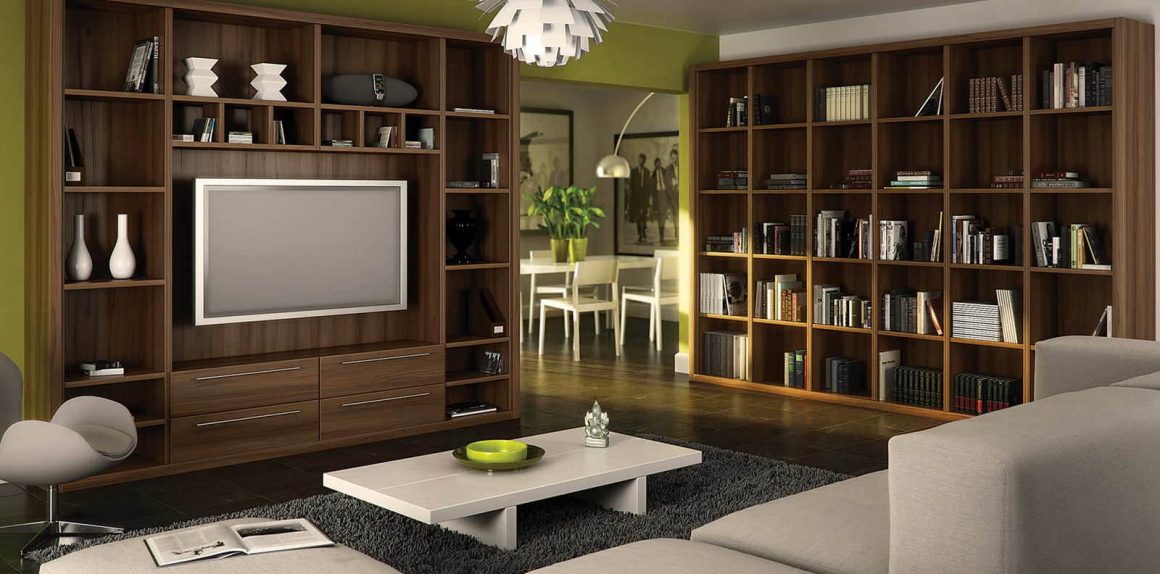 Make use of colour
Strategic use of wall colouring really helps tie your room together. You should use one base colour to unify the appeal of the space, but create a theme for each zone in the open plan to clearly define the mood of each area. Imagine invisible walls and visualise your interior as a series of rooms. This way, you'll be able to effectively plan the transitions throughout the rooms as well as storage options and furniture placement. You can use them to create colour connections too. For example, you can match your built in living room shelves with your island units to create a uniform appeal.

Use flowing shades of colour throughout your open plan. If your home is small, keep it simple and minimal, too many colours will make it cluttered. If your home is large, however, you can use different colours as long as they complement and flow into each other, this helps define the different zones of the room. Calm, light colours are great for brightening the place up.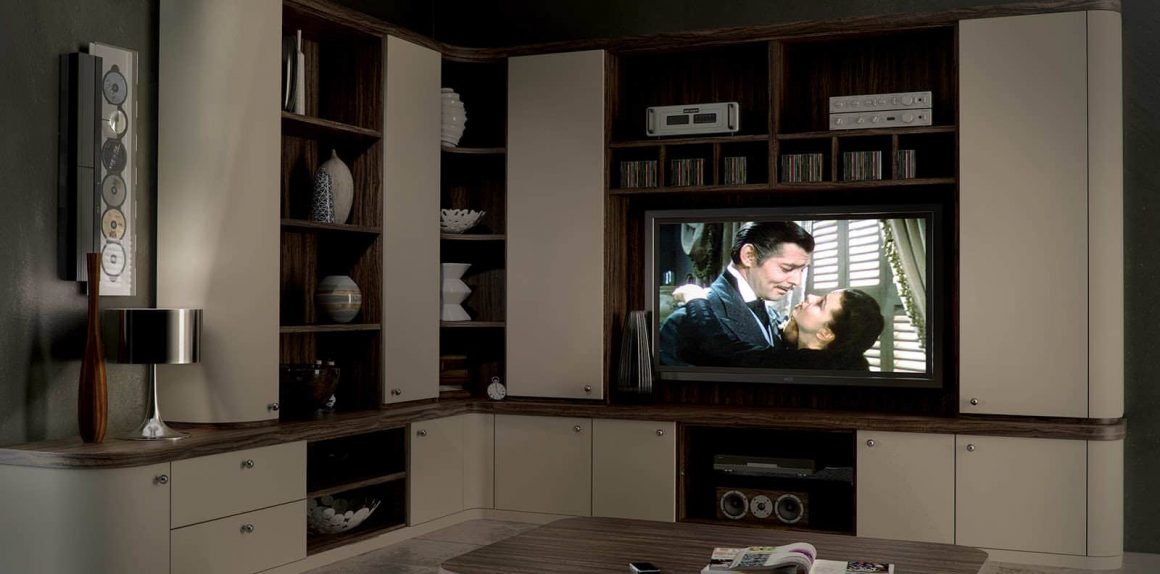 Flooring
The same rule on house size applies to floor colour as it does to wall colour. If your home is small, try to avoid using too many different colours and textures. If your home is large, however, you can use more types of flooring as long as the sections flow into each other and the zones are clearly defined.
Strategically placed rugs are a great option. They're cheaper than floors and easy to replace if you become bored with them. Using different rugs (as well as decorations) can also help you change your home to match the seasons. 
Think about raising and lowering floor levels to help enforce the transition between the zones in your open plan. This is a subtle way to separate the areas in your mind rather than using walls.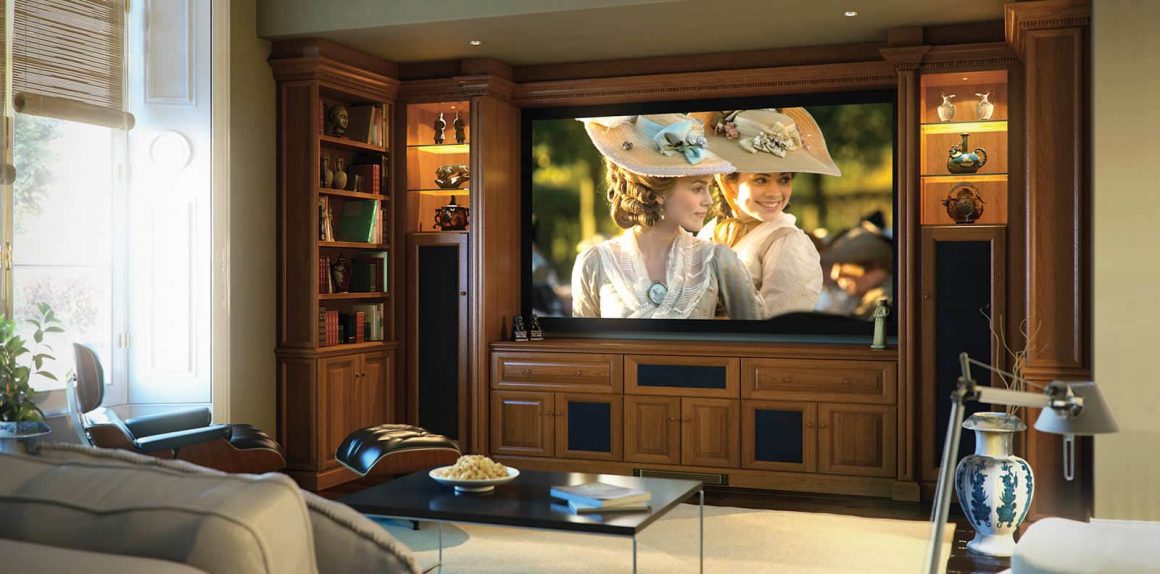 Furniture
Use furniture intelligently to separate the zones in your open plan. Matching furniture colour throughout the zones creates a visual link that unifies the area, but different types of furniture i.e. sofas and wooden chairs help define the individual character of each area.
Storage features such as shelves, cupboards and living room fitted cabinets are visually appealing and help to separate the space without using walls. Island units and tables are another practical and attractive way to separate zones.
You can make use of light furniture colour to reflect natural sunlight whilst indoor plants help to integrate nature, adding to the welcoming and social appeal of your home. Outdoor furniture can even act as an extension to your open-plan living space, furthering the welcoming appeal of your home. 
Windows and doors
Make sure to use windows and doors that let in an abundance of light inside. Floor to ceiling sliding doors and windows are ideal for natural lighting. If you have a garden, it's a great way to connect your home to nature. 
It is, however, important to think about installing blinds or curtains that match your design, as you need to make sure your home is cosy and private at night. 
Lighting
Superb lighting helps facilitate a great interior design. Lighting directs attention towards focal points and can be useful for setting moods in your open-plan zones. It's a great way to add a little more subtle separation between the room sections. Pendant lights are a great way to do this. 
Different zones need different atmospheres. For example, dining, watching TV and working are all different settings and require different lighting. A workplace needs to be focused, and the dining area should encourage social interaction.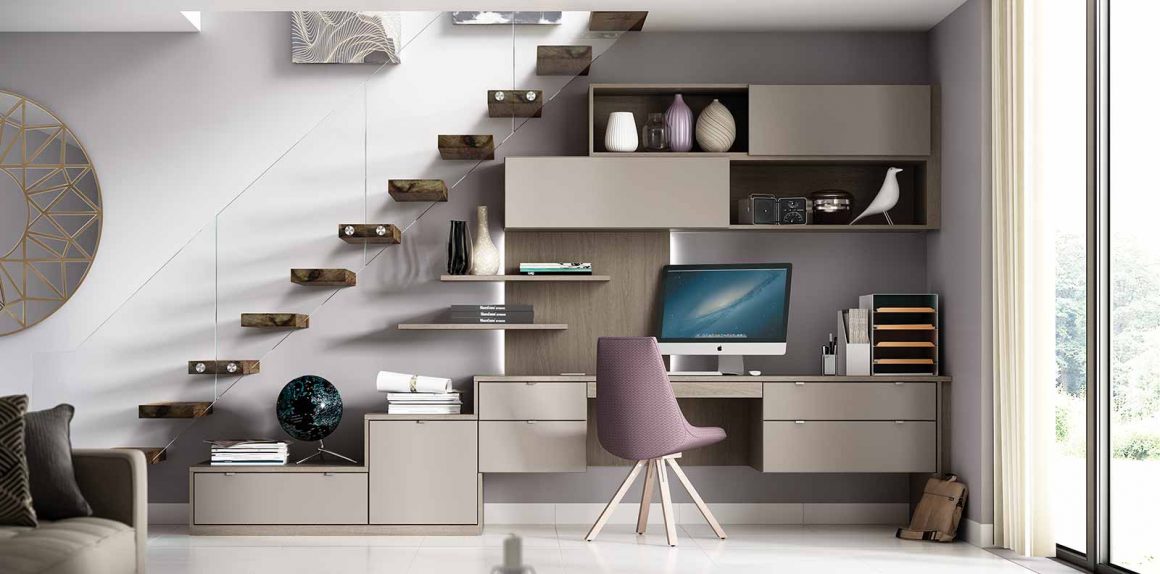 A contemporary open plan home study
Uncluttered and sophisticated, this minimal home study is the ideal space to relax and focus on your work. With matching furniture and stunning detailing, it emits an air of calm with a stunning uniform appeal.
Natural light is used exceptionally well. Just out of the shot, a floor to ceiling window introduces lots of natural light to the room whilst soft, bright coloured features enhance its effect. A glass banister further facilitates the flow of light whilst the wooden stairs, shelves, and organic decorations create a seamless connection between nature and the room's interior.
A neutral grey rug helps to create a comfortable zone in the room, seamlessly transitioning from the hard floor of the serious work area to a more cosy space to relax. This area softens the room's aesthetic but doesn't take away from its sophisticated contemporary appeal. 
Moreover, the purple chair adds a pop of colour whilst the unique under stair storage units and shelves adds a touch of individuality to the interior.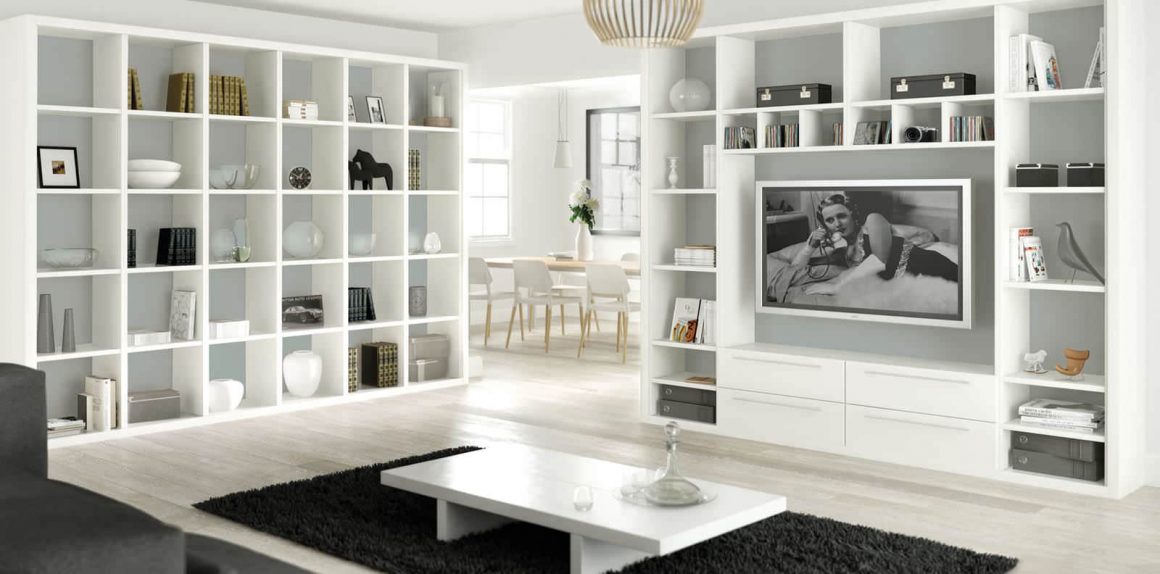 An open plan contemporary lounge
Making use of neutral tones, symmetrical detailing and welcoming furniture, this open plan contemporary lounge is the perfect mix of sophistication and comfort. 
Bright white colours facilitate the spread of natural light throughout space, and plentiful built in living room units provide aesthetic storage space.

The whole space is beautifully colour coordinated, and the zones are separated by subtle details including lighting, rugs, seating, tables, windows and plants. A touch of colour is added to the room with plants and decorations. But the intelligent atmosphere is uncluttered and emits a calming ora. 
Do you want an open plan living space in your home? 
Book a consultation with one of our interior design consultants, and they'll visit you in the comfort of your own home. They'll talk with you about your ideas and offer advice on how to bring your dream lounge space to life. Click here and get in touch today.