The timeless elegance of oak fitted wardrobes
Home interior styles may change over the years but there are none so enduring as the look of natural wood. It's timelessly elegant, easily complementing even the most traditional and contemporary living spaces, a versatile aesthetic that can be incorporated into virtually any room. Of all the finishes available, oak remains one of the most popular choices for our fitted wardrobes because of its rich depth of colour that immediately makes a room feel warm and inviting. It's the perfect choice for bedrooms where you may want to curl up and unwind during the evenings. If you're unsure whether an oak finish would suit your bedroom, take a look at our fitted wardrobes below for inspiration.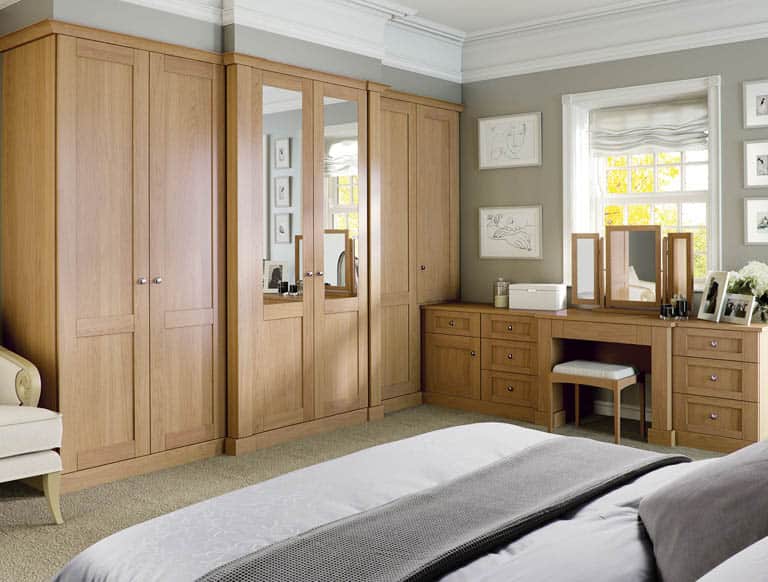 Fitted wardrobe ideas using an oak finish
This bedroom colour scheme takes its cue from nature and pairs our oak-finished Verona fitted wardrobe with earth tones to create a soothing atmosphere perfect for relaxation. By pairing these shaker-style fittings with a wood finish, they find a satisfying mid-point between modern and classic design – a bedroom storage option that will blend seamlessly into just about any space.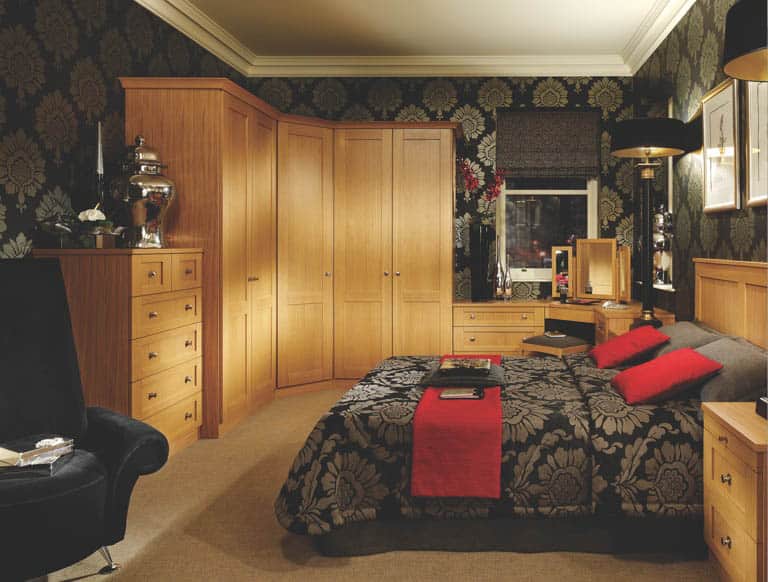 Does oak fitted furniture work with dark colour schemes?
Oak fitted wardrobes have an adaptable aesthetic that can even work with bold, moody or dark colour schemes. This bedroom makes use of black furnishings, punctuated by dashes of red for maximum visual impact. In this layout, the rosy tones of The Mountain Oak range serve as a contrast against the darker wallpaper, whilst also complementing the warmer hue of the carpet and the gold accented lamps. When creating a statement interior design, wooden furniture can help to balance the overall look of the room and produce a pleasing visual element all of its own.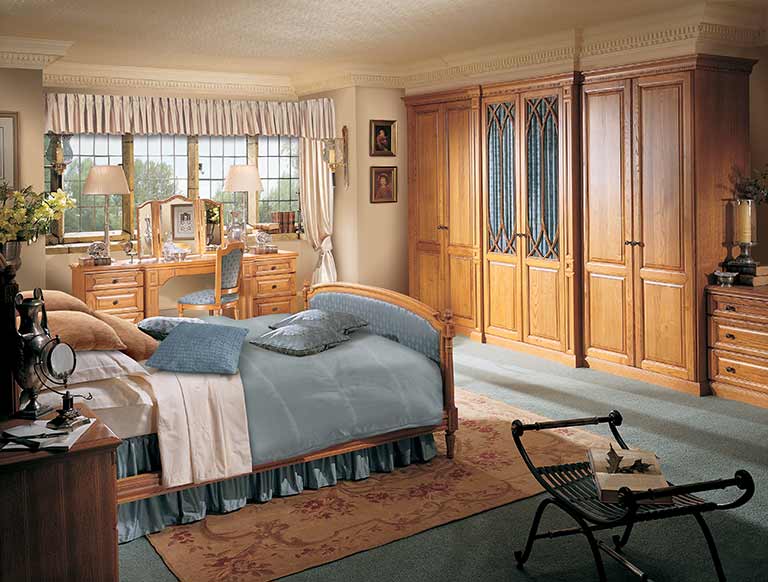 The beauty of oak panelling
Oak fitted wardrobes can bring the cosy aesthetic of cottage living into your home and are especially homely when used with more traditional panelling. The Shades of Oak range pictured uses intricate detailing to create a charming old-world feel and uses a honeyed shade of wood to bring the mood of the room together. If you're working with cooler colours, The Shades of Oak range is also available in a paler Limed finish which can give your bedroom a light, airy atmosphere.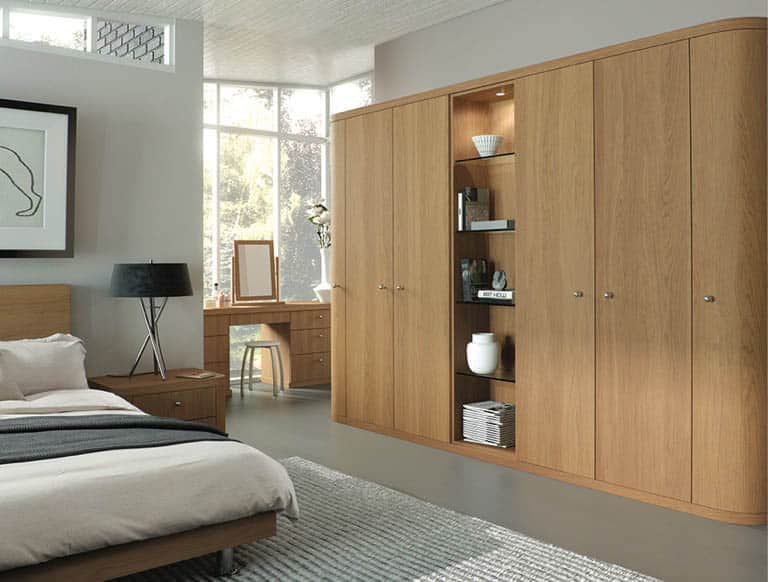 What about modern fitted oak furniture?
Though wood finishes lend themselves extremely well to more traditional designs, they work just as well with modern style fitted wardrobes. Combined with an oak finish, the Optima range creates a look that's clean, harmonious and perfectly in tune with the rest of the room. A great option for Skandi bedrooms that make use of contrasting textures, natural materials and a neutral colour palette.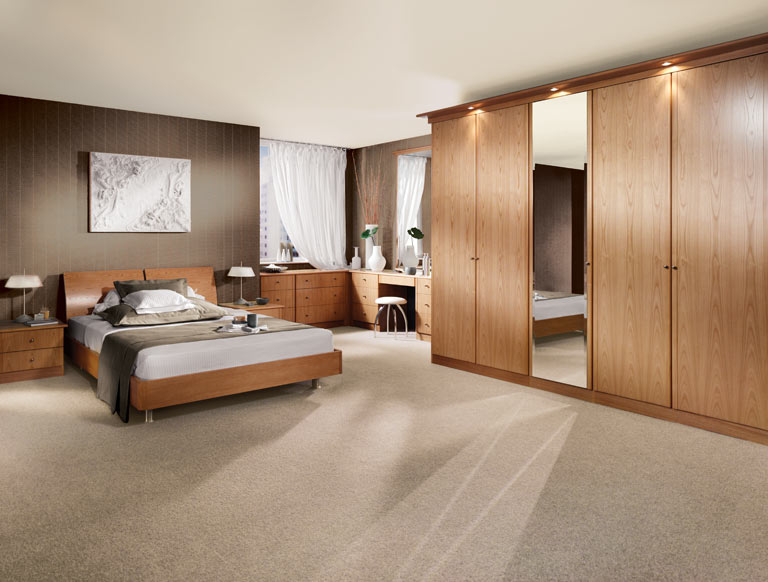 The simple design of the Siena range adds touches of mid-century modern for an aesthetic with enduring appeal. It's another excellent way to employ a wood finish in a contemporary bedroom and looks superb against the more mature colourway used in this space. The sleek, uncomplicated look of the panels is complemented well by its oak finish and allows the natural character of the wood grain to shine through.
Finding the right fitted wardrobe for your space
There are so many ways to integrate oak fitted wardrobes into your bedroom so never feel that you're just limited to one particular style. At Strachan, we've helped thousands of customers find storage that adds the ideal finishing touch to their space, so if you're ready to see how one looks in your own bedroom, our design team is here to help. They can take you through your options and create a bespoke visualisation showing you the finished result. Contact us directly for more information or click here to request a free, no obligation consultation.