What are Fitted Wardrobes?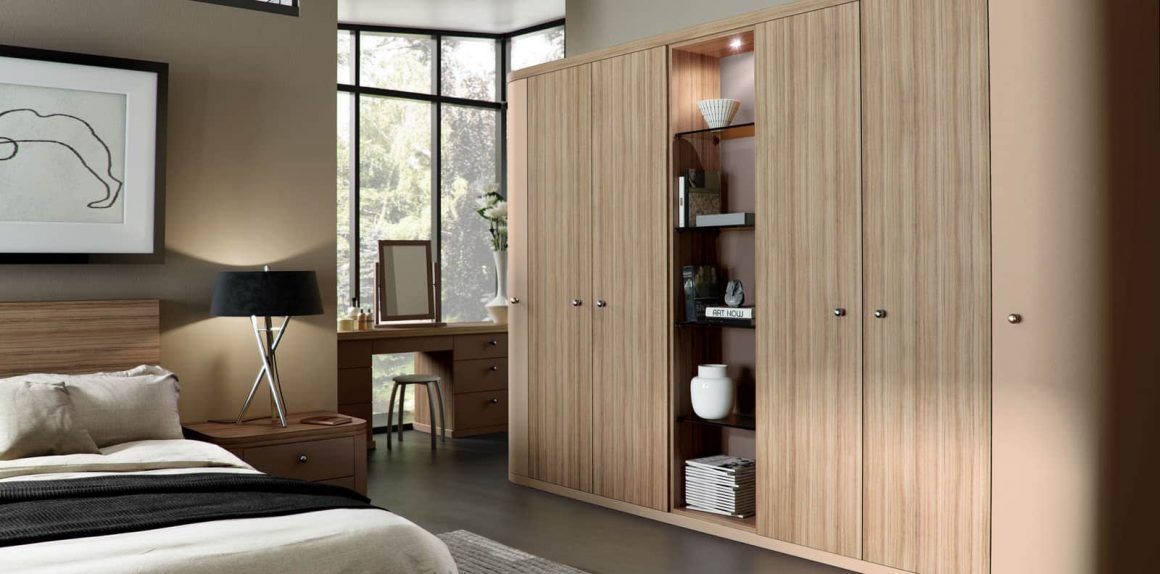 Storage space is an important consideration for home buyers. In fact, a study by Vileda had prospective home buyers view a house whilst wearing tracking goggles and found that 80% of people showed a high level of interest in storage space.
A fitted wardrobe is made to measure, meaning it fits perfectly in the space you have available. This maximises your storage space and eliminates the unclean aesthetics as well as gaps that are created with free standing wardrobes.
Bespoke fitted wardrobes are a luxurious alternative to free standing wardrobes. Available in a huge range of styles and finishes, they're often tailor-made to blend with your home decor, meaning you can stylishly utilise every inch of space.
Where can fitted wardrobes be installed?
Fitted wardrobes can be installed in almost any room in the house, even in obscure places like around beds, around chimneys, under the stairs and into alcoves. Below are a few excellent examples of some wardrobes installed by Strachan Furniture…
Sophisticated sliding wardrobe doors with a contemporary finish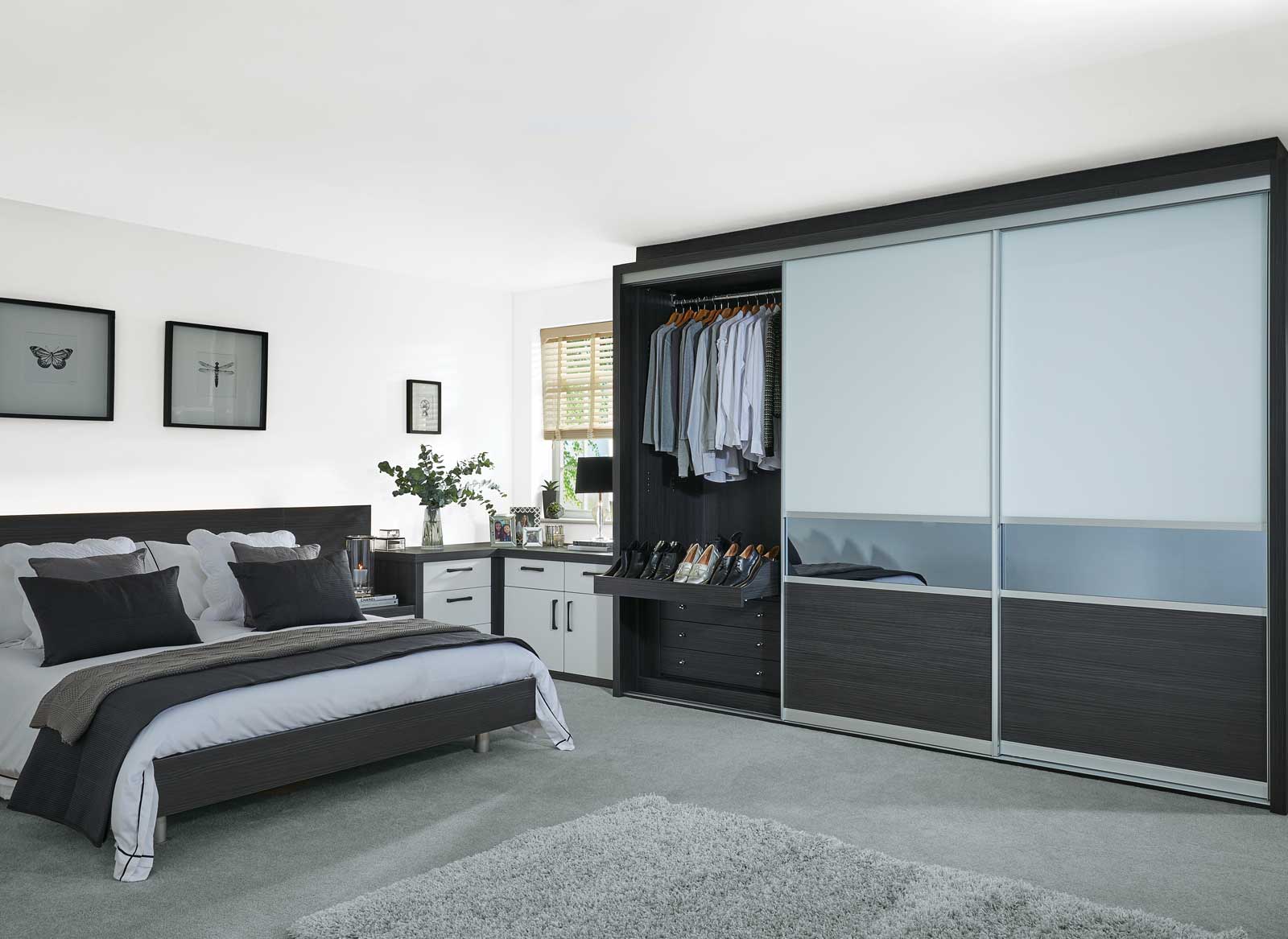 This calm and mature bedroom is finished with contemporary fitted bedroom furniture. The fitted wardrobe utilises the space from floor to ceiling and the sophisticated sliding wardrobe doors are panelled with glass, mirrors and oak. An extra touch of opulence has been added to this wardrobe interior; the far compartment conceals a luxurious pull-out shoe rack and low-level interior drawers.
A luxurious walk-in wardrobe in the heart of your home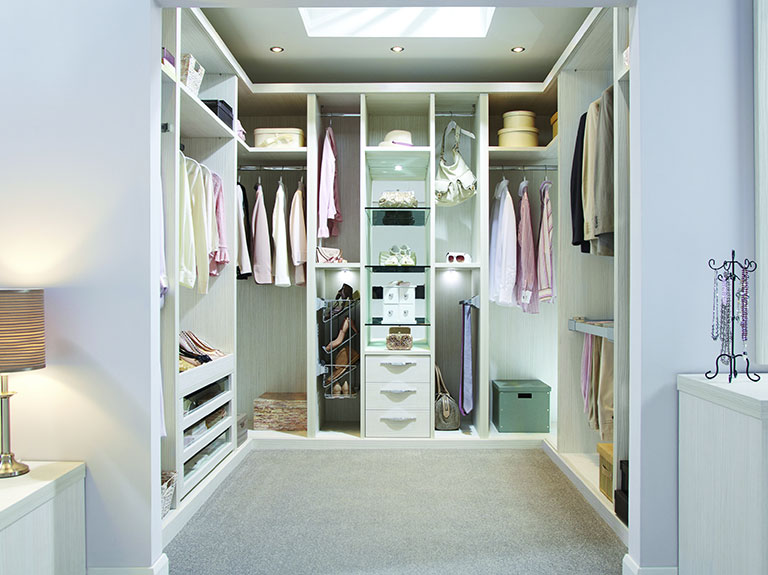 When it comes to storage options, a walk-in wardrobe is a grand statement. This luxurious wardrobe is fitted all the way around the room and finished in a pearl finish for a contemporary feel. Fitting a walk-in wardrobe is the ideal way to create a seamless appeal to your interior design.
Exceptional use of alcoves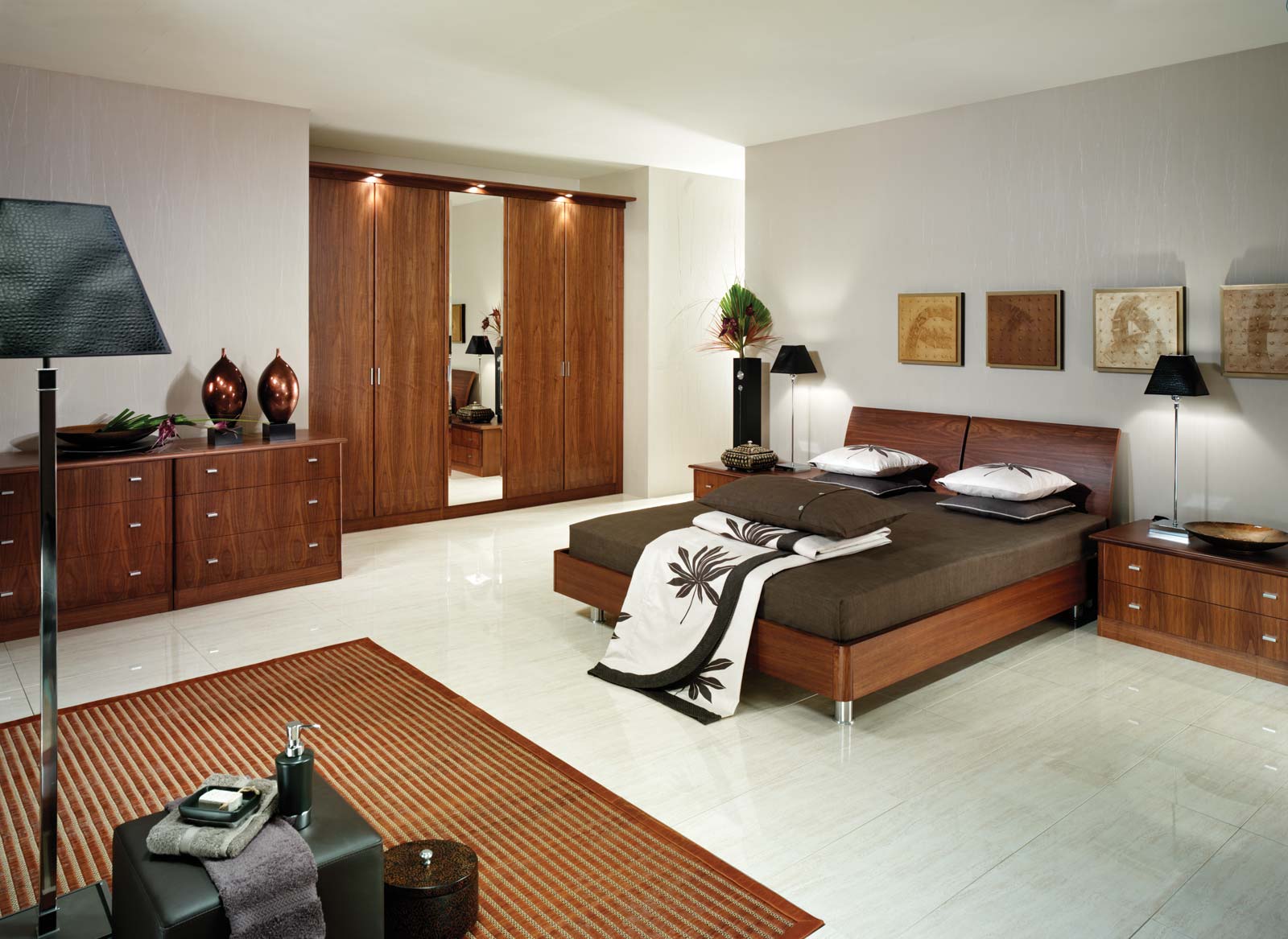 This characterful wardrobe is perfectly fitted into the snug alcove in this bedroom, creating a seamless finish. Moreover, the smoky tones of its handcrafted panels instantly add a rich yet contemporary charm to the interior of the room.
What are fitted wardrobes made from?
Fitted wardrobes can be made from various types of wood and wood finishes. They're usually fitted with sliding or hinged doors depending on space and styling.
Fitted wardrobes can be customised by adding elegant features like mirrors, and internal extras such as pull out shoe racks and pull down hanging rails. Take a look at some of these expertly fitted wardrobe extras…
Ambient lighting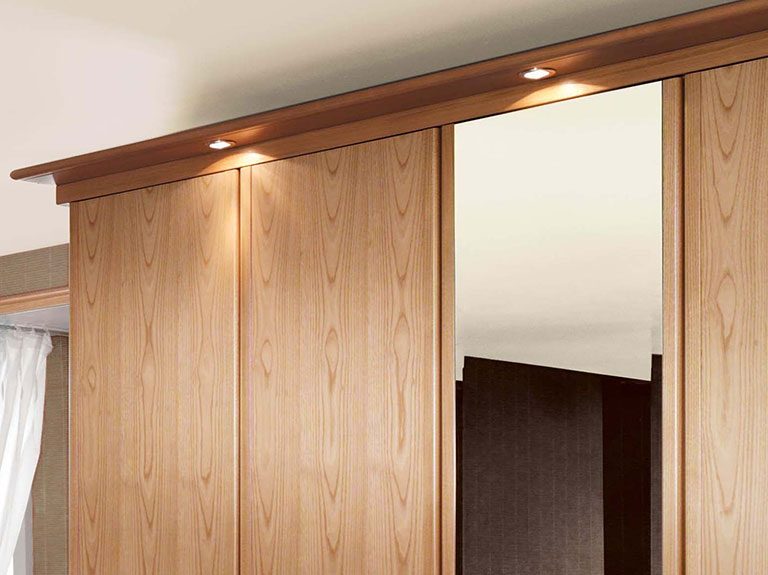 Have you considered the lighting in your interior design? It can have a significant impact on both the atmosphere and aesthetics of your home. The fitted lights in this wardrobe add a subtle ambience to the room, keeping it cosy and luxurious all year round, as well as providing great lighting for everyday use.
Clever wardrobe storage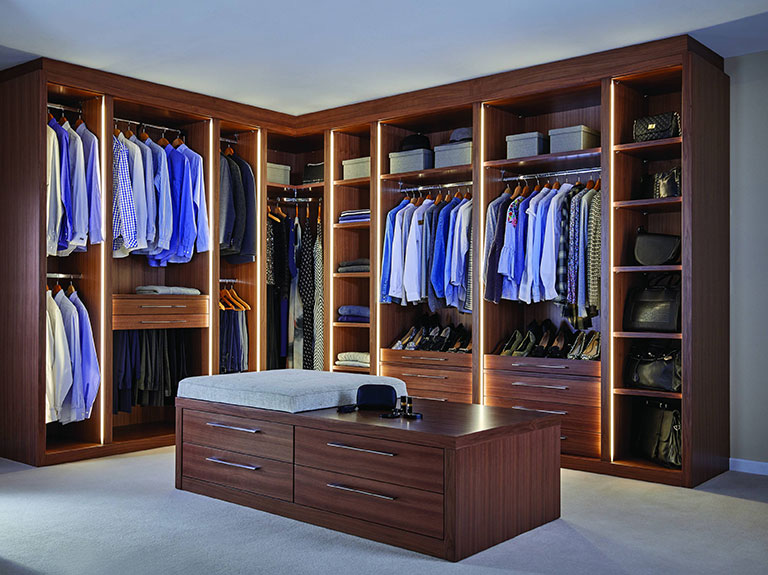 This deluxe wardrobe is fitted with a pull-out shoe rack, soft close drawers and a pull-out trouser rack with a velvet lined drawer above dividers to separate your jewellery. As well as its striking wood tone, the extra features ensure you don't run out of storage space too quickly, and all your clothing is organised and easy to access.
What's your dream fitted wardrobe?
Now you know what a fitted wardrobe is, head over to our walk-in wardrobes section to see which designs will improve your interior design. Our expert furniture makers handcraft wardrobe designs that look fantastic in contemporary, classic and traditional style homes.
Book an appointment with Strachan furniture today
If you're thinking about buying yourself a fitted wardrobe, our experts are more than happy to come and talk to you about your custom design ideas. They'll take you through a brochure and help you to decide on the best range and finish for your home as well as providing you with a quote. Get in touch today.