Basement Conversion
Making the most of unused space
Our customer's brief
Give our unused space a new purpose
With an abundance of unused space in their basement, these busy parents decided to look to Strachan for help. The exposed meters and service unit made the room look untended. The lack of fitted storage also left the floor cluttered with the children's toys. They decided that the space should be divided into a cinema room and an area where their young children could work, play and relax.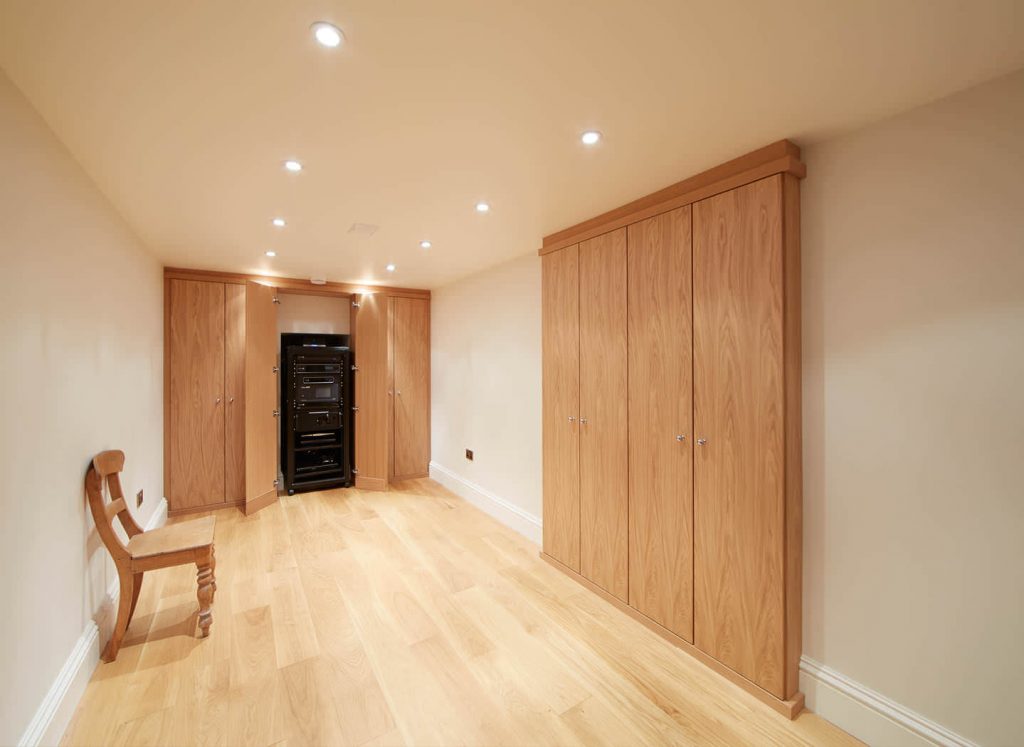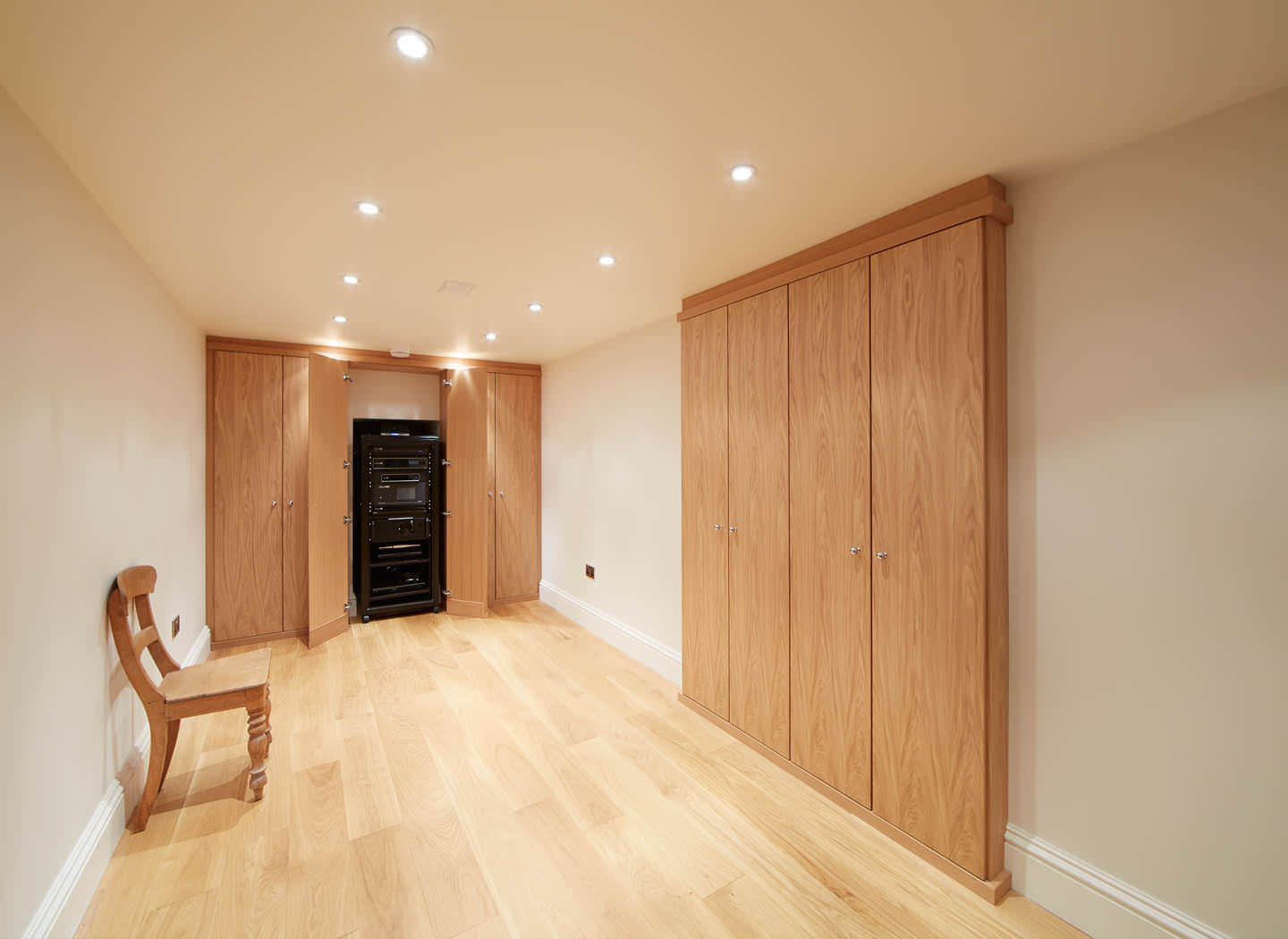 "Our basement was just wasted space. We knew it had the potential to be a great entertainment area but we had no clue where to start. We wanted a way to install plenty of storage without losing the spacious feel of the rooms."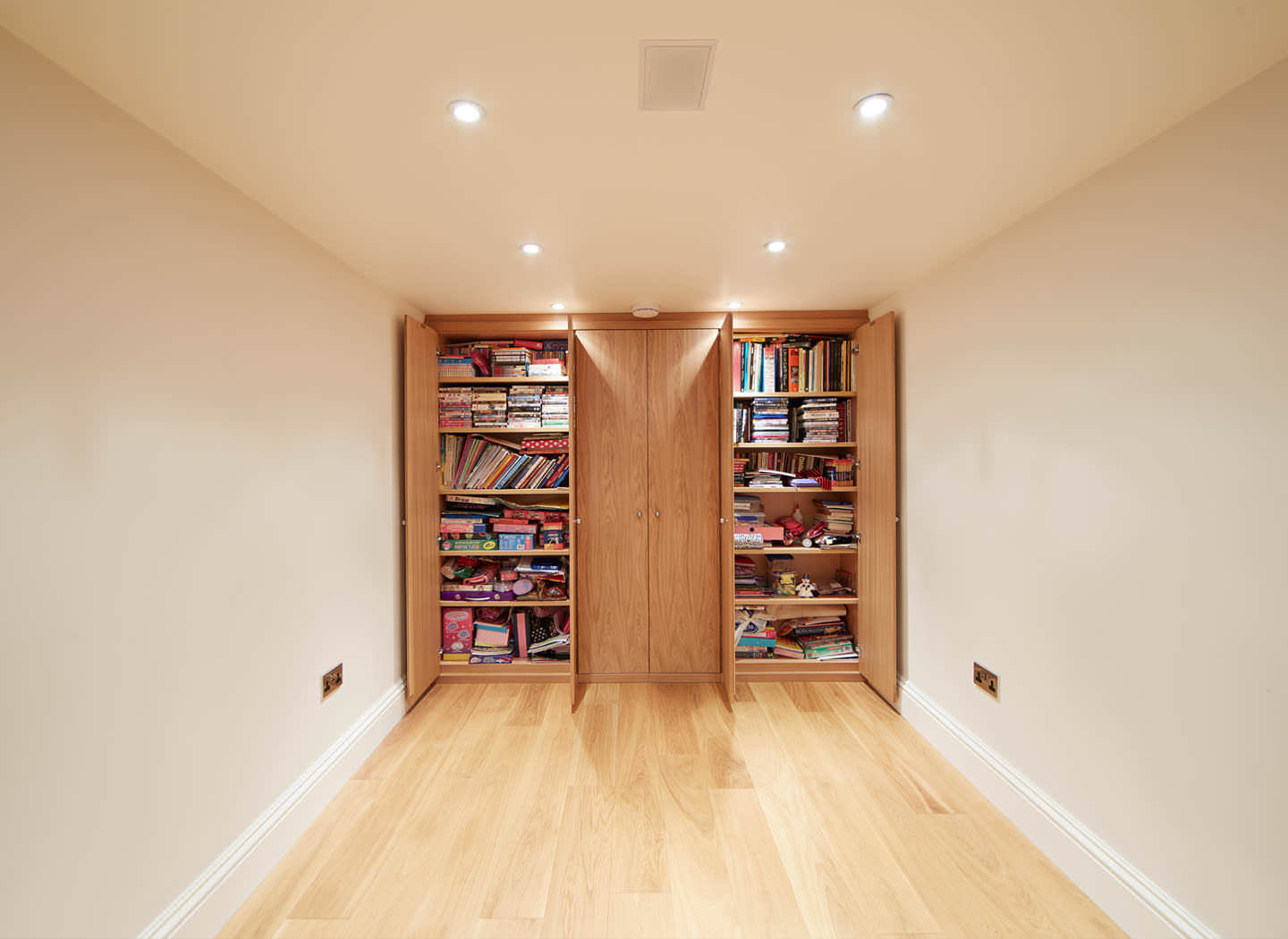 A wall-to-wall wardrobe
Floor to ceiling storage
Our expert designer knew that fitted cupboards were the ideal way to hide the server unit away from view, while also providing floor to ceiling storage space. One wall was completely transformed into a sleek and stylish fitted cupboard. The wood finish matched their hardwood floors well, and the spacious internal shelving provided a dedicated space for all the children's toys and books.
A matching set
Double designs
In the same room, we also designed and installed a second, narrower cupboard in an identical style. This one was used to neatly conceal all the meter units, while continuing the streamlined aesthetics of the room.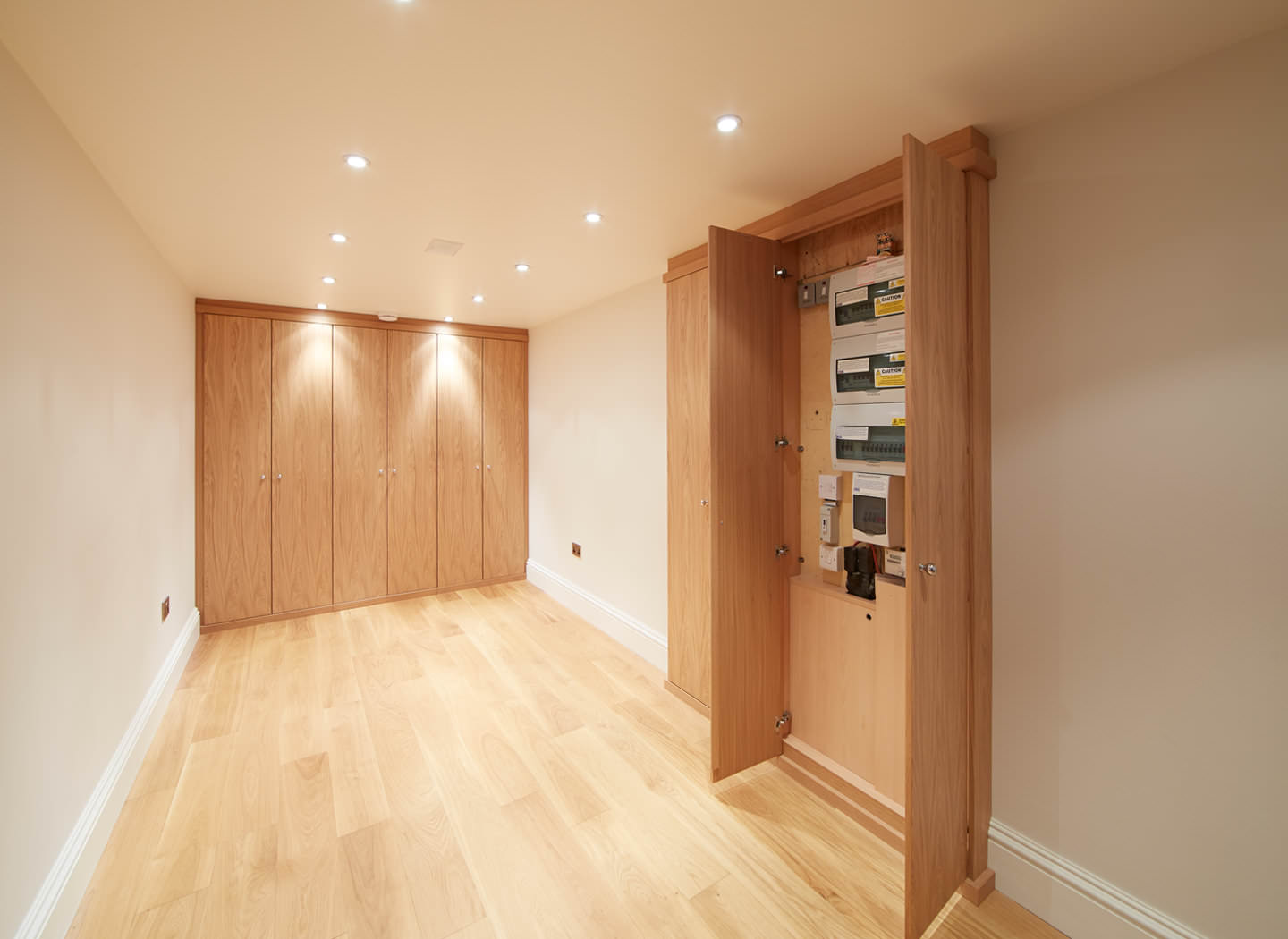 "The kids adore our new basement. Thanks to Strachan, they now have a favourite place to play and watch films. The cupboards are like a magic touch. They give us so much storage without seeming to take up a single inch of space. We can't thank Strachan enough! "
Read our customer testimonials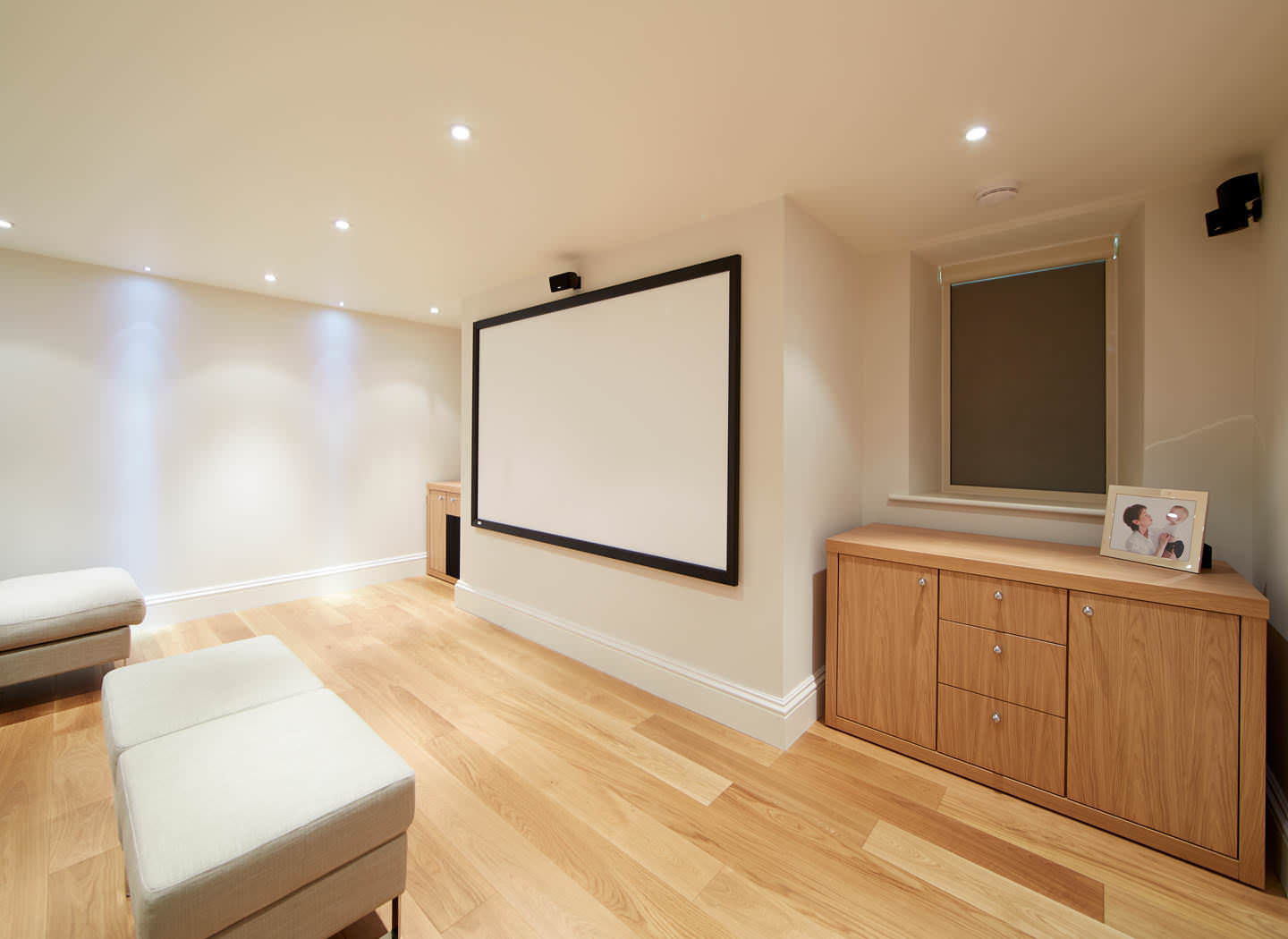 A home cinema with style
Immersive entertainment
The second room was transformed into a home cinema room. Unlike Strachan's standard home cinema designs, the customer had already designated a centre wall for their projector screen. This meant that, instead of creating an entire bespoke unit, we instead installed two units either side of the wall, which provided plenty of space to discreetly hide away their technology and film collection.
Incorporated audio technology
Built-in features
Within one of the home cinema units, we created a specially designed area to house an internal speaker. A mesh fabric was used over the cover, as opposed to the Oak wood finish, in order to help amplify the sounds while keeping the technology safely tucked out of sight.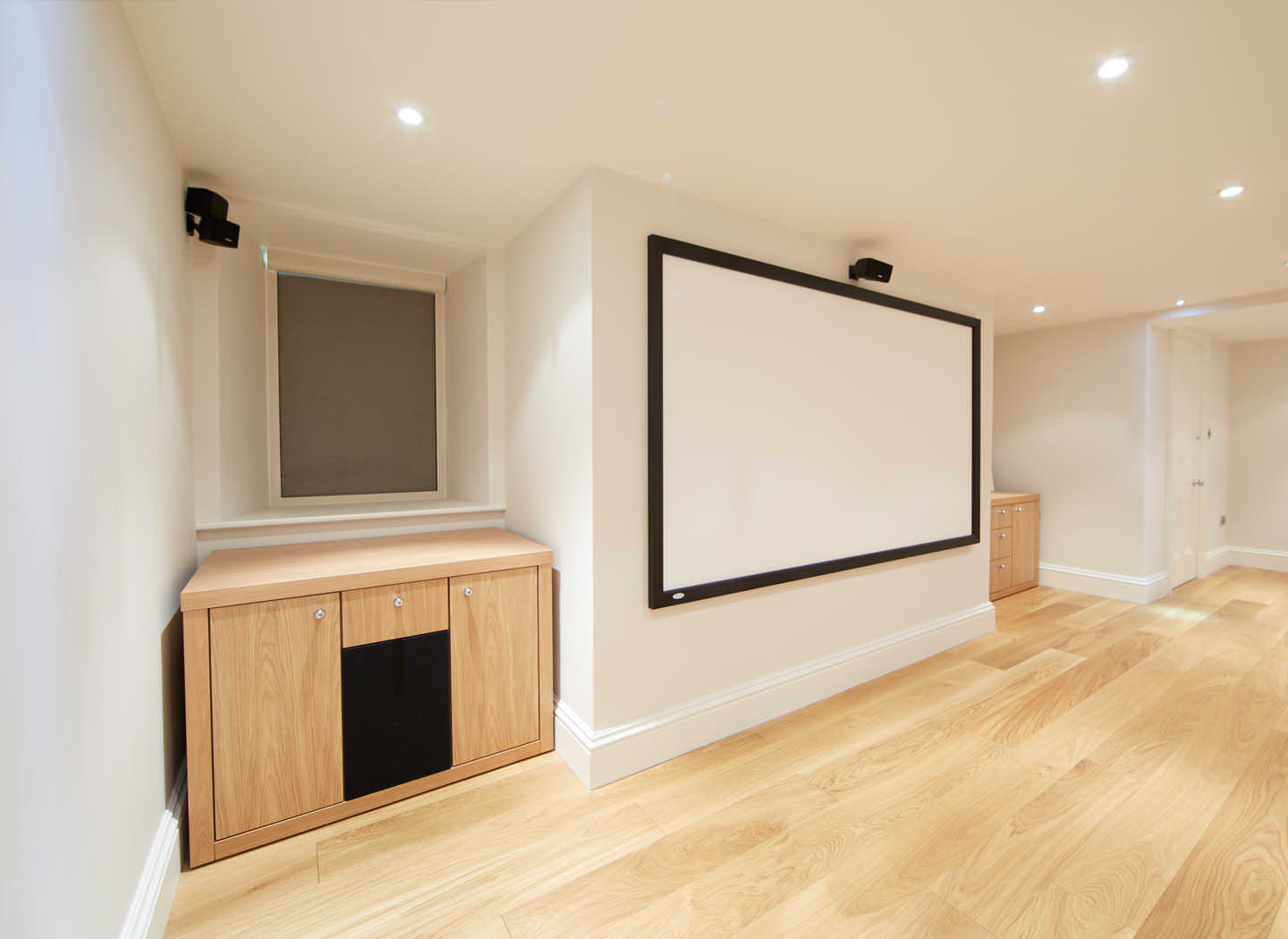 Drawing up your dream home
Free design consultation
Our design experts are happy to visit you in your home and talk through your ideas and offer advice. You will be able to look through large samples of our full range of finishes and materials.
Request a design consultation
The Strachan Brochure
Order a free copy of the new Strachan brochure for design ideas and inspiration. Find elegant bespoke designs for bedrooms, lounges, walk-in wardrobes, home offices, libraries and more. Browse at your leisure and discover the ideal way to transform your home.
Request a new brochure