Guest Bedroom and Office Conversion
A cleverly designed multi-function space
Our customer's brief
Maximise our space with multi-purpose designs
Busy couple, Mr & Mrs Hudson, longed for the chance to work from home more often but felt they needed a room that could be dedicated to their business and be quite separate from their family life. However, no spare rooms were available and they had no wish to move from their beloved home. They approached us to see if we could create a stylish solution to their quandary.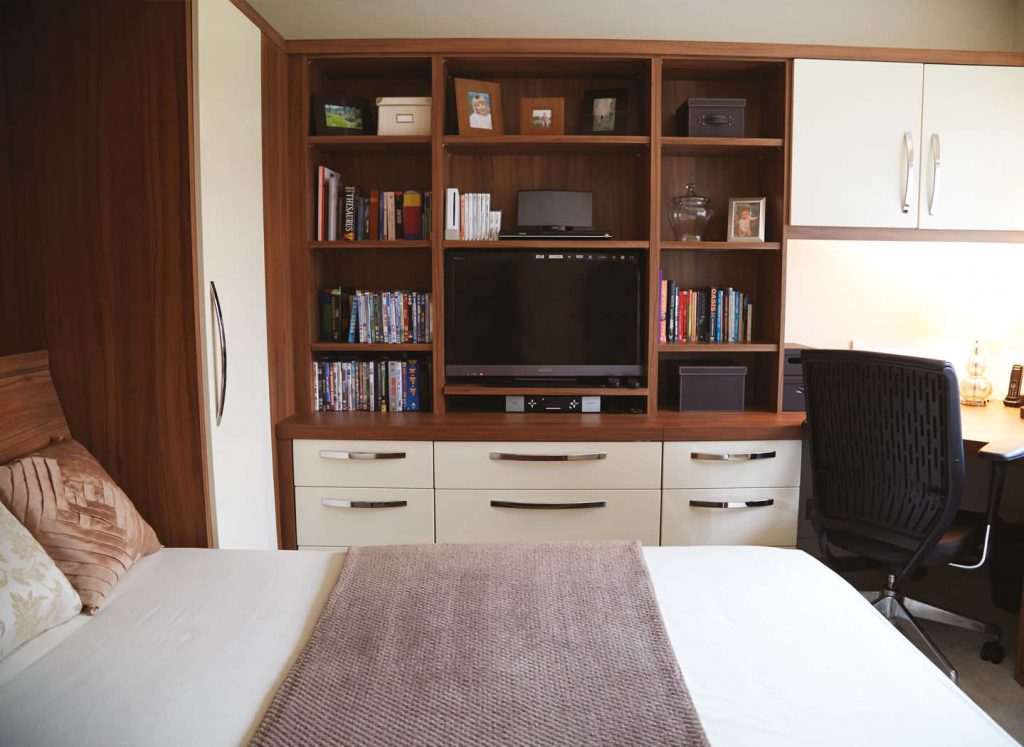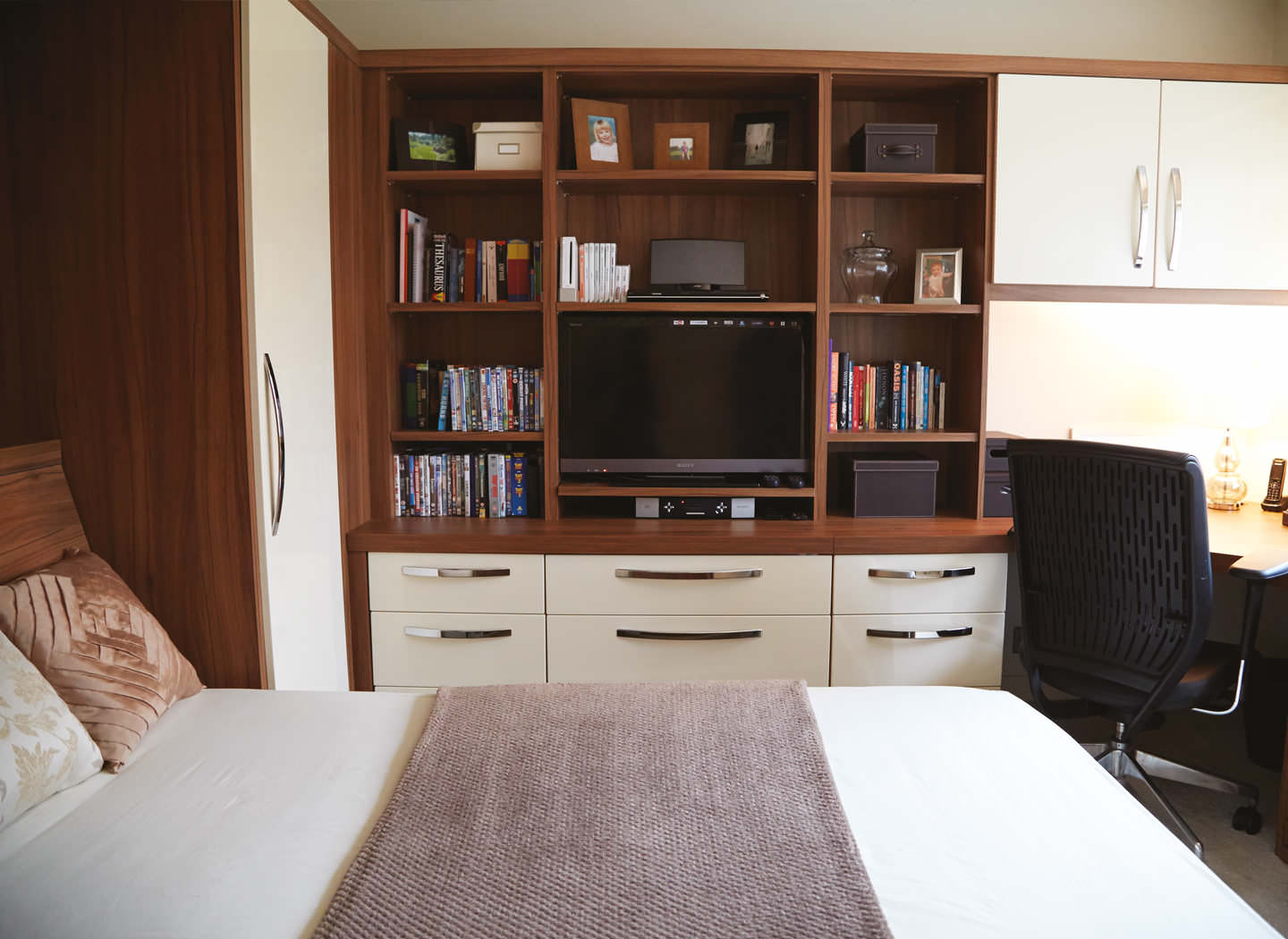 "Sometimes we even forget that there is a bed hidden behind the beautifully finished panels"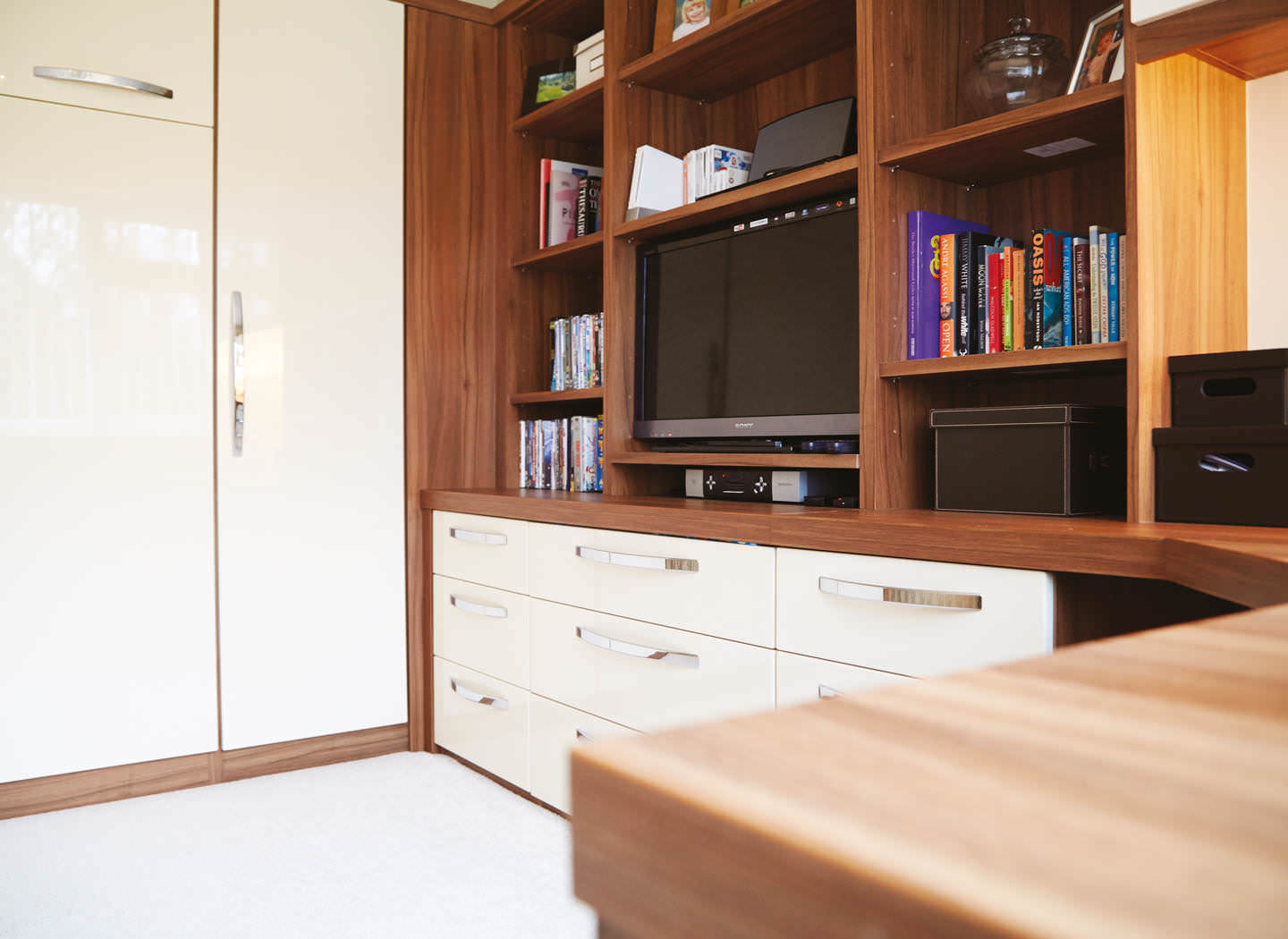 Transforming a guest bedroom
Extra functionality
Our designer visited Mr and Mrs Hudson at their home and an answer to their predicament quickly became apparent. A guest bedroom was chosen and transformed into a multi-functional space with a clever wall bed feature to accommodate overnight guests.
A sleek contemporary finish
Effortlessly modern
The rest of their home was decorated in an on trend style, so Strachan wanted to keep the guest bedroom consistent with their tastes. After showing our complete collection of wooden and coloured finishes, they decided on a beautiful high gloss cream. Set against the deepness of the wood grain finish, it created a beautiful contrast that stays true to their modern home.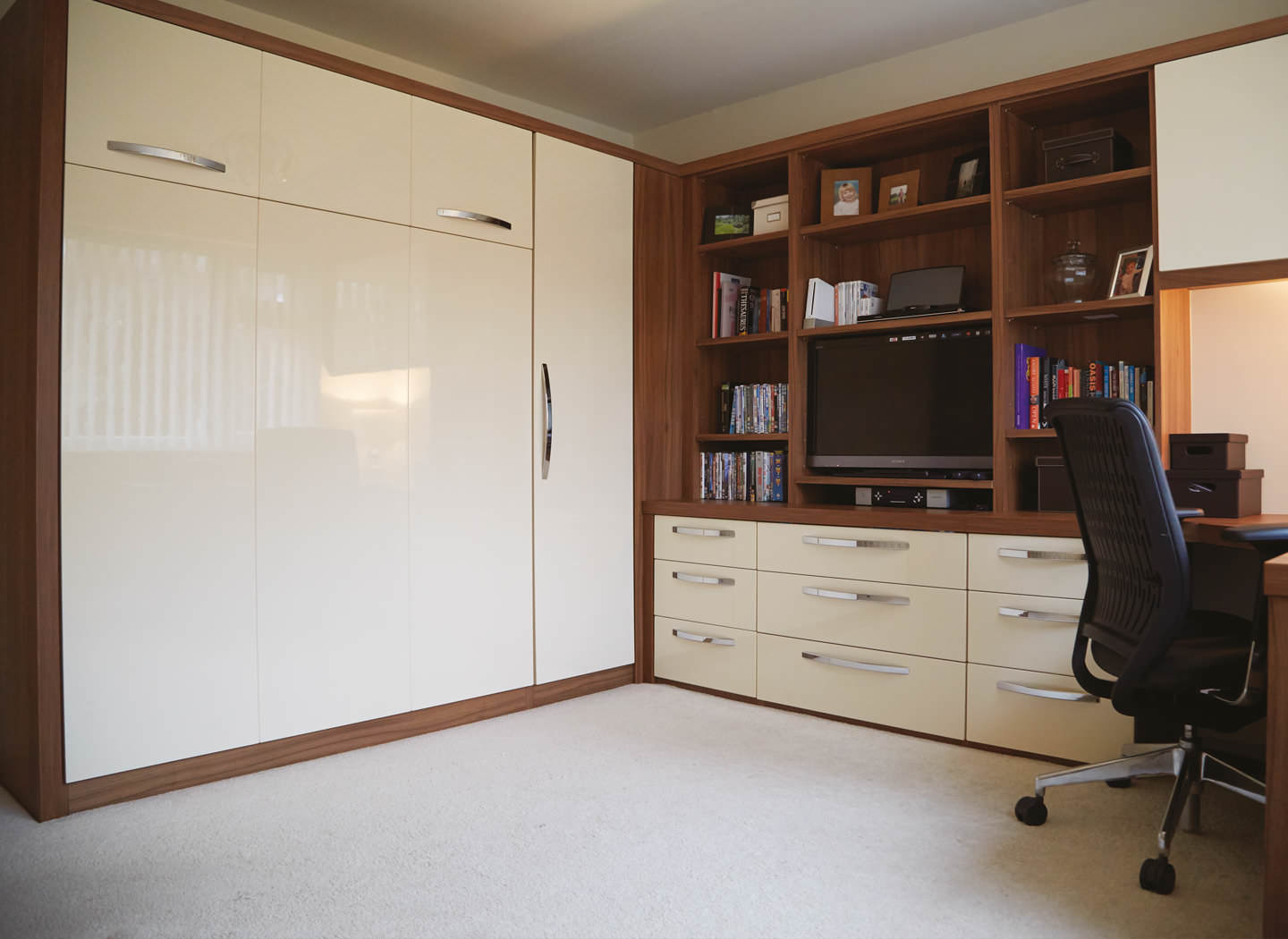 "We are so grateful for all your efforts in the seamless transformation of our guest room. Now we have an office at home, we can spend more time with the children. Please pass on our sincere thanks to your designer, your fitter and the whole of your wonderful team."
Read our customer testimonials

Mixing office and bedroom designs
Beautifully balanced
As the room was being used as both a workspace and a relaxing room for overnight guests, it was important to incorporate the right blend of furniture pieces. To achieve this, we created an open shelving space, which housed reading materials as well as a TV set and DVD collection.
Curved corner desk
Home office space
Faced with limited space for a work desk, Strachan decided to install a curved one in the corner of the room. This not only meant that there was a dedicated work place, along with cleverly integrated storage for technology, but it also allowed enough floor space to accommodate the full wall bed when pulled down.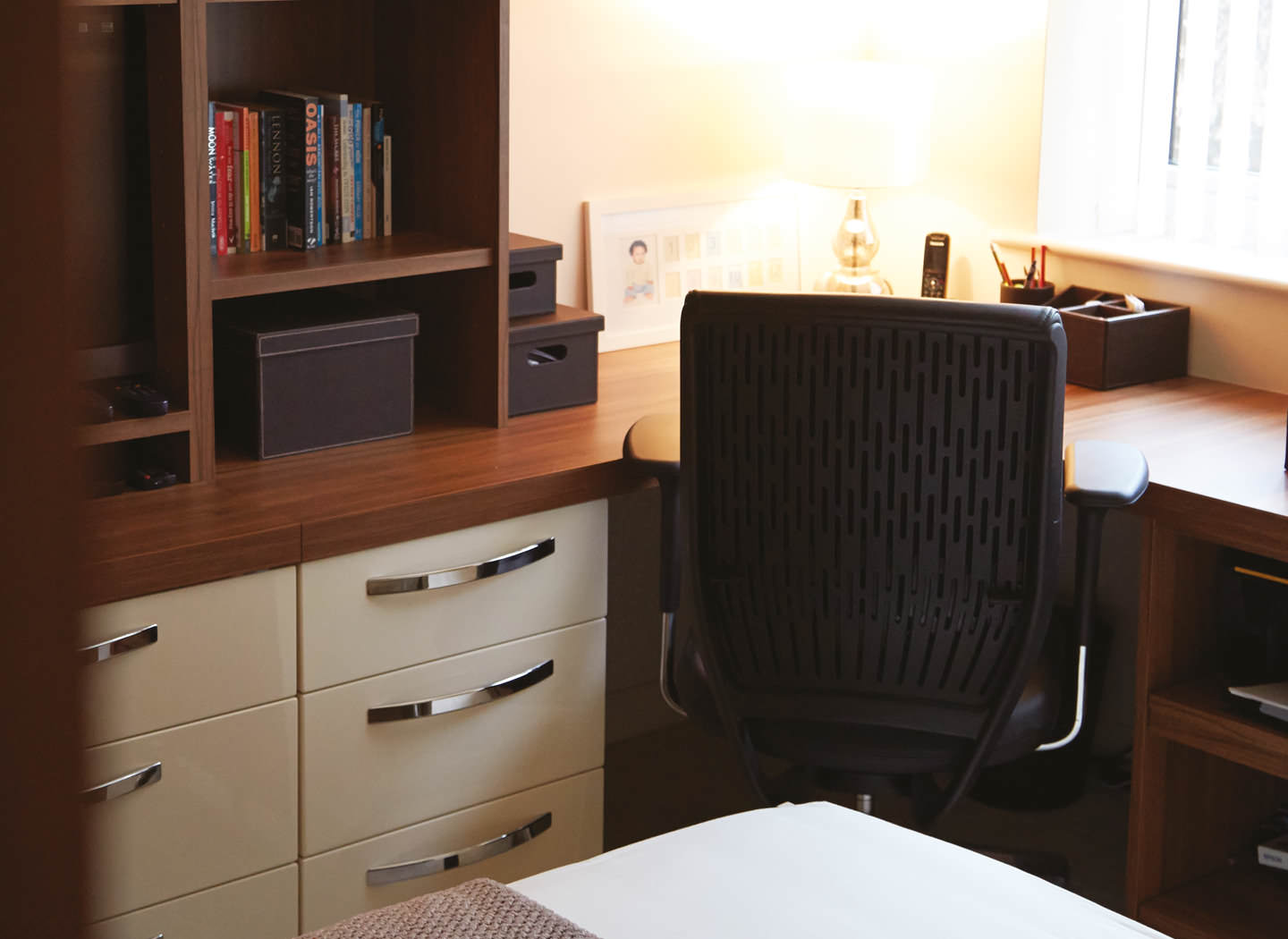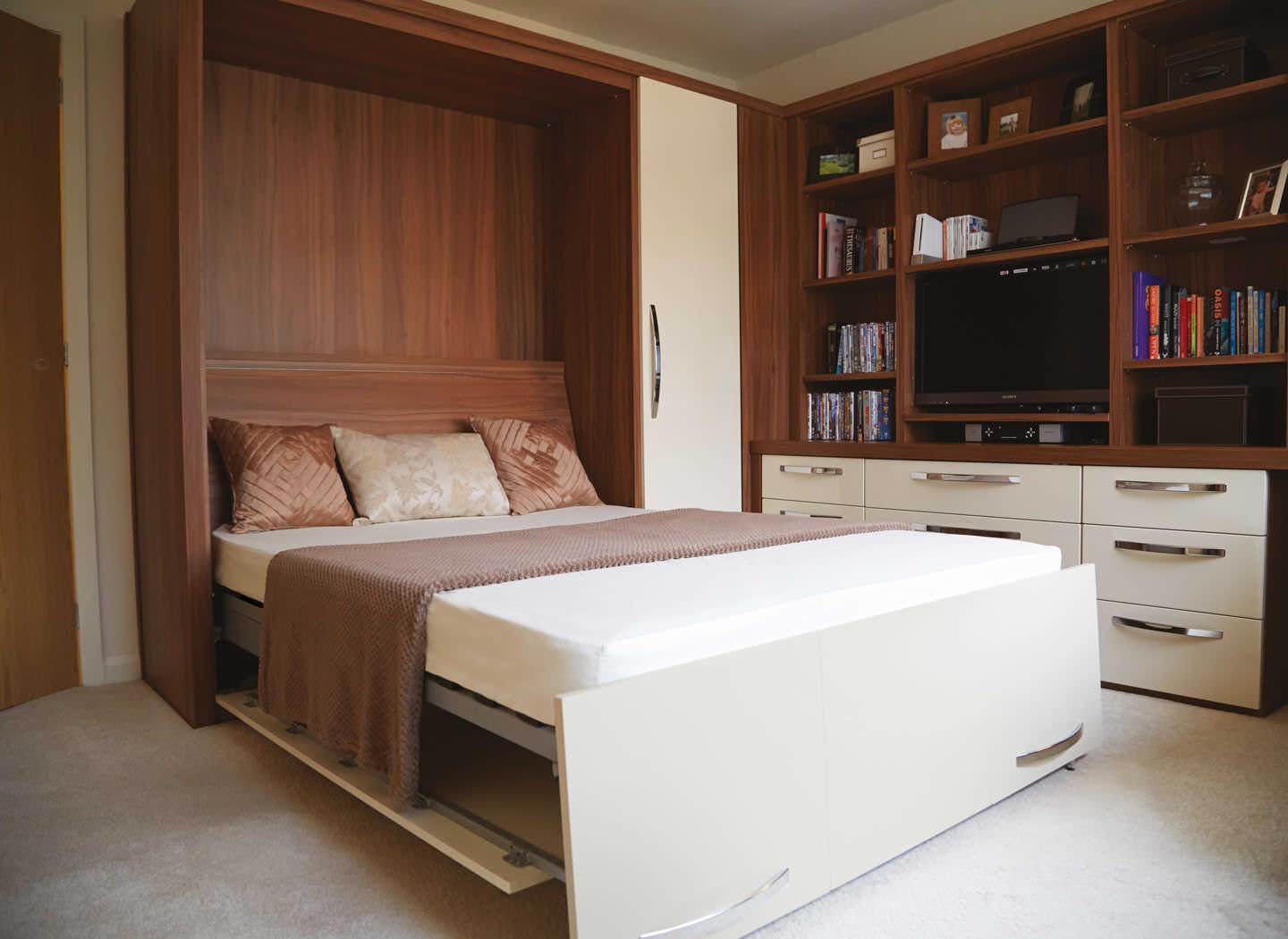 A bed for the night
Comfort and convenience
The standout feature of the room is the convertible wall bed, which allows Mr and Mrs Hudson to transform the room in a matter of seconds. Complete with a soft, inviting mattress, the bed completely disappears into the carcase of the cupboard when not in use.
Drawing up your dream home
Free design consultation
Our design experts are happy to visit you in your home and talk through your ideas and offer advice. You will be able to look through large samples of our full range of finishes and materials.
Request a design consultation

The Strachan Brochure
Order a free copy of the new Strachan brochure for design ideas and inspiration. Find elegant bespoke designs for bedrooms, lounges, walk-in wardrobes, home offices, libraries and more. Browse at your leisure and discover the ideal way to transform your home.
Request a new brochure